---
---
Nickname: Evie, which she prefers to be called. Every one of her friends calls her by it, her family calls her by it and when she introduces herself she makes sure to remind people that they can just call her Evie. Whenever someone calls her by her full name, she gets the feeling that she's in trouble or that shit is serious, at least.

Age: 23

Sexual Orientation: Heterosexual. Although, she might be bisexual. Evie is not quite sure since she has only ever been with men so far. There is something very attractive about a woman's body as well though. The curves, the sway of her hips and the - "okay, I might be bisexual."

Instrument:
Evie plays a
Tama Starclassic
with bubinga wood shells for that aggressive attack and the rich and fat lows. Double bass, naturally and a variety of cymbals. She's played it for years. Well, not exactly this kit since parts have broken from time to time and Tama have been kind enough to send her new ones, but it's
her
kit and probably won't ever play anything else. She dreamed about it when she started playing and it just suits her and she is comfortable with it. Regarding cymbals, she's partial to Zildjian. Expecially Avedis and K-Custom series.
Role in Band: Drummer. Can't play another instrument to save her life since she always focused on the drums.


Musical Style:
While she's all for grooving when jamming, this girl likes to really go nuts when she plays. Of course, there's the heavier songs where you'd think she's played hard rock all her life. Tight, precise and hard hitting. The fast trash is where she really shines though, where she gets to really show off with the double bass drums and a flurry across the toms. A confident drummer that will always bring an out of line bandmate back and keep the beat tight. Never ask her to play anything but rock and metal. Evie can't, really. And she knows it, fortunately. A good drummer for her genre, but not a very versatile one. "That doesn't mean I'm not creative!"

In her mind, every drummer should work closely with the bassist and she thoroughly enjoys that.

Personality:

She's all smiles and hugs! No seriously, she is. Have you ever seen her angry? Didn't think so. It does happen, but it's so rare that most people have trouble remembering it, even if they have experienced it. Evie does everything in her power to be positive and make the world around her a better place. She's not naive and thinks everything can be solved by smiling and that the world isn't such a bad place. The world does suck, but your life is going to be quite sad if you go around brooding over that all the time, right? Always the little ball of energy in the room, which she brings to the stage as well. She's the kind of person who likes to keep tabs on everyone. Just to know how they feel, to keep the wheels spinning and the engine running smoothly. Her friends often tell her to stop and think about herself from time to time, but Evie will just smile at them and say she's fine. Her own feelings she keeps tucked safely away. What? You didn't think it was all that simple, right?

Evie is not good with feelings. Not her own, at least. Everyone else's she's happy to focus on, hear and talk about, but when it comes to herself...
If she tries on rare occasions, the words just won't form in her mouth and her heart catches in her throat. That's where the music comes in, of course. She deals with her problems via music and through helping other people, always putting them first instead of herself. In general she doesn't seem very complicated, but she suspects her bandmates know she doesn't tell them everything. The excuse she tells herself is that she's seen enough shit in her life, so why not make the rest of it - and hopefully those around her - worth it.

Her bandmates are her favourite people! Whether it be jammin' with them or going out for drinks or just relaxing, she's game. And if there isn't a party going on, she's all for starting one. She can be flirty, but rarely goes too far unless it's returned. Wild nights out on the town and loud rock music are things she thoroughly enjoys. If you don't talk to her, she'll start a conversation with you and be ready for questions.

And hugs.

She's curious and quite honestly can't function if she doesn't have people around her. Don't leave her alone for more than a day or two. A little sad, but you'll have a hard time making her admit that fact.

Appearance: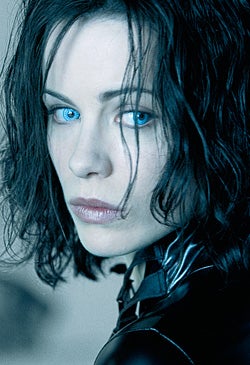 Standing at 5'7 with jet black hair and very dark brown eyes, the usual black tight jeans and a leather jacket you kind of get the impression that she likes the contrast
black
. But! Daringly, she often wears a white t-shirt with some sort of image on it, just to break the hole black thing. Her hair is kept shoulder length for it is thick and gets impossible to control if allowed to grow longer. Either it's kept loose and given a messy look, or tied up in a ponytail. Evie likes looking good and you'll always see her entering the door with the make-up done and a bright, white smile on her face. Her skin is smooth and white, and she takes good care of it. On her cheek she has a v-shaped scar from when she was a child, which she hates with a passion, Being vain, she's convinced that it ruins her otherwise attractive facial features. Don't mention it.
---
"
White man came. Across the sea. Brought us pain and misery!
"
From the age of 6 years old, she would listen to Iron Maiden, Metallica, Guns & Roses, Mötley Crüe, Motorhead, Judas Priest and all the classic bands. Her father was a big fan and he was the one who really introduced her to the world of rock and all it's wonders. Evelyn King was born in England in a London suburb. She had a perfectly normal upbringing and the most traumatic experience she had as a young child was... Well, not very traumatic. Her parents, however, were the type of people who didn't talk about very many things. Their supper conversations contained fewer and fewer words the older Evie got. How was school? Homework? The usual. Unknowingly, they lead their daughter to believe that problems and feelings were not something to be discussed. So she became more and more introverted. This happened around the age of fourteen, so her parents blamed puberty. Everyone's an introvert when they're that age, right? Right?
It continued, though. Evie never told a soul how she really, truly felt about things. She would always lie. Everything was fine and no one needed to worry about this pretty little girl who enjoyed listening to heavy bands, playing the drums and minded her own business. Oh yeah, she was cool by the way. How many girls in her school knew how to play the drums? Fucking one. Evelyn King. Fuck yes. The boys were impressed, some of the girls whispered behind her back (which she didn't really care about) and she enjoyed the attention. That's the way it kept going. She played the drums and her parents remained blissfully ignorant. She jumped from band to band and tried starting a few but those in the bands all lacked in either skill or ambition. School became less and less important as music took it's role, but she got through school with average grades.
When she finally did graduate, she had managed to save up enough money when she was around 20, to travel to USA and do something with her music over there. That was her plan at least. Her parents were fucking furious. What was the idea in that? Why couldn't she see that it was a better idea to stay in England and get a proper education, earn some money and live her life as every other normal bloke? She spent hours trying to explain to them why this was what she wanted to do, but they couldn't understand it. They left on bad terms, but Evie decided to follow her heart and go through with it.
Now, a few years later she's in a thrash metal band and loving every nano-second of it. This was her goal. This was what she wanted and no one was going to take it away from her.