Name: GloBot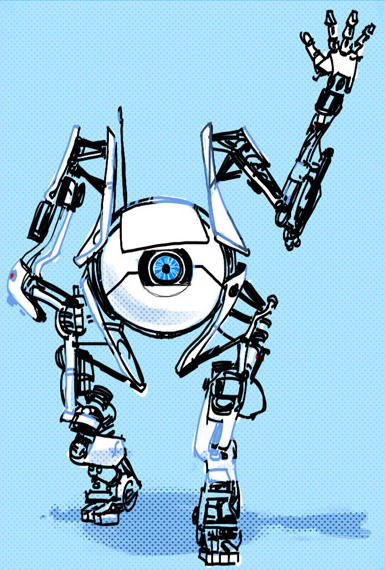 Age: About four years.
Gender: Male programming
Type: Robot
Appearance: Globot consists of two parts, a basic Stage 2 Personality Core (outdated) and a movement apparatus. The core is a sphere, about the size of a basketball, in the center that can spin freely and has a blue 'eye' hooked up with various cameras and various AI processors. His movement apparatus is a rather delicate and lanky one, but for a rather immobile PC, it's a huge plus. Although, it does make him about 3 feet tall.
Likes: Attention
Dislikes: Sports involving abuse of a 'ball'.
Purpose: Assistance in corporate businesses and public education.
Equipment: He's basically a mobile computer with intelligence, but without internet. His internal functions work as well as any computer, but can also be an able assistance. He can also upload and download data from a variety of conventional hardware and software, and can even read coded or broken data, not to mention he's a good translator. It's unfortunate that his vocal processor was damaged.
While he is a simple PC, he has a useful accessory that let's him move and perform tasks without assistance, having arms ad legs. They don't have any special features, but many office accessories can be installed onto it. He operates it's wirelessly, so even if the PC itself rolls out, which it does often due to a broken latch, the body can still be controlled.
Personality: As a V2 PC, it has a very simple view of goals, and is a very loyal and hardworking individual, although he always feels inferior to others, as he feels other machines can preform better than him. He thinks it's the reason he got thrown away, and therefore is working hard to make sure he doesn't get turned into steel wool. Although, he's not the bravest of them all, he's got good memory.
Background: Globot used to work in a hotel. He worked various jobs there, which he excelled at. At first, he was a secretary of sorts, but once a newer AI had replaced him, he became in charge of customer service, until his vocal processor gave away. Then he was a janitorial manager, but the latch that kept his head screwed on had broken, and one time, his PC ended up in scrap by accident. His body chased it all the way to the scrapyard, and since then, nobody's come look for him, so he is of the belief he got thrown away and is working hard to redeem himself.