Name: Loghain Talos
Age: 24
Race: Human
Type: Mage
Description: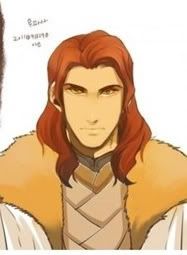 Loghain is fairly tall, with a slim yet toned body, tanned skin and long orange-brown hair. His voice is kind, yet commanding, and his eyes seem to hold an immeasurable amount of sorrow, although he doesn't try to show it.
Strengths/Abilities:
Very strong - Years of training and fighting have made Loghain very strong, able to best most men he meets in hand-to-hand.
Powerful magic wielder - Loghain's preferred brand of magic is ice, as he has created a very powerful form of ice magic. He can create large ice spikes and spires at will, that drain the enemy's stamina slowly the more they are exposed. The ice also takes on an orange color.
Excellent swordsman - Loghain is a deadly force when wielding a sword, as it is his primary combat method, even before magic.
Weakness:
A bit gullible - Not much to say here, he just tends to believe what he is told, unless he has obvious reasons not to.
Refuses to fight women - It's just how he was raised. Loghain is very respectful of women, and will avoid fights with them as much as possible.
Afraid of swimming/water - A traumatic childhood experience has left Loghain traumatized to the point where he simply will not and can not swim. He also dislikes being wet in general.
Personality: Loghain is kind, but blunt, and to the point. He doesn't screw around, and when he fights, he means business. He also is very hard to anger, but once you're on his bad side, watch out. He also has a very odd sense of humor, tending to find the funny side in all the wrong situations.
Orientation: Straight.
Equipment: Aside from his Fur cloak and daggers, Logain wields a giant greatsword, that's is almost taller than him, and very wide. The blade is engraved with various flowing designs, and has an orange crystal at the bottom. The enchanted crystal not only makes the sword lighter, but it allows magic going into the sword to be amplified, and more powerful.
History: I'd like this to come out in the story, if that's okay.