RP Theme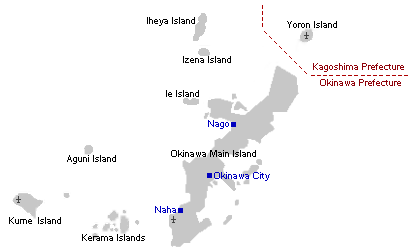 White Sand Beaches where you can soak up the sun, and go for a splash in the clean water, filled with plenty of hotties in swimsuits that'll make great eye candy every day you head down for a swim, snacks and beachside food reminiscent of traditional Okinawan food. Quiet, calm towns with pleasant neighborhoods, stores with all kinds of treasures ranging from trinkets and souvenirs, antiques, and other things. Enjoy dining options with food fresh from the local farms and fishermen with dozens of different options for your next meal. Explore lush jungles when you feel you just need to get away from even the little towns, and observe the fauna and animals of the land. Learn some history behind the area, and meet local soldiers stationed here! Adventure and opportunity await you at every corner in this wonderful place…




Ah~ Okinawa!
-
At least if you don't count the local Yanki, or Delinquents. Things have been becoming especially bad with the rumors of several strong Bancho coming to Okinawa coincidentally at the same time, which has been causing all kinds of people to come down to start picking fights with each other's gangs to try and be the best. But perhaps the most influential people there were of a select few, one of which being a relatively unknown delinquent who actually didn't conquer many opponents. Even without a reputation, he was there to further his martial arts training. Another was a traveler from China: raised with relatively little technology and modern culture, also there to train, but immediately caught up in the struggles of the local delinquents. Then there was this british girl who had just moved in to town, her parents working with the local military installations, living a strict, boring life at home, and partying all night long when she goes out, and these delinquents just happen to pique her interest. And finally, we have an american boy who, like the british girl, had just came in, however, he's a hardcore soldier in training, deciding to fight delinquents to prove his manliness or something as a 'trooper.'
These four are all new to Okinawa, and when they get together, things will never be the same: The actions of some of these fellows will be given notice by some higher forces, presumably delinquents of high rank, leading entire unions, equal to that of an army of elite yanki, likely to command top level supernatural martial arts styles. Before that though, there'll be juice bar fights, street confrontations, sitting by fences and just having a bite after some big fight, hitting the arcades, going for a day under the sun with some surf and sand at the beaches, and more.
-
Stuff to know!
Delinquents of the RBverse tend to be similar to that of bandits, mercenaries, and for those who follow honor codes, samurai. Numerous weapons are available, but none more revered than the Shinai:
In addition to Delinquents, you've also got a couple sub factions of delinquents, like fighting geeks, Bishonen, High School ROTC students, crossdressers, and more.
There's some superhuman ability and Ki use for more skilled martial artists. The martial arts themselves can be bizarre, whether it be a technique to control birds, cut things using air pressure, etc. Ki is powerful, but taken very seriously, its uses currently limited to the likes of strength increasing battle auras, fireballs, etc. I may however, approve certain alternative uses. Ranged combat with Ki, like the mentioned fireballs, or blasts, are to be used carefully. Spamming blasts is frowned upon.
Extra Stuff:
http://en.wikipedia.org/wiki/Wuxia
(Wuxia, chinese martial arts fiction.)
http://tvtropes.org/pmwiki/pmwiki.php/M ... Superpower
http://tvtropes.org/pmwiki/pmwiki.php/M ... ngFromHell
http://tvtropes.org/pmwiki/pmwiki.php/Main/KiAttacks
-
Main Roles:
1) The Ronin Bancho (JayZeroSnake)
A Lone Delinquent who keeps to himself primarily. Despite this, he's a powerful user of a couple mighty martial arts styles, and possesses an indestructible shinai kendo training sword. He came to Okinawa to train, and of course, protect the innocent from the less honorable bancho and yanki. He preferably seeks one primary master who was said to be a mere legend of martial arts, able to further the skills of one into what could be considered superhuman through the style called 'Zangyaku Ken'
2) The Soldier (Archlkan)
An American boy who just moved in. The men of his family were primarily military, so he follows in their footsteps wholeheartedly. He uses kickboxing and wrestling, very UFC/MMA oriented styles as opposed to Chinese Kung Fu or Japanese Karate. He uses a special set of Brass Knuckles and boots with built in Tasers with adjustable voltage, made with magnum steel, which can break through most materials.
3) The Wuxia Girl
A young lady from China. She's not well versed in modern culture or technology (Ex. ipads, cell phones, etc) and generally grew up in a simple village, lightly touched by technology. This is where she mastered some Kung Fu styles, and now, came to Okinawa at the news of a powerful Kenpo master who can further her training and help her unlock her ki. Coincidentally, this is the same master the Ronin Bancho is destined to meet.
-
Character Sheet Requirements:

Name
Gender
Age
Appearance
History
Items
Weapons (If Any)
Skills/Abilites

Fighting Style (Put something besides just 'martial arts' or 'kung fu.' use a real style, or make one up, as long as you don't get lazy here!)

Optional:

Fun Facts
Quote(s)
Theme Song
Extra
1. No Godmodding.

2. Post at least 200 words. Put more if you want.

3. Get creative with the martial arts styles, techniques, etc. create and name moves, imagine up histories of a certain art, etc. It also helps to name it with some other language.

4. Main four characters must come first before any others.

That's all for now.
Taking place in...
20 posts here • Page 1 of 1
20 posts here • Page 1 of 1
Arcs are bundles of posts that you can organize on your own. They're useful for telling a story that might span long periods of time or space.
There are no arcs in this roleplay.
There are no quests in this roleplay.
Here's the current leaderboard.
There are no groups in this roleplay!
Welcome home, Promethean. Here, you can manage your universe.
Arcs are bundles of posts from any location, allowing you to easily capture sub-plots which might be spread out across multiple locations.
You can create Quests with various rewards, encouraging your players to engage with specific plot lines.
Settings are the backdrop for the characters in your universe, giving meaning and context to their existence. By creating a number of well-written locations, you can organize your universe into areas and regions.
Navigation
While not required, locations can be organized onto a map. More information soon!
There are no groups in this roleplay!
By creating Collectibles, you can reward your players with unique items that accentuate their character sheets.
Once an Item has been created, it can be spawned in the IC using /spawn Item Name (case-sensitive, as usual) — this can be followed with /take Item Name to retrieve the item into the current character's inventory.
Give your Universe life by adding a Mob, which are auto-replenishing NPCs your players can interact with. Useful for some quick hack-and-slash fun!
Mobs can be automated spawns, like rats and bats, or full-on NPCs complete with conversation menus. Use them to enhance your player experience!
Current Mobs
No mobs have been created yet.
Locations where Mobs and Items might appear.
You can schedule events for your players to create notifications and schedule times for everyone to plan around.
Add and remove other people from your Universe.
The Forge
Use your INK to craft new artifacts in Ronin Bancho: An Exchange of Violence. Once created, Items cannot be changed, but they can be bought and sold in the marketplace.
Notable Items
No items have been created yet!
The Market
Buy, sell, and even craft your own items in this universe.
Market Data

Market conditions are unknown. Use caution when trading.

Quick Buy (Items Most Recently Listed for Sale)
None
Discussions
Most recent OOC posts in Ronin Bancho: An Exchange of Violence