---
You Can't Take Me by Bryan Adams
---
Name: Victoria Cecilia Henson
Nicknames: Tori, but only her crew mates, alias is Victor Henson, this mostly what she goes by.
Title: Captain
Gender: Female
Age: 27
Sexuality: Heterosexual
Birth Date: November 8th, 1686
Zodiac Sign: Scorpio
Birthplace: England
Hex code:
2A4A60
Faceclaim: Amanda Seyfried
---
"Appearances can be deceiving, which I use to my advantage."
---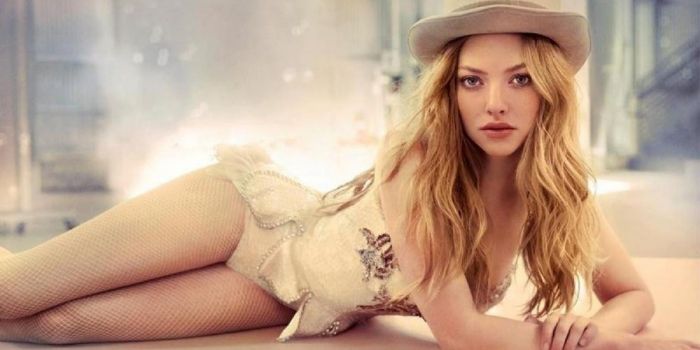 Appearance: By looking at Victoria, one would never think she was a pirate captain. She will use to 'innocent looks' to her advantage too and gets a kick out of surprising people. Often when on her ship, she'll keep her hair braided so it doesn't obstruct her vision when things get rough. While her mannerisms on her ship make her a typical tomboy and she does prefer trousers to gowns, she is not afraid to change her appearance to be more feminine when the time calls for it. In the past she even kidnapped people to learn how to do dress the way she needed be or act the way she wanted to act. She does have a willowy figure so it's easier for her to hide her gender.
Attire: As stated before, when she's on her ship, Victoria prefers to dress like a man. Along with trousers, she always wearing a light long sleeve top. In cooler weather she'll wear a vest over it as well as gloves. She's always in boots too with a belt on. She never wears a hat though in order for enemies not to figure out she's the captain. In fact, most think her quartermaster is the captain. She caries other types of clothes from more feminine attire to even colder weather clothing from when she travels through colder waters. She always has a belt on for her for her rapier and flintlock.
Hair: Victoria has golden blonde hair and she is a bit vain about it. Even though it's braided up most of the time, she does enjoy having it down. However, she's not afraid to chop it off when called for. Currently it's reaches to her mid-back.
Eyes: She has pure green eyes that are said to be memorizing at times. However, when she's angry, they'll darken. It's really the only sign she'll give when she's mad.
Height: 5'4"
Weight: 140 lbs.
Accessories: None
Tattoos, Piercings, Etc: She has a several scars over her body. The worst ones are the following- she has a long one along her left thigh during a fencing sword fight, smaller scars grouped together from shrapnel during a ship battle when a canon ball hit the ship she was on as a child. They're located around her hip area. And last scar came from a cutlass right under her chest near her belly button.
---
"I can be an angel, but my halo is held up by horns. So don't judge a book by it's cover"
---
~Clever~Charming~Fearless~Inquisitive~Nimble~Secretive~
Behavior: Tori is like a chameleon. She's able to adapt to pretty much any situation. One minute she'll be charming and graceful, the next she'll be ruthless and stubborn. It really does depend on the situation. When it's just her and her crew though, she is definitely in command and is extremely loyal to her men. Don't ever try to backstab her, unless you want to be sent to the bottom of the ocean. Her adopted father taught her the importance of strategy and thinking ahead of time. Very light on her feet she is good at blending in whenever in a dangerous situation. She never allows fear to get the best of her and tackles it head on. Even before she ended up on a pirate ship, she learned to be quiet and behave herself since it was ingrained in her by her biological mother. She also has developed a strong will to live. While she's pretty laid back, Tori's anger tends to run towards the icy side. She doesn't get mad, she gets even. It's one reason why she keeps attacking Barnaby Pirates off the coast of North Africa in the Atlantic. She really holds a grudge towards them.
Likes: Outwitting her opponents, reading, writing, traveling to unknown locations, riddles.
Dislikes: Barnaby Pirates, feeling confined, making mistakes, disloyalty, when a guy tries to grope her.
Strengths: Clever mind, light-footed, patient, eagle eye vision, sharp shooter, fencing (but she has learned how to wield other weapons), navigation, adaptable.
Weaknesses: Too curious, children, her crew, a dare, can be overconfident.
---
"My crew is my family. They're worth their weight in gold."
---
Ship: The Dearg Gaoth (Red Wind in Gaelic)
Quartermaster: Gideon Jacobs aka Jake
Weapon(s): Flintock revolver and rapier
Specialty: Disguises and Strategy- she tends to use these things hand in hand. Tori tends to think 2 or 3 steps ahead and even though she makes plans in advance, she is flexible enough to come up with back up plans in case the original plans need changing. She uses her brain the most when going incognito into dangerous territories. Like when targeting Barnaby Pirates, she'll actually target them as they're attacking other ships because she feels they're so focused on their own attack that they'll leave their flank unguarded. She'll use any trick in the book to defeat her opponents and this includes fighting too. Thanks to her eagle eye vision, barely anything escapes her notice.
---
"Life is definitely short, so I plan on making it my greatest adventure."
---
Victoria's parents were both British. Her father was Lord Ian Markson and he was a wealthy man who was part of the 'upper class' of the London scene. His older brother was a Viscount. Lord Ian was a restless soul and decided to make an investment in the American Colonies, especially in their tobacco industry. So when Victoria was only 2 years old, her father moved to the colonies and ended up becoming more wealthy through his business venture. Victoria did have a normal childhood for someone of her class. She has no memories of her father and only saw her mother, Lady Gwen, occasionally. However her mother was a gentle woman who taught Victoria to be observant and mind her manners. Even as a child though, Victoria learned how to be inventive and loved playing 'pretend'. She was a very happy child.
Victoria's world changed though when she was 5 years old. By that time, Victoria's father was well established and sent a letter for Victoria and her mother to come to the USA. Lady Gwen didn't really want to move from England due to her fears traveling over an unpredictable ocean, but knew it was her duty. Victoria herself was only curious. However, Lady Gwen's fears proved to be all too real. Their passenger ship was attacked by Barbary Pirates. Unfortunately during the initial attack, a canon blast hit where the passengers side where she and her mother were. Lady Gwen protected Victoria from the blast, but received mortal woulds, while Victoria got some shrapnel injuries along her calf. Before she died, Lady Gwen made Victoria to promise her to stay alive. Victoria still remembers crying for her mother as the pirates grabbed her after conquering the ship.
The new few days, Victoria remained silent as she was being watched by another female who'd been captured, along with many others. Even though she was only 5 years old, she still had her intelligence and tried coming up with ways to escape. She got her chance for before the pirates could reach the Mediterranean, because a vicious storm hit their ship at night and many lives were lost in it. Victoria ended up freeing a barrel that was on top of the ship and ended up stealing a dagger from a pirate, who had originally stole it from one of the male prisoners. Cutting the barrel free from the binds that kept it stable, along with other barrels, she was able to push it over on its side, tied herself around it, and pushed it overboard. It helped that the floor was wet to cause less friction. The current too Victoria under the water at times, but the barrel was buoyant enough to remained afloat. Still Victoria was exhausted and remained on the barrel for 2 days until dehydration started to kick in. Luck was on her side again though as another ship found her. This time though, it belonged to the pirate, Billy Henson. Billy Henson himself was originally from the US colonies but lost everything when his wife and children were killed by disease in South Carolina and became a drunk and thief before finding himself in Florida Keys and became a pirate. Taking pity on the blonde girl, he ended up adopting Victoria.
Victoria grew to be the "ship darling" for the crew grew to adore her. However, she wasn't pampered and expected to do her share of work. Her intelligence was quickly picked up by Henson and he taught her how to navigate and plan ahead. She grew to love the sea and seeing new places. As a kid she was passed off as a cabin boy and her hair was kept short to keep the guise up. She was ordered to stay hidden whenever the ship attacked others. She did learn how to fight eventually and would enjoy spending time up at the crow's nest looking for things. When Tori hit puberty though, she became terrified of the changes for she was never instructed on them and when her cycle started, she thought she was dying. Henson assured her she wasn't dying though, but was going through the changes that would turn her into a woman. Victoria though started using other means to disguise herself, usually by binding her chest and wearing looser clothing. It was hard to hide her fine facial features though.
Growing up, Victoria became close friends with one of the younger pirates on the ship, Gideon Jacobs, who was 10 years her senior. He was originally a poor thief and eventually found himself a part of Henson's crew. Known as Jake on the ship, he was often charged with watching Victoria when Henson was busy. He taught Victoria the value of being patient when it came to planning things out. When Victoria was 15, Victoria wanted to learn how to read so Henson started kidnapping scholars and others in the Caribbean. For Victoria's own safety and for her identity to be protected too, Henson had these scholars killed. He never told Victoria this, but the young lady figured it out though. A part of her didn't like the idea of people helping her dying, but her fear of being being discovered override it. Once she learned how to read in English, French, and other languages, she requested Henson if she could start 'observing others' by spying on them. She didn't want any more innocent blood spilled on her behalf, so instead she found another way to learn. Several of the crew members specialized in stealth, so she learned from them. Learning how to blend in with her environments, Victoria eventually became good enough to sneak into grand estates among wealthy citizens in the Caribbean.
Throughout her training, Victoria hadn't be aware that Henson was setting up for her to be his successor. Even though she was his adopted daughter, Victoria did have to work her way up through the rankings and did eventually become first mate by the time she was 18. Jake around that time became the quartermaster. By this time, Victoria played an active role in the decision making in where the ship would go and who it targeted. So it was during this time, they started targeting Barbary Pirates and 'rescue' their captives. What would end up happening though was they would steal all of their valuables leave them off the coastal islands in the Eastern Atlantic. Few of these people though would become pirates though.
Henson had enemies in the pirate world. One of them though would be the cause of his demise. His name was One Eye Dodger. The two had a bitter rivalry going for years, but he never found out about Victoria. When she was 20, their ship was docked at Port Royal, Jamaica. While there, Henson's rival managed to sneak onto the ship, get past some of the crew who were awake and kill Henson while he was sleeping before trying to set the ship on fired. Victoria, who was always a light sleeper, woke up, and helped put out the fire. Losing Henson was devastating for her and it was then she learned she would be the next captain. She swore to get even with the one who caused the death of the only father she even knew. She eventually found out who it was but knew she could outright battle One Eye because his ship was bigger than hers. So she develops a plan. Knowing his weakness for women, she eventually tracks him to Nassau, and poses as a wench there at one of the bars. Getting him drunk, she lures him into a dark alley before killing him there. During this time, she has a few of her crew members sneak onto One Eye's ship, take out the watch, and poor gun powder around the ship, and lighting it up, and getting off of it quickly before it blows up.
For the next 7 years, Victoria starts exploring more of the Atlantic and gaining a reputation for being clever. She only steals goods for her crew and even helps some of them 'retire' if they wanted too. Her main thirst is for adventure because having challenges helps her get over her grief. She still manages to keep her gender hidden though by not only taking up the name "Victor", but setting up her quartermaster as the decoy, and ploy that he actually suggested, wanting to protect Tori as much as possible since he sees her as his 'little sister'. It is in Tortuga that Victoria learns about great hidden treasure and it's the adventure itself that makes Victoria decide to join up with several other pirate captains. She had been wanting to 'retire' from the Atlantic scene anyway and wanted to travel Eastward.