---
---
Name:
Lily Vatalini Bedford
Age:
29
Rank:
B
Gender:
Female
Area:
Shadow
Oddities:
Doesn't Know Her Parents
Sexuality:
Heterosexual
Romantic Interest:
Bryce Zypher
Nationality:
Unknown
---
---
---
---
---
---
---
---
Eye Color:
Maroon


"They say it means I have no soul."


Hair Color/Length:
Vibrant Red/Back of her Knees


"It caresses my body and I love it."


Height:
5' 7"


"I'm the perfect height."


Weight:
130 lbs.


"That's not even close to fat."


Scars:
Small dashes scattered all over her body; barely noticeable


"Being a Shadow Keeper isn't easy."


Tattoos:
None


"As if …"


Birthmarks:
Blotch that is slightly darker than her skin tone on her right hip


"I've been told it's rather cute actually."


Piercings:
None


"Dangling jewelry from one's body is a hindrance."
---
---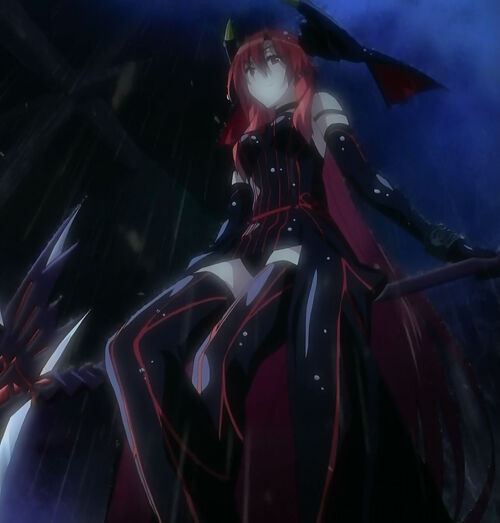 ---
---
Dominant Emotion:
Anger


"Everyone in this world is good for nothing."


Personality:
At a glance, Lily is beautiful, charming, seductive and word-wise. She is, in fact, all of these, but only to strangers or to those whom she wishes to gain something from. She is very untrusting towards everyone but her boyfriend and demon. Well, everyone in general. Lily can be snappy, moody, ignorant, coincided, all-knowing and just plain rude. Despite her dislike for the male gender, you can spot her wooing them with her seduction skills and putting her beauty to good use. When Lily is just awoken from her slumber, she is a very scary and malicious person. Its suggested using a pole to wake her up; she has been known to bite fingers off. But she is the exact opposite when she hasn't slept. Lily becomes sweet, innocent and very emotional. Whether tired or awake, Lily has a lack of boundaries. If she is hot, she'll remove clothing until she is cool again. If someone tells her to stay away, she will proceed to come close and ask why. In a situation where children are involved, Lily can get quite intense and motherly. Around OZ, Lily can be seen giggling and playing, but only if you are peeking through a hole in the wall. She acts like he doesn't exist when in public. All in all, what most people see of this seductress is malice, hate and anger.


"I guess you could say I have them wrapped around my finger."




Likes:


❣Dancing❣Clubbing❣Sharp Objects❣Bryce❣Killing❣Kids❣Darkness❣Night❣Sleeping❣Hide & Seek❣Herself❣OZ❣Revealing Clothes❣Black❣Perfume❣Drinking❣


Dislikes:


✘Bright Light✘Men✘Women✘Being Woken Up✘Annoying Noises✘Being Tricked✘Being Ignored✘


Talents:


✿Seduction

| Lily takes great pride in her ability to make virtually anyone fall for her and do her bidding.


✿Hide & Seek

| Something she perfected from years of practice and being a Shadow Keeper.


✿Throwing

| Whether it be soft or sharp, Lily is rarely off point with her throwing.


✿Dancing

| As an extension of her seduction, Lily can dance in a large variety of styles.


✿Climbing

| If there is an obstacle in her way, Lily can most likely climb it.


✿Agility & Speed

| Lily is light on her toes, moving at quick speeds and balancing aren't a problem for her.
Flaws:


☣Lying

| Lily is a massive liar so it can be hard to trust what she says.


☣Quick to Assume

| "Don't judge a book by its cover" means absolutely nothing to Lily. Jumping to conclusions is a mastered skill.


☣Untrusting

| It takes literally years for Lily to trust someone.


Weaknesses:


☠Kids

| If a child is in danger, Lily is quick to act and toss her safety out the window.


☠People She Loves

| When someone earns her love, she can become over protective and paranoid.


☠Being Tricked

| Being fooled sends Lily into a state of shock that often takes days to return from.


☠Water

| Lily cannot swim at all.
Hobbies:


♪Dancing

| Lily loves to dance and can do many different styles.


♪Knife Throwing

| Since she is exceptional at throwing, throwing knifes has become a hobby.


♪Sleeping

| If she isn't training or partying, she would much rather be sleeping.


♪Drinking

| Lily absolutely loves drinking and drinking games.


♪Hide & Seek

| It's really something she only does with OZ.

---
---
---
---
---
---
Powers:
∞

Shadow Manipulation

| Manipulation of shadows of up to one mile.
∞

Shadow Fire

| A black/purple fire that paralyzes whatever it passes through.
∞

Shadow Puppet

| Shadows form any object/person the Keeper desires.
∞

Double Vision

| A duplicate of the Keeper is created and can use all the same powers until it is struck.
∞

Night Dome

| A dome of up to a mile is created, turning day to night within.
∞

Dark Wing

| The ability to create wings out of shadow that act as real wings, giving the ability to fly fast but for only short periods of time.
∞

Summoner

| Summons shadows for the Underworld, more powerful than normal shadows. Usually in the form of demons, such as beautiful men, women, and creatures.
Special Power:
∞

Master Puppeteer

| A large amount of shadows consume the Keeper, creating a giant shadow monster and destroy whatever lays in its path. Only way to stop them is a large amount of light or to kill the Keeper directly.
Secondary Area: Air
Skill Set:
Throwing Anything Sharp - Some Martial Arts
---
---
---
---
Typical Attire: If it is dark, sexy or revealing, you can count on Lily to be wearing it. She doesn't really like overbearingly tight clothing, but will wear it if she has too. On a typical day, you can spot her lounging around in short-shorts and a loose tank top.

Keepsakes: Her adoptive father's scythe.

History:Lily was born 29 years ago to but was abandoned short after, so she never knew who her parents were. There is no record of her birth anywhere and no one has ever contacted her with information. She was left in a dark forest where the Lord of Shadows, known as Liam Riley, found and took Lily in. If Lily had been a normal child, she would have been left for dead, but Liam knew that she was a shadow keeper because of the way the shadows reacted to her. Lily was raised in the Shadow Realm, training most of her young life to become Liam's new vessel. Sixteen years after her birth, full of nothing but training , Liam sent Lily to the Human Realm to attend a certain academy.

Liam didn't tell Lily why exactly he was sending her there, but she listened and left. Lily excelled under Robert Beckenfield's teaching, learning more and more. Little did Robert know was that he was priming Lily to become the perfect vessel. Within months, Liam Joined Lily, for she was too strong for him to completely take her over. The fearsome trio of Zach, Bryce and Lily split up, at Robert's command for private training. The group split up for seventeen weeks before rejoining. Not much happened, then they left once more for summer break to continue their training. Two years later, during a large battle, Robert was possessed by one of the main Ruinosus and the trio was forced to kill their teacher and friend.

Bryce and Lily continued to date and Zach went his own way. But Lily didn't intend to stay for long either. For the next ten years, Lily disappeared on and off, for months at a time. Mainly hiding from the Council. The strange thing is that even though she voluntarily disappeared, she wouldn't remember anything about the months of being gone. She would just wake up and know that she had to see Bryce. Two months ago, Lily disappeared once more and woke up days ago in a random motel room covered in blood. Of course she would never tell Bryce about all these mysterious awakenings. Now she is on the path back to Bryce, hoping that things just might go back to normal.

Other: ||Lily seems to pull her objects out of nowhere. But she really has a dimensional pocket leading to the Shadow Realm where she stores her weapons.|| ||Lily is referred to by some as a vampire due to her love of blood, night, sleeping along with her speed, agility and powers of seduction.||
---
---
---
---
---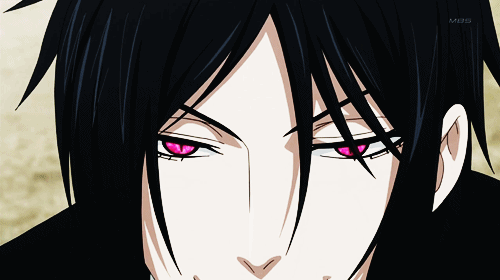 Name: Oz
Age: Unknown
Gender: Male
Area: Shadow
Oddities: N/A
---
---
---
---
Eye Color: Red
Hair Color/Length: Black/To Neck
Height: 6'1"
Weight: 162 lbs
Scars: None
Tattoos: Magic circle on his right hand
Birthmarks: None
Piercings: None
---
---
---
---
Dominant Emotion:
Heartlessness


"Oh well."


Personality:
OZ is a dedicated servant to Lily and upholds a strong sense of duty to his master. He follows and completes each order faithfully, while always ensuring that the plan runs smoothly. He does not sleep, for demons view it as a form of luxury, and thus frequently performs tasks for his Master at night. The manner in which he responds to Lily's demands is quite notable; he says, "Yes sir."

Despite his appearance as a courteous and excellent servant, OZ is actually a heartless and sadistic demon. He expresses these traits in a very passive and sarcastic manner. He is ruthless when attacking others on Lily's orders. His diabolic nature is also shown through his dark humor and inability to see good in anyone. At times, OZ can be indifferent; he had, at one point, deliberately delayed saving Lily, for his own amusement. He thinks Lily can be a brat, who treats her comrades rudely, but has admitted that he does not dislike the familiar lifestyle, despite all the troubles he goes through on a daily basis.

Sebastian views money as "rubbish" or "materialistic." He is fluent in French and Latin, enough to teach the latter. He is also knowledgeable and proficient in Deutsch (German) and East Franconian, a dialect in Southern Germany. OZ has a strong and mutual distaste for other shadows. He greatly favors cats, and keeps at least thirteen hidden to prevent Lily from finding out.

OZ often contemplates the behaviors and attitudes of human beings. He finds humans in general to be "difficult creatures," but he adds that their struggles and lofty goals make them interesting. He is also intrigued by how seemingly insatiable they are, as they are willing to "drag others down to get what they want, even in death."


"It's not like it's a secret."



Likes:
❣Cats❣Serving❣Shadows❣Different Languages❣Humans❣Torture❣His Master❣Tricks❣Killing❣
Dislikes:
✘Surprises✘Dogs✘Angels✘Light Mages✘Sitting on the Side Line✘Disorder✘
---
---