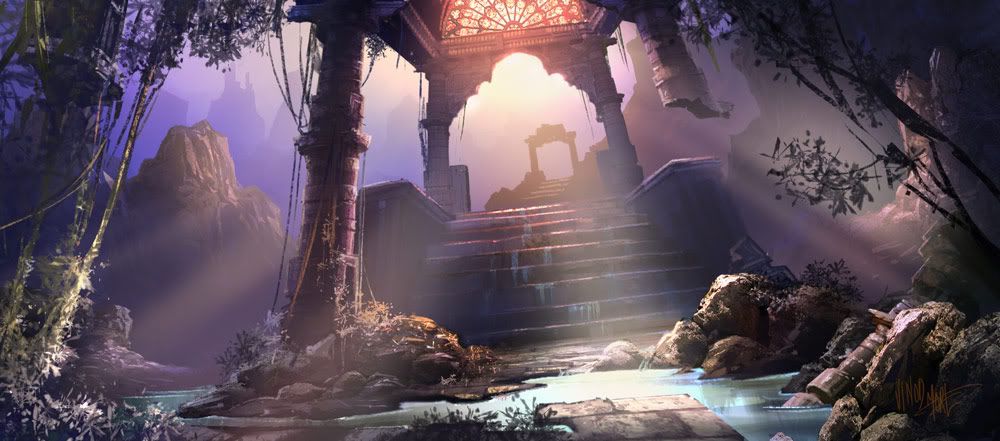 Plot- For years the Sinking islands have been a mystery and the Mer which inhabit them even more so. It isn't long before a researcher sets out for this island wising to know more about he lost ruins and the mer. they wishes to commutate with hem if he can and him and his assistant sets out to do so.
The researcher isn't the only one interested in the Mer though a scientist also wishes to study them. He considers them nothing more than fish however and wishes to capture one to dissect, maybe even sell them if they can. Him and his assistant head towards the island as well.
A treasure hunter hears of the ruins and at once thinks about the treasure that could be found there. They know nothing of the Mer but sets out
anyone hoping to get their hands on some treasure.
Rogue Mer have migrated from the cold harsh arctic. They are a brutal as there former environment would suggest. Their culture although similar to the Mer of the ruins but different in some aspects. The easily make their way towards the island.
Location- A small Tropical Island, off the coast of Barony. This isle has been slowly sinking in the water for decades. The left side of the island is still above water but the right side is half submerged. On the right side of the island was built a large architect ruins, half of this amazing structure was outside above ground while another half a network of large coven and tunnels was below ground. The half that is below ground because of erosion of the island has become submerged in water. And a lot of the walls have fallen down and opened up to the sea. The Mer once only inhabiting the area around the island and the shallow swamps and large tidal pools moved in the ruins making their small hollow dens in the crumbling rock.
map of the sinking island
Mer
Features
Mer have very long tails, at least twice the size of human's legs. There is the large fin at the end of their tails than there are fins on the sides of their tails and a larger one on the small of their back down where their butt would be. These fin flare out to manoeuvre around tight corners and small crevices inside the ruins where they made their homes. These side fins are brightly coloured in green and blues and sometimes rare streaks of purple and pink. They are brightly coloured to attract mates and flare out when around a Mer they are interested in. (Mer mate for life) Tails on males are thicker and stronger while females tend to be slim but still strong.
Facial features are extremely smooth on females and a little rougher on males but not much. Most Mer wear they hair long although there are some who cut it short. There gills are on either side of their necks, these close up when the Mer on land. Mer have slightly sharper teeth than people this is so they can easily into their food, small fish and different types of sea vegetation. Mer unlike mermaids are not friends of fish cannot speak their language or speak with them telepathically.
Mer have pale skin because of the fact they are under water so much and don't receive much sun, although Mer that make their homes in the pools on the left side of the island tend to have a little more color to them. Mer skin is also smoother and tougher than human skin
In the front of the female tail there is a scale that retracts during intercourse, some with the males a scale retract and there you know becomes apparent. There of course isn't going to be any mature content in this RP I only included this info to show that a human and Mer relationship is possible but it has and always will end in ruin.
Mer can only survive up about 2 hours above water. It a lot like how whale hold their breath while underwater only it switched. Mer gills close and they hold their breath above water, they can still speak and stuff of course.
Culture
Mer can speak a few human languages they learn fast and depending on where they've been pick up things. Mer however cannot speak above ground and do not have a language of their own. Instead Mer use body langue to speak to each other while in water.
Two examples of Mer communication-
A female loosely wrapping her tail or brushing her tail against a male is considered flirting. The more tightly there tails are wrapped together the more intimate it is considered. Mer kiss too but only their actual mates, they use their tails to court each other until then.
If a Mer hits another more tail it can mean their being playful or it can mean 'go away.' Depending on the situation of the Mer involved it usually obvious what they telling the other Mer by the facial expression they have while hitting the other Mer.
Mermaids do not wear clothes they don't need them because ether bodies adjust to whatever temperature they are exposes to. There do however wear accessories, old jewellery found in the ruins or sometime sold netting for shawls. Some don't bother unlike popular belief Mer are not vain creatures and do not have beautiful voices that can put people in trances.
Mer are hunters, they are intelligent as any human, maybe even more, and they just have a different way of living. The do not hunt humans or attack them useless they feel threatened.
Spots open
Rescearcher-Isabella~ bellelaine
Their assistant-Elliot jones~soulcandy
scientist-Drake~bellelaine
Their assistant-
Treasure hunter-tiberis~Spikerer
Partner (optional)- Alexander grumman~Dtalon
Rogue Mer female1-Solice~thecarzyfrenchlady
rogue mer male 2-
Mer female 1- Nim~ soulcandy
Mer female2-Tiana~zodia195
Mer male 1-Eros~ Jane storm
Mer male 2-nikara~Penfold
Character profile
Name:
Age:
Species:
Job (doesn't apply to Mer)-
Sexual orientation-
Spouse/lover:
Gender:
Description (if Mer make sure to follow the guide)-
Equipment-
Personality-
History-
Rules


Minimum of 300 words per post NO EXSECPTIONS 300 WORDS

Please do not ignore another's post.

Try not to keep people in the dark about personal plots. (There will be a thread for plot discussion.)

Play nice

no godmodding or power playing without the consent of those whose character you wish to control if someone hasn't posted a while and your stuck you can move their character to the side to keep the rp going

no Mary sues

this rp will most likely be mature, not for sex scenes (although romance is encouraged). it'll be mature because of the content and we need people who can handle issues of betrayal, murder, etc. also, language. Characters will be swearing at points, if you'd prefer not to see bad language in the role-play, I'd prefer you went somewhere else. YOU CAN DIE

play as many characters as you want, but make sure you can handle it
Arcs are bundles of posts that you can organize on your own. They're useful for telling a story that might span long periods of time or space.
There are no arcs in this roleplay.
There are no quests in this roleplay.
Here's the current leaderboard.
There are no groups in this roleplay!
Welcome home, Promethean. Here, you can manage your universe.
Arcs are bundles of posts from any location, allowing you to easily capture sub-plots which might be spread out across multiple locations.
You can create Quests with various rewards, encouraging your players to engage with specific plot lines.
Settings are the backdrop for the characters in your universe, giving meaning and context to their existence. By creating a number of well-written locations, you can organize your universe into areas and regions.
Navigation
While not required, locations can be organized onto a map. More information soon!
There are no groups in this roleplay!
By creating Collectibles, you can reward your players with unique items that accentuate their character sheets.
Once an Item has been created, it can be spawned in the IC using /spawn Item Name (case-sensitive, as usual) — this can be followed with /take Item Name to retrieve the item into the current character's inventory.
Give your Universe life by adding a Mob, which are auto-replenishing NPCs your players can interact with. Useful for some quick hack-and-slash fun!
Mobs can be automated spawns, like rats and bats, or full-on NPCs complete with conversation menus. Use them to enhance your player experience!
Current Mobs
No mobs have been created yet.
Locations where Mobs and Items might appear.
You can schedule events for your players to create notifications and schedule times for everyone to plan around.
Add and remove other people from your Universe.
Orphanage
By marking a character as abandoned, you can offer them to your players as pre-made character sheets.
0 sightings
Tiana
played by

Zodia195
Former Mercenary turned Treasure Hunter
The Forge
Use your INK to craft new artifacts in Ruins of Mer. Once created, Items cannot be changed, but they can be bought and sold in the marketplace.
Notable Items
No items have been created yet!
The Market
Buy, sell, and even craft your own items in this universe.
Market Data

Market conditions are unknown. Use caution when trading.

Quick Buy (Items Most Recently Listed for Sale)
None
Shallow awarm water that is home to many plants and tropical fish
Where the mer live freely in the underwater maze
Water covers most of this side, leaving the top of the ruins dry and some land.
The water slowly eats it's way though the part of the island still above water
Discussions
Topics

Replies
Views

Last post
Most recent OOC posts in Ruins of Mer
There have been no posts in the OOC topic for this roleplay!