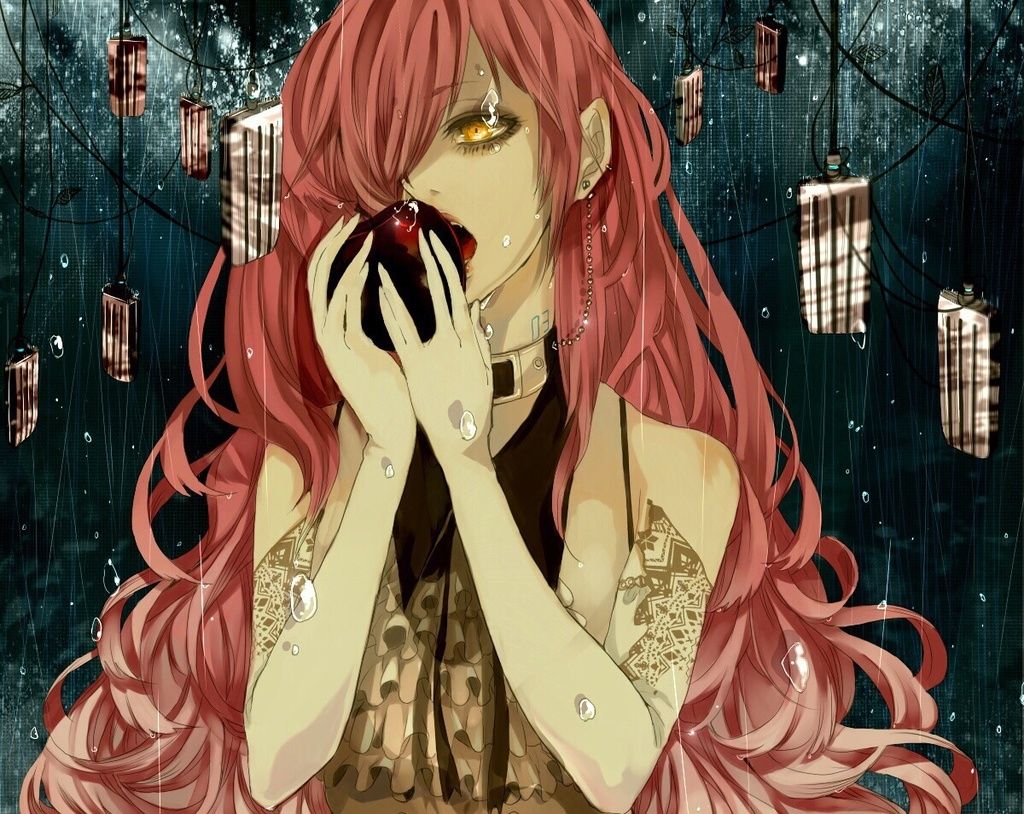 Name:
Reika Ayamura Kurohime (Nightingale)
Age:
50
Appears 25
Gender:
Female
Species:
Pureblood Vampire
Occupation:
Bar Owner - Informant

Hair Colour:
Pale Pink
Hair Style:

Waist Length
Loose Curls
Eye Colour:
Gold
Skin Tone:
Pale - Porcelain

Height:
5''7
Body Shape:
Slim - Curvy - Lithe
Tattoos/Markings/Piercings:
*Tattoos upon her left leg
Rose stem (Thorns) wrapped around her leg from her mid-shin to upper thigh where two roses are.
No colour- Just Black. Is made from her shadow abilities
Also uses shadows to create tattoos upon her upper arms as seen in the first picture.
*Both ears are pierced.
Clothing Style:
All clothing that Reika wears tends to be form fitting. At home she will wear more comfortable clothes such as leggings and jeans along with fitted jumpers or tank tops. However, Reika is completely different in style when out. At her club for example, she will wear dresses that show of skin and fit her body and curves along with heels. She is always in some type of heels, even in her down time it'll be a pair of heeled combat styled boots. She has a necklace with a charm that symbolises the name both her and Tatsuo once held as a duo.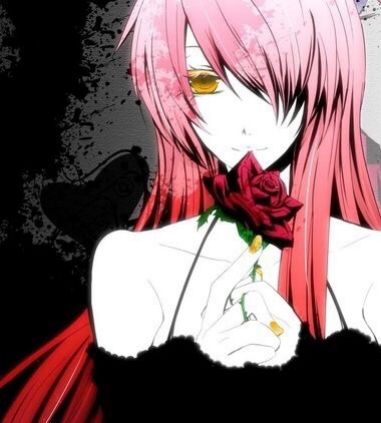 Personality:
Reika presents herself differently to each person. To those she does business with, Reika is mischievous, manipulative and sly character. She has no issues with trickery or lies to get her way. When she is with those in a formal setting she will be calm, observant and calculative. However, these are only parts of her that are visible to those who are not well known to her or are distant. In reality, Reika can be quite cheerful, a pleasant character who adores those she loves and cares for. To those close, she even tends to assign pet names to people, such as 'darling' or 'sweetie'. In her past, alongside her brother years ago, Reika was a vicious, cold hearted and ruthless character who was sadistic in her kills. Bloodthirsty. She held no mercy and enjoyed the hunt and kill. It has only been a few years past the creation of the treaty that she had formed a sense of control and morality towards these types of things. Though this is often dictated by situation. Reika has matured since those days. Reika does not thinking to well of humans. While she does not hate them to the extreme some vampires do, Reika is not entirely fond of them, finding fault in how weak they can be. Ghouls she shares a similar perception to. She absolutely detest hunters, them being one of the few reasons she would fall back into her previous bloodthirsty self. Though she has long since calmed her ways, Reika has since become a informant, selling information to the highest bidder in a sense. It is an outlet in a sense, allowing Reika to fall back into the part of her that is manipulative and mischievous. There is a small part of Reika that is still in mourning, full of guilt and pain. Though it doesn't present itself often, Reika will often loose herself in thoughts and memories where the past consumes her of those she has lost and loved. This has led to her occasionally secluding herself, isolating herself out of her own free will so she can wallow and be left to her thoughts.
Likes:
Her club
Her family
The colour red
Shopping
Her job - 'Informant'
Cooking - Though more as a method to relax
Gardens/Plants
Dislikes:
Hunters
Her father
Betrayal
Mornings
Shades of green, browns and oranges.
Repetition
Stubborn people
Quirks:
Using shadows to create 'tattoos'
Assigning pet names
Randomly blurting out thoughts
Always having her nails painted red
Fears:

Loosing her Brother and those she loves
Betrayal
Being Abandoned

Skills:
Languages - Japanese & English
Weaponry - Sword(Katana)
Using her shadow manipulation
Cooking
Sewing
Hobbies:
Cooking Deserts
Designing/Creating clothes
Redecorating
Taking Photos
Hanging out in her club

Abilities:Relationships:
Tatsuo - Her older brother. Reika adores Tatsuo and in their youth when they finally met, Reika instantly found herself attached to her brother more so than she was to their own parents. She is much happier and active when Tatsuo is around and often will drag her stoic brother out to participate in things simply because she wants him to go out more. Though this is strange since she herself has a habit of isolating herself. She tends to dote over Tatsuo when he is in town. They once were a vicious duo that earned a reputation that even to this day, many believe is simply one person and not the pair of them. Since they have calmed down from those days she is even more protective of her brother.

Charles Nightingale - Her Father. After their mother's death he himself vanished as he desperately mourned her loss. This led to Reika have a mixed opinion of her father. She refuses to think of her father and often will avoid dwelling on the topic of him. While she still holds a deeply set love for him, she hates him for leaving her and Tatsuo when they also mourned the loss of their mother. More so she hates that he left them with responsibilities as apart of a noble family.

Mother - Deceased. Though Tatsuo was obviously her favourite in the family, her favourite parent always had been their mother. Their mother was neutral to the human species and in her youth it influenced Reika to be, until her mother died. When she died she mourned and fell into a state of despair...but she has slowly moved on from the loss. Though when the date comes back around she tends to grow quieter and appear less outside her home.

Isolde Nox - A client who she sells information to on occasion. Unlike many of her clients, Reika is quite fond of Isolde though only slightly so. They can be considered friends but their interactions are not very often. Though Isolde does often turn up to her bar for the occasional drink and down time. Reika sees her old self in Isolde

History:

Voice:
[color==#ff0066]
Reika's Voice (Saeko)
[/color]
Theme: