---
---
---
---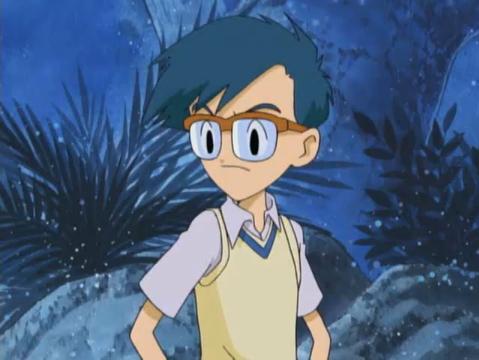 Species:
Human
Gender:
Male
Dominant Hand:
Right
Age:
18
Weight:
180 lbs
Height:
6'0
Skin Tone:
White
Eye Color:
Hazel
Hair Color:
Blue
Hair Styles:
Neat and trim
Tattoos/Scars:
He's got a birthmark on his left thigh that looks like a duck.
Aura Color:
Gray
Fashion Sense:
Preppy, but not in an overtly elitist sense- he just likes to look nice. He's typically seen sporting a polo shirt and a pair of slacks (or cargo shorts during hot days.) In stark contrast to the rest of his apparel, Jerry is fond of big, poofy sneakers (similar to Osiris brand shoes.)
Personality:
Jerry is a happy, goal-oriented, goofball. He pursues friendships with the same intensity that a toddler may pursue playing with a new toy, which leads many to be turned off by his rather strong approach. In addition to this, he has a hard time picking up on social cues- he speaks his mind candidly and often, oblivious to the subtleties of socializing. Still, those who take the time to get to know Jerry will find an honest, albeit eccentric, companion who will go to the ends of the Earth and back for his friends.
On a separate note, his personality undergoes some curious changes when he is either making music or drinking. He climbs a few rungs on the cool ladder when he is playing piano or singing, but becomes borderline bipolar when under the influence. Not violent, mind you, but subject to wild mood swings.
Favorite Color:
Yellow
Favorite Meal:
Chocolate and Scotch. Or just Scotch without the chocolate. Or any kind of alcohol if Scotch isn't present. Seriously, for being underage and not exactly a hard partier, Jerry drinks like a fish.
Likes:
Scotch, tinkering, piano, learning about stuff.
Dislikes:
Overbearing personalities, skunky beer, cats, having to take his shirt off in front of people (it's a long story...)
Strengths:
Insight, camaraderie, precision with completing tasks.
Fears:
Not being liked, not being in control, getting hurt (physically. He's kind of oblivious to emotional stuff.)
---
---
Intelligence:
7 (NEEEERD)
Strength:
1 (He forgot to eat his Wheaties)
Speed:
3 (Incredible by Muggle standards, but only passable by Beacons)
Durability:
3 (Passive Aura is used to regenerate wounds)
Energy Projection:
7 (An absolute BEAST with Aura and Dust manifestation)
Fighting Ability:
4 (He knows his limits, but is no slouch in a fight)
---
---
Weapons:
Though Jerry typically relies on his mastery over Dusts and his own Aura to battle, he also has holstered two of his fathers Colt Pythons. The guns are equipped with 4-inch barrels, shiny nickel finish, and the stocks have been modified to respond to any Dust manipulation Jerry conjures. Because of this, when Jerry focuses Dust manifestation into the stocks of his guns, they will fire bursts of concentrated Dust instead of regular bullets. When discharged this way, the guns do not recoil, as they are merely being used as the catalyst for which the Dust travels. Jerry will typically use the revolvers for close-range combat when firing them with this method. However, he keeps a few extra rounds handy in the event that his conjuring capabilities are impaired. When firing regular bullets, however, the guns will function as normal, recoil and all.
Dust Type:
Though proficient with all Dusts, he typically utilizes Light Dust, made from composite Earth and Fire.
Armor:
None. An excess of armor would slow him down, and he's probably not strong enough to wear it anyway.
Semblance:
Mythcraft- In addition to his sheer mastery of Dust manifestation in its most archaic use, Jerry can use his Aura to conjure various mythological weaponry. These weapons are merely tangible extensions of his own Aura- they cannot be wielded by anyone save Jerry. Although these are energy-based projections, the density of the energy renders them like a solid object, and can be deflected by corporeal means. Currently, Jerry is able to conjure 4 Mythcraft weapons:
Excalibur: Legendary sword of light. It is the most well-rounded weapons in Jerry's arsenal, and it glows a brilliant gold.
Gungnir: Mystical spear of wisdom. It can be thrown great distances, and can be called back to Jerry at will. Shimmers with an azure blue glow.
Aegis: Esoteric shield of lore. It can be held in hand, or float around allies for passive protection. It is Jerry's personal favorite, and it glows a majestic, stark white.
Cronus: Chaotic scythe of death. It is Jerry's most powerful weapon, but there is a notable change in Jerry's personality and demeanor when wielding this weapon. Only used in dire circumstances, it glows an eery, shadowy black.
Personal History:
Born as the son of two notable Beacon alumni, Jerry was always expected to grow up to a great Hunter. To his fathers disappointment, however, Jerry never had a natural aptitude for combat- rather, it was the research of Dust and Aura application that fascinated little Jerry. He spent most of his days secluded in his room, tinkering with devices and seeing how he could apply Dust into basic machinery.
Ultimately, it was his experiments with Dust-powered machines which caught the attention of the Beacon academy. At only 11 years of age, he was brought into the academy under the tutelage of various Dust scholars. Though he always abhorred violence, it was Beacon policy that he undergo training as a Hunter, so he reluctantly complied.
In his 18th year, however, he has grown quite proficient at dispatching the Grimm, and he has grown quite close to his team. In some ways, they have provided him with more of a family than his own mother and father could- a family that accepted Jerry for Jerry, and not for his parents legacy...
---
---