Theme Song:
mafumafu - Soul Distortion Terrorism
---
---
Name: Ricochet Quixo

Age: 19

Species: Human

Physical Gender: Male

Dominant Hand: Right

Height: 5'8"

Weight: 135 lbs.

Skin tone: Pale

Eye Color: Maroon

Hair Color: Reddish-brown

Hair Style: Practically unkempt

Tattoos and Scars:
Has a scar on his left cheek, which he constantly keeps bandaged. A few more are scattered around his body.

Aura Color: Green

Fashion Sense: When it comes to apparel, Rico is surprisingly quite the adept at the skill. This principle only applies when he's in casual attire, the rest of the time he'll be in a generally normal light green t-shirt and black pants, draped in a dark coat with golden brims. The coat has a strap which branches across his nape, making it look more like a cloak than anything. Also fancies a pair of black combat boots, another example of his militaristic upbringing.
---
---
Intelligence | Gifted(4)
Strength | Peak Human(3)
Speed | Supersonic(5)
Durability | Enhanced(3)
Energy Projection | Long Range(5)
Fighting Skills | Master of Marksmanship(5)

Personality
Confident | Versatile | Charismatic | Dependable | Witty | Laid-back
The word confident can encompass the entirety of Ricochet's archetype. A volatile concoction of wit and unconditional faith in his capabilities leads on a proficient marksman. There isn't a speck of indifference when it comes to boosting his own ego, which he upholds very strongly, constantly boasting about god-tier shots he has made. But if one can get past the incessant propping of his pride, it is easy to see that Rico is quite the friendly character. He's a soldier at heart, thus, he's been bred and made to follow orders down to the letter. The sniper can perform his duties while slipping in puns and immeasurable bouts of comical relief, and is a sign of optimism to his squad mates.

Favorite Color: Army Green
Favorite Meal: Pizza & Coffee
Likes:
Heroism | Coffee | Eccentric People | Cloaks | Technology
Dislikes:
Worryworts | Cats | Outdated Mechanisms | Lethargy | Listlessness
Strengths:
Perceptive | Vigilant | Disciplined |Tech Savvy
Weaknesses
Overwhelming Odds | Exposed Cover | Open Areas
Fears:
Losing a comrade | Loss of self-faith | Defeat
---
---
Secondary Theme:
GUMI - Nostalgia Tactics
---
---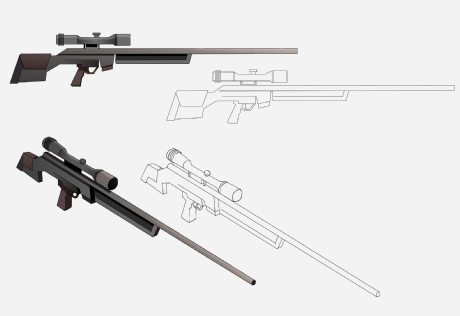 Weapon Name: Alacrity
Weapon Description: At a glance, Alacrity seems like an iconic sniper rifle. Some would even argue that it comes off as primitive. The beauty of the weapon lies in its simplicity, along with the integrated combat abilities hidden within the housing. The scope itself is versatile in the sense of its wide range of magnification settings, from 2x - 20x, Rico can accurately equate the distance between himself and his target. In addition, the optic has thermal and nighttime faculties, making it effective in a slew of scenarios. When in sniper form, The Alacrity is fed by a seven round magazine, loaded with small bullets which expand post-ejection. If enemies suddenly close in on Ricochet, he will employ the weapon's secondary form, which is a compact carbine, feeding off of a twenty round box magazine hidden within the stock. In this instance, the scope folds over to the left side to give leeway for a RDS, while the barrel collapses on itself to reduce the firearm's overall size.
Dust Type: Fire
Armor: None, would slow him down.
Kinetic Jurisdiction: Rico is able to manipulate the speed and direction of his bullets, along with being able to accurately see the trajectory of oncoming projectiles.
---
---
History:
Rico was born with a dust shard in his hand and a rifle muzzle in his mouth. In other words, he was in the military the second he left his mother's womb. Although the employment of huntsmen took prominence in the era, the common foot-soldiers still had their place in the protection of the four regions. The child's father was an experienced war veteran, high up in the echelons of the military, but his birth wasn't exactly seen as a celebratory event. The name Ricochet fits him perfectly, as his parents wanted to live their lives in one way, but a miscalculation simply sent everything off trajectory. His name may have been manifested from a mixture of downright humor and military twist, either way, he had came into the world and there was no reversal to such a predicament.

On the bright side, at least he wasn't a feeble child, and managed to survive the harsh training he delved into during the early years of his adolescence. The boy showed an uncommon proficiency in military tactics and technological warfare, surpassing his father's most adroit soldiers and technicians. It was clear as day that he had much more than a knack, and that his destiny lied beyond the boundaries of common infantry. His father took a change of pace and began to weigh more of a scholastic approach on him, rather than constant training. It was a surprise enough that the beacon of the common soldier concocted the idea of having his son pursue a career as a huntsman. It took Rico a while to adapt to studies, but after he got the hang of it, the boy was showing exemplary results. Of course he had a few run-ins with teachers which complained about his witty retorts, but either than that, he had a clean career and found himself in Beacon.
---
---
Symbol - Ouroboros - Located on both shoulders
Tertiary Theme:
Suzumu - Heart Connect