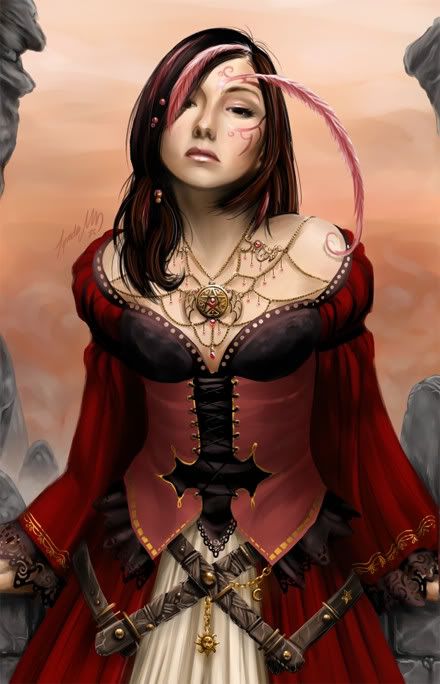 Role:
Eldest Solstice Sibling
Age:
18
Gender:
Female
Personality:
Jenna has always had little time for people. Even as a child she kept to herself, spending more time alone then with the few children around. She learned to become independent early on. As her parent's eldest child she had to help her family support themselves. As she grew the share of the work became larger, neither did she mind. With her young brother her parents had even more to care for and more often then not she was left alone. The middle part of her life she spent much of her spare time travelling outside the bounds of the Ley. Learning what she could about the wild on her own. Despite her coldness she is very practical and resourceful, but only on her own. In a way she is uncaring, not willing to share her knowledge and time with others. The only people she cares for are her family and sometimes she does not get along with them very well. Specially her brother, while she cares for him far more then anyone would ever guess. Joseph's attention to her more often then not prevents her from the solitude she prefers. From time to time she does lighten up, on rare occasion spending quality time with him. Yet she has not given into his playful nature since her youth.
She enjoys solitude and more so in the cold, when most people would look for company and warmth. With unusual routine she is more active in the evening, after the sun sets. Most others rise with the sun would retire to their homes with its set. Rain, sleet and snow are trials the villager have to last through but Jenna seems to enjoy such bad weather. It is the only time she is seen smiling, a rare sight. Yet she is not immune to the weather and her habits have gotten her sick more then once. Yet so only takes little precautions and continues, as independent as ever. As a farm girl she enjoys tending crops and, like her brother, adores animals. She often finds them better company then people. As pragmatic as she is she has no qualms about eating meat or even euthanasia should the animal be suffering, old or simply unproductive.
Appearance:
Jenna is almost awkwardly tall and slender, almost as tall as some men at just under 5'10" but with little bulk to compare. So she was certainly not a delicate young lady and not shapely by stretch. Growing up in the country does not make things easier to women and girls. Her auburn hair is short, coarse and wild. Her clothing, while she still wears dresses, is practical and well worn. She has a little jewelry, mostly wood carvings she has made herself. With pale skin that has browned in the sun and little smooth flesh on her body. Her sharp features and sunken blue eyes are unfriendly if slightly exotic. Often her lips are dry and cracked from wind the cold and set in a disapproving frown.
Magical Abilities:
Jenna's abilities are entirely mental, only limited by her focus and mental state. The more she extends herself the harder it is for her to concentrate. A uncomfortable situation that mean she was always cautious about practicing, ensuring she was far from discovery. She is most adept at her manipulation of water as a liquid. Able to control medium bodies, such as a barrel or large puddle. With larger still bodies she can alter the surface yet it is difficult to counter the water's natural tendencies. She can snap freeze small amounts of water and slowly cool anything larger. The same is true of the transition from liquid into gas. With both techniques there will be a corresponding temperature change but not as extreme as the natural requirements. It gets more difficult as she works against nature. Flowing water is far harder to control then individual droplets and masses. The range of her abilities is certainly not as limited, it is possible for her to extend her power as far as she can see and even beyond. She doesn't require to necessarily she the effect she is causing. Of course such vague control can be problematic and is best keep to simple actions.
Also, being in water has the ability to invigorate Jenna in the same way as adrenaline or endorphins. The greater the contact the greater the sensation.
Weapon:
N/A
History:
Born at midnight on the longest night of the year Jenna was always marked as child of the Sabbaths. Her parents didn't really understand the significance of what that meant other then the church would be bad if it was discovered. So they claimed she was born after midnight and Jenna grew up believing this until the birth of her brother in the same situation. As a four year old she didn't really understand the situation but kept the secret regardless, learning more of the importance as she matured. Her family was a simple one, as all of those living in Ley. They had a small crop field and a few livestock but mostly they were living from hand to mouth. Any money they had was seasonal and was spend on necessities.
Jenna was an odd child, not loud, boisterous or openly rebellious but still could be labeled as a 'wild child'. She was individual, wandering off from a very young age and often causing her parents more then a little fright. She spend her time out in the fields when she was supposed to and beyond them otherwise. Many a day she would return home drenched, muddied, scratched and/or grazed adequately.
As a sister she spend a lot of time of her younger years with her brother. Eventually as he grew she returned to her old ways. It was obvious that they were more discrepancies between them than similarities. However, she has managed to show the boy many of her explorations on the promise that he did not tell anyone. To this day she doesn't really know if he has and no longer minds. As a young lady she has plenty to do and less time for he wanderings, although every now and then she takes advantage of the free time.