Robert Louis Johnson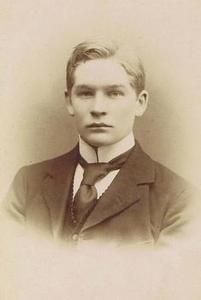 Theme Song:
The Garden- The Creepshow
GENERAL INFORMATION
Role:
Ghost 1
Nickname(s)/Alias(es):
Bobby
Gender:
Male
Age:
18
Love Interest:
APPEARANCE
Height:
5'8"
Weight:
140 Lbs.
Build:
On the slim side
Eye Color:
Brown
Hair Color:
Black
Scars/Tattoos/Piercings:
N/A
Preferred Clothing:
In life and death Bobby can be seen wearing a simple suit, black with a white undershirt and a black tie and vest, as well as a pair of black dress shoes. However, his attire is now singed around the edges.
MENTALITY
Oddities:
In life Bobby had a habit of humming when he was bored or nervous
Fears/Phobias:
Afraid of fire and of people yelling at him or being angry with him
Likes:
Sneaking sips of brandy
Looking out over the water at night
Keeping things in order
Dislikes:
Disorder and chaos
Being told what he did was wrong
Being yelled at
Personality:
Bobby is caught in that awkward point of life between being a man and a boy. Although he was eighteen at his time of death he still acted a bit childish, and as a result was never fully respected, which made him feel small. This translated into his going whatever job he was tasked with to the best of his ability, looking to be praised for his good work. Whenever he did something right and someone tried to tell him it was wrong he would become very upset, though he tried to never let it show.
COMBAT
u]Fighting Style: [/u]
Bobby was never much of a fighter. On the occasion that he did find himself faced with a fight of some sort he would always lose, and as such he took to using weapons. Whatever he could get his hands on really. A knife, a chair, an oar. He hates fighting, and violence in general, but he can be riled up and made to throw a punch.
HISTORY
Relationship Status:
Single
Family:
Father- Robert Stanley Johnson
Mother- Alice Marie Johnson
Brother- Robert Andrew Johnson
Great, great, grandnephew (or something to that extent)- Aaron Taylor-Johnson
Personal History/Background:
Bobby was the younger of two boys born to Robert Stanley Johnson, his older brother's name was Robert Andrew Johnson and he was the favorite of the two, though his father would never admit it. Bobby was always second best to his brother, and if anything ever went wrong it was blamed on him. Andrew would often try to stand up for his brother, but it only made Bobby feel weak and useless.
By the time he was eighteen years old both he and Andrew got a job working on the ship (will add name of the ship in once I finish). Both were deckhands, neither doing anything more important than washing the floors or cutting up potatoes in the galley. On faithful night that the ship went down, Bobby had snuck into the captain's quarters and drank some of his brandy, enough to end up picking a fight with his brother when he was caught. The two were still fighting when the fire started. In trying to escape Andrew was knocked over the side of the ship while Bobby, covered in spilt brandy, caught fire and jumped over the side after his brother. Andrew somehow managed to survive and return home while Bobby never left the island.
OTHER:
Bobby actually died from breathing in the searing air caused by the flames, as a result he speaks with a raspy voice