---
---
███████████████████████████████████████████████████████████████████████
---
---
---
---
███████████████████████████████████████████████████████████████████████
---
---
F U L L

X

N A M E
Jaiden Asher Lily Price

N I C K N A M E (S)
Jai | Most commonly used by everyone

Ash/Asher | Used by those closest to her

Lily | Childhood nickname by her mother, in turn, she isn't a fan of that one


B I R T H D A Y
October 25th

A G E
21 | But is rumored about being older, at least 28-30 by now

S P E C I E S
Witch

S E X U A L I T Y
Pansexual | Unknown preference as she's never dated anyone before

E T H N I C I T Y
Unknown | She's too much of a mix to know for sure

H O M E T O W N
Old Orchard Beach, Maine

H E X


Speech

|

Thought
---
---
███████████████████████████████████████████████████████████████████████
---
---

S T Y L E
Her sense of style is something some would consider an oddity, especially for her age. Jaiden can usually be seen darker colors, anything from sweaters, jackets, hoodies, and t-shirts, to sun dresses and things on the formal end of fashion. She'll gladly wear jeans, boots, and a t shirt for the night on the town, or sweat pants and sweaters on a cold night in her house. Whatever the occasion, she will always be seen with her 8mm gages that she has in both ears. She'll also be seen with an old locket made of copper hung around her neck, no one knows what's inside of the locket and she prefers to keep it that way as she always keeps it on a tight chain around her neck.

H E I G H T & W E I G H T
5'0" | 108lbs

A P P E A R A N C E
Despite her age, Ash is one for style, commonly dressing in things that tend to either be form-fitting or free-flowing that help make her seem less small. Her skin is of a soft, light brown tone while in direct sunlight it is somewhat pale, with dark brown eyes and a set of equally dark and curly hair sits atop her head which is usually covered by a hat or hood. She has been described as childish and dainty when meeting her for the first time as she is always seen moving or doing something that requires her to move, so some say she is rather unpredictable as they never know what she is going to do next. She is also described as being energetic and can usually be seen with a smile on her face that seems to be contagious for those that manage to see her smile.

Aside from clothing, she is covered in art, not exactly covered from head to toe, but she does have her fair share of tattoos, and for those that are lucky enough to see them, as she almost always wears long sleeves or jackets, they'll have seen the plethora that covers her body. On her back from shoulder to shoulder and that reaches down to the small of her back, she has what seems to bemetalic wings that seem to be molting while the majority are completely intact. On the right side of her torso, she has ancientrunes alongside her abdomen and no one seems to be able to understand what the mean exactly aside from her. She has elemental runes outlined and tattooed on her left bicep, it is one of her most noticeable tattoos if she is not wearing a long sleeves shirt or jacket. One of her last tattoos is three phases of the moon on her right forearm, that is her most prominent and noticeable tattoos, one that she has slight regret about getting. And lastly, her final tattoo is of a single black feather that ends in a flock of birds, which is tattooed on her right collarbone and is personally one of her favorites.
---
---
███████████████████████████████████████████████████████████████████████
---
---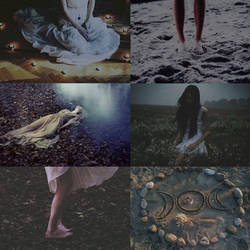 L I K E S
Nature
, first and foremost she loves and adores nature. From animals and sounds of nature itself, something about it brings a sense of peace and calmness to her |
Coffee
, Ash has a sweet tooth and something about the sweet and bitter mix of coffee is somewhat of a guilty pleasure as she knows it isn't exactly good for her |
Horror and scary movies
, she loves the feeling of the rush that horror films give her, but they have to be the classics, as the modern-day ones seem too predictable and not scary to her, if anything she finds them funny |
Music
, it doesn't matter what kind it is, except for country and rap, Ash will always have music playing wherever she goes as it helps her concentrate |
Piano, guitar, and violin
, something about those instruments to her are one of the few things she found herself spending the most time with from an early age |
Art
, Jaiden has a massive love for all art pieces, something about getting a peek into someone else's mind through art has always fascinated her |
Photography
, she can always be seen with a camera in her hand no matter where she is |
Video games
, she has a healthy love for video games and would gladly stay at home playing with friends if they weren't feeling well or just wanted to be lazy |
Sweets
, as mentioned before she has a love for anything that is sweet and contains sugar, especially cookies and cakes. If you offer her food you'll be more than likely on her good side until you manage to piss her off enough |
Lumos, Nox, and Melvin
, she would do anything for them and if it wasn't for her pets she doesn't know what she would do, seeing as they're the only family she's had for years by now |
D I S L I K E S
Fire
, contrary to popular belief she absolutely hates fire as even simply the smell or the heat it radiates causes panic and anxiety to find its way through her therefore she hates that is what she possesses as a witch |
Sour Foods
, something about the taste and consistency they have always gave her a stomachache afterwards |
Silence
, as it causes massive waves of anxiety to rush through her |
Loud or sudden noises
, as they can be unpredictable anything that goes off without warning scares her more than they do to others |
Cars and vehicles
, she hates anything to do with cars ever since she was a child and would gladly walk through the coldest weather to get to where she needs to be than get into a car |
Hurting anyone else
, the last thing she wants to do is hurt anyone else ever again so as often as she can she prefers to be by herself |
Herself
, as mentioned prior, she doesn't like the idea of possibly hurting anyone else, which in turn has caused her to have some self hate for having hurt the people she loved in the past |
Most religions
, as her kind has been tortured and killed for false accusations in the past hundreds of years |
---
---
███████████████████████████████████████████████████████████████████████
---
---
P E R S O N A
Jaiden is a bit of an oddity, to say the least. Normally she is a shy, quiet, socially awkward recluse that is constantly home as she is self-employed as a graphic designer and freelance artist that is either too busy to go outside and see her few friends that she has, or she's simply not feeling it and would rather stay in her room and work, play video games, or read some light novels in her room by herself with some soft music in the background while drinking tea or coffee. But at the same time, she can be a happy and bubbly outgoing person who wants to go out on the town and go to bars and clubs with her friends, that once she gets drunk enough she is easily a flirt with her friends when normally she is rather awkward and reserved.
Much like the element that she possesses control over she is one that is easy to piss off and be angered easily and as some of her friends have referred to her as "hot-headed", the pun intended or not is all the same to her. She can be happy and laughing with friends one second and something can be said and she can easily be upset and storms off until she calms down enough to come back and go back to having a good time with her friends. When left alone with certain people she is seen as kind and caring, as well as a good listener and shoulder to cry on from time to time, always happy to lend a listening ear from those she holds close. But even then for those, she holds close, she holds them at an arms reach and then some, never wanting to get too close to someone in case she hurts someone else again, and if she were to she could never forgive herself. Which is another reason why she feels like the odd one out in her friend group, a small voice at the back of her mind constantly telling her that they don't actually like her but find her more of a burden and sometimes even a freak, which causes her to stay at home and only really go out when her friends reach out to her first, otherwise she could continue living in her home by herself and her pets for the rest of her life.
Meanwhile, deep down she is a lost, damaged, confused, scared girl that just really needs a guiding hand to help her overcome her struggles and past traumas, as well as help overcome her self hatred and learn to let go of the past and move on. But until that day comes, if it ever does, she remains the same old Jaiden, the scared and lonely, emotionally vulnerable person that simply needs someone to be there for her and help her move passed all the bad things and learn to live life to the fullest and accept herself for who, and what she is.
---
---
███████████████████████████████████████████████████████████████████████
---
---
T H E C U R S E
Much like the rest of the Witch race, Jaiden was born with supernatural gifts and abilities that one would usually love to have and use to its greatest potential. But unlike most Witches, Jaiden despises what she was born with and wishes nothing more than to get rid of what she was what she considered
cursed
with. As she was born with the ability to control, create, manipulate and bend fire to her every whim. But as everyone knows fire is an incredibly unpredictable and devastating element. And as such, it is highly intuned with her emotions, specifically anger and frustrations, making her the last person that one would want to piss off as it would usually end with something, or someone catching or combusting into flames. Ash was also born with the negative of being a Witch, she is incredibly weak if exposed to silver usually resulting in a burn or rash, and on extreme exposure large lesions and red patches forming on her skin which can usually cause infections if not treated which results in fevers and having to stay in bed which is usually why she is susceptible to being sick.
---
---
███████████████████████████████████████████████████████████████████████
---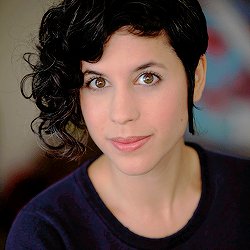 F A M I L Y
| Juliet Price | Mother | 42 | Witch | Deceased |
Jaiden and her mother had been close at best and distant at worst of times, which happened to be more often than not as Jaiden was the "Black Sheep" in her family. As their relationship had been estranged and distant for years, while her passing was hard for Jaiden at first, she was able to move on from it rather easily as time had passed.
| Nathaniel Price | Father | 43 | Human | Deceased |
Jaiden and her father were much more close than her and her mother, which had caused even more of a distance in the family. Her father was the main reason why she had such a love for music growing up as he had been a well-known musician and photographer in the past in their small hometown and had made sure that both his daughters had played at least one instrument when they grew up, which caused their bond to be stronger than it otherwise would have. When he died she was broken and had taken months to almost a year to fully get over his passing, but even still then she still has hard times thinking about him and the fact that he is gone.
| Ellen "Ellie" Price | Sister | Last seen age: 25 | Human | Unknown |
Growing up the sisters had been close beside the sight age gap. They did everything together and were always with each other until they got older and grew up, but their love for video games and art and things like D&D and anything that was relatively nerdy had kept their bond close. But after the accident, their relationship was never the same after Ellen had been rushed to the hospital and refused to see her sister after that tragic event that left them parentless. All Jaiden wants is for her and her sister to reconnect and be back on good terms, but she doesn't know where her only remaining relative is and the thought of never seeing her again scares her more than anything.
---
---
███████████████████████████████████████████████████████████████████████
---
---
H I S T O R I A
Jaiden grew up in a normal childhood, or as normal as one would be able to consider as she was raised by a mother who was a Witch, and a father who was a human. Life was good for her and her older sister, they lived as much of a privileged life as their parents could let them as they were both hard-working people and made a name for themselves as their mother was a Housing Agent and their father was a well-known photographer. They lived their lives day to day and as close as they could until Jaiden turned twelve, the day her powers were finally awakened would turn things on their head. Their mother never told Nathaniel that she wasn't human and when Jaiden started showing signs of taking after her mother, it only raised red flags. It started out small, her temperature started rising and she would constantly be warm even if she was outside when the weather was -10*. Things grew worse when things would randomly start to catch on fire or combust with no apparent reason at all, seemingly without a known cause.
It was only when it was made known that it was Jaiden causing things to catch fire or explode that things really started heading south. With her not understand what it meant and with her parents began to argue back and forth as he felt betrayed and lied to that their mother never told them the truth that Jaiden became a recluse. She turned to music and photography more than she ever did before, finding few comforts in the little things. Her relationship with her sister had actually grown with the awakening of her powers, as Ellen had found it amazing and interesting that she could create fire out of what seemed to be thin air. Things seemed to be getting better as her parents argued less, they didn't stress as much as Jaiden reassurance in her parents acceptance of what she was as her mother helped teach her how to help control and put away her abilities and hide them as well as she could.
It was when she turned eight-teen years old that things took a complete nosedive and would change her life forever. She came home from school to find her parents arguing again. Her father and mother were yelling and screaming at one another, her father yelling and screaming how he couldn't take having such a freak as a daughter, nevermind as a wife and that he wanted Jaiden and her out by that evening. Jaiden pleaded with him to listen to her and that she promised she'd never hurt anyone and that she'd never use her powers again to just make him happy. But he simply stated that he wished she wasn't his daughter and that he wanted them out. She was devastated and as she tried to hold her conflicting emotions together, a small spark caught on and spread through the house, faster and faster as her emotions slowly unraveled until the entire house had caught on. Nothing else but a blaze of fire and smoke overtook the house all too quickly as Jaiden had managed to leave the house as Ellen chased after her before the house exploded with their parents still inside the inferno. After the police and fire team made it to the scene it was entirely too late, there was no way inside and if they even did try it was useless, there was no way that not even someone as powerful as her mother would have been able to escape the blaze. It was ruled out as an accidental fire, which left the girls homeless, orphaned, and slightly injured from the explosion. Jaiden had received minor cuts and scrapes, and a fractured arm, while Ellen had received far more severe injuries which had her rushed to the hospital.
A few days had passed after the accident when Ellen had told her that she never wanted to see her again and that she should just leave. She wasn't angry or mad, but she was simply scared and didn't want anything to happen to Jaiden if the humans were to figure out what had actually happened, that it was an accident, but it didn't start like they made it seem. It tore Jaiden to pieces to leave her sister and her hometown, but she knew it was for the best and with whispers of a town filled with people like her in British Columbia, Jaiden made her way to Graythorne where she currently resides today. She lives in a small
house
by herself and her animals, having been able to move on from her parents' deaths and having left her sister behind to start a new, she was able to make a name for herself as a graphic designer and freelance artist and photographer. For the past few years she has been slowly rebuilding her life and trying to forget the tragedies that she had caused, but with whispers and neverending anxiety, she feels as though something is off and that something is coming, she just can't tell what..
---
---
███████████████████████████████████████████████████████████████████████
---