---
---

---
---
"Life is a game and I've already lost."
---
---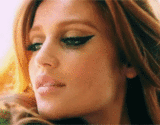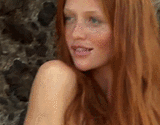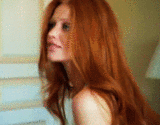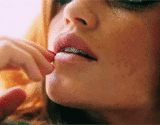 ---
---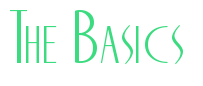 ---
---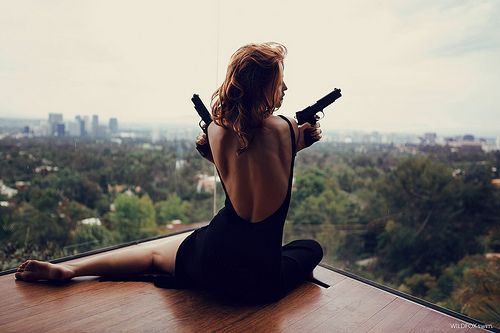 | Full Name |
"It's a ridiculous name, almost sounds like something out of a comic book."
Mickaela Renee Hawkins [ Mick - ay - Luh ]

| Nickname |
"I go by almost anything really."
Mickaela doesn't mind nicknames, but she doesn't totally hate her name either so she'll go by either. Some of the more common nicknames she gets are Micky, Kay, and Kayla, all of which she likes, though at the same time, she also doesn't mind if you prefer to just call her Mickaela.

| Age |
"I may be young, but I've seen and done a lot of shit."
Seventeen years-old

| Gender |
"What the fuck do you think?"
Female
---
---
---
---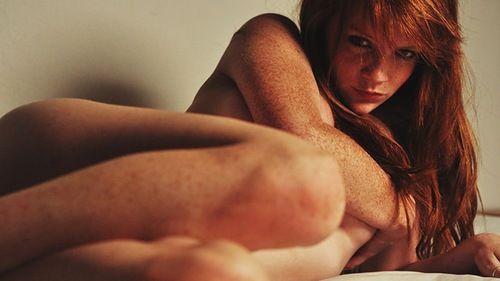 | Appearance |
"Being pretty isn't all it's cracked up to be."
Hair
>> Long, mid-back <<
>> Naturally lays in loose waves <<
>> Bright, natural red <<
>> Bangs swept to one side <<
Eyes
>> Brilliantly blue, contrasting her hair <<
>> Rimmed with thick eyelashes <<
>> She's got a very piercing gaze <<
Skin
>> Pale, but not sickly <<
>> Spattered all over with freckles <<
>> Easily sunburnt <<
Build
>> Delicate, bony structure <<
>> Modelesque in size <<
>> Petite, stands at only 5'3" <<
>> Thin, but healthy <<
Piercings
>> Right ear, one lobe piercing <<
>> Left ear, one lobe piercing <<
>> Tongue stud <<
Scars
>>

Left eyebrow

<<
Sits at the arch, though not too noticeable.
This is from a fight she got in with Dean
>>

Inside of right forearm

<<
Trailing from her wrist up to the inside of her elbow,
this is one of her larger scars from her brother and
his friends. She was too drunk to really remember it clearly.
>>

Back of left shoulder

<<
This too, was from her brother. She was trying to get out of
the house and away from him, but he threw a glass bottle
her way. It smashed into her shoulder, knocking her to the
floor and leaving her with a scar after the glass was removed.
Tattoos
>>

Right ribcage

<<
This, she got from one of her brother's friends. It's of a
black and white rose
>>

Back of neck

<<
On the back of Micky's neck, she has three simple dates tattooed
like this. The first was the date of her mother's death. The
second was the date of her father's death. The third was the date
she killed her brother and his friends.
>>

Right forearm

<<
On the edge of her right forearm, in a curled font similar to this one,
Kay has the word "Strength" tattooed.
>> Left collarbone <<
The small quote: "This too, shall pass" in an almost
unreadable font.
---
---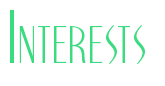 ---
---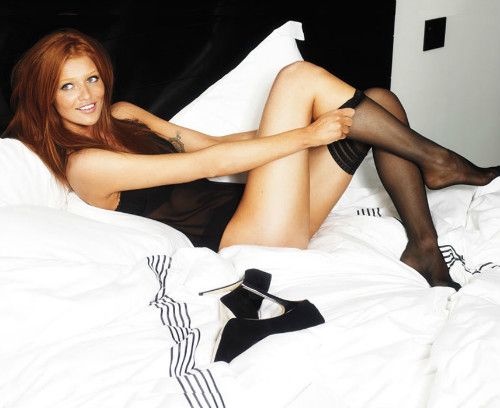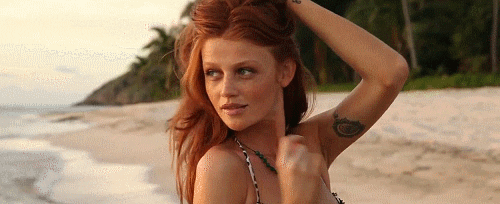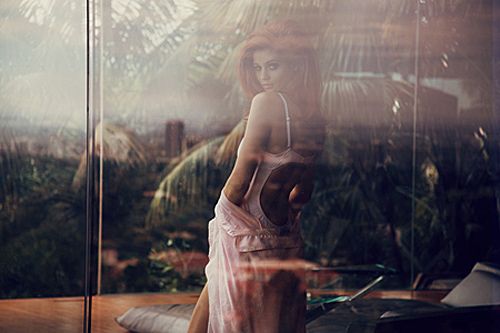 | Likes |
"I like when every eye is on me."
♥ Music
♥ Bubblebaths
♥ Her roommate
♥ Rough sex
♥ Drinking
♥ Sexy lingerie
♥ Cigarettes
♥ Bad boys
♥ Tattoos
♥ Pain
♥ Attention
♥ Morning sex
♥ Danger
| Dislikes |
"This fucking hospital."
✗ Saint Peter's Hospital
✗ Being looked over
✗ Being ignored
✗ When people underestimate her
✗ Being thought of as a slut
✗ People using her
✗ Thunderstorms
✗ Her oldest brother Tony
✗ Talking about her problems
✗ Snow/cold weather
✗ Nightmares
✗ Cats
| Fears |
"Fear is for pussys."
☠ Her oldest brother ➛ Micky doesn't have very many fears, but one thing that never fails to scare the shit out of her is the thought of her older brother still being alive. She knows if they ever met again face to face, he'd kill her. As much as she hates the hospital, the one thing it does do, is keep her safe from Tony.
☠ Love ➛ Mickeala is afraid to fall in love because, in her experience, all love does is destroy. It breaks your walls down so that you're weak, and then tears you apart. She may act tough, but the way she sees it, her heart is fragile enough as it is, she doesn't want to fall in love and let herself get hurt.
☠ Losing herself ➛ Micky is terrified of losing herself. Deep down inside, she's afraid she'll never recover from all the shit her doctors say she has. She's scared that one day, she won't be afraid to kill herself. That things will have gotten so bad, that she'll finally have the guts to end her own life.
☠ Leaving the hospital ➛ As much as she complains about the place, claiming to hate it with every fiber of her being, Micky wants anything but to leave. She's afraid to live on her own and have to support herself, even if she'd never admit it. She just doesn't think she would have what it takes to survive on her own, especially knowing the kind of destruction she's capable of after what happened with her brothers. She doesn't trust herself not to hurt herself or others anymore.
---
---
---
---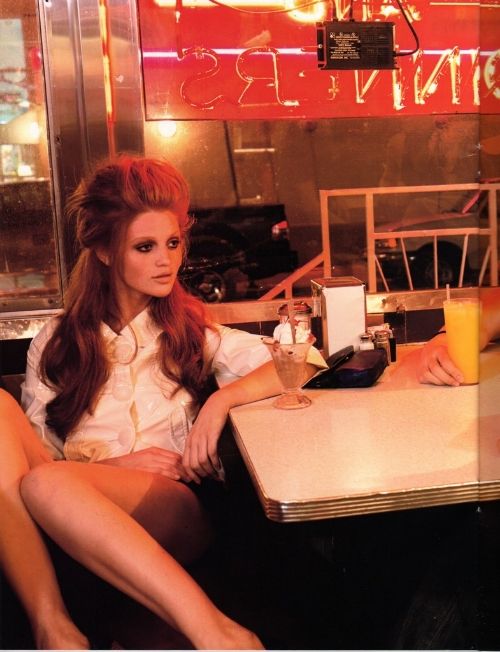 | Personality |
"Baby, you can trust me when I tell you I'm a fucking disaster."
To say Mickaela is a mess would be a huge understatement. She's more like the aftermath of a hurricane. Her life has always been kind of tragic and it's turned her into a walking tragedy.

On the outside, she's absolutely stunning. Just looking at her, you'd wonder: what does a girl like that have to worry about? She's got a perfect, modelesque figure with fiery red hair and piercing blue eyes. She radiates confidence and control, always appearing to know your next move ages before you even think about making it. In all honesty, she's the kind of girl who you find staring back at you from the inside of a magazine, not locked up in a high-security mental hospital.

For Micky, her beauty comes with a price, and that price is the very reason she's found herself at St. Peter's as opposed to walking French runways. Ever since she can remember, people have always wanted her because she was beautiful, and this has caused a lot of problems for her, leading to deeper issues that she just can't seem to shake.

She's addicted to attention, loving to catch the eye of everyone around her. Her beauty is all she's ever really had in the world, so she clings to it, letting it define her and letting men use her for it even though she knows she really shouldn't. She's got very low self-worth, seeing herself as practically useless for anything but sex, because that is what she was brought up believing.

At times, she'll get into a deep hole of emotion that she just can't seem to climb her way out of and she'll become suicidal, or so angry, she could easily commit murder if allowed. Micky tries to suppress these things however, preferring to keep them to herself, no matter how it'll affect her in the long run.

She hides her pain and her anger, bottling it deep down inside herself, refusing to let it come up. She's terrified of herself because she knows she's turned herself into a ticking bomb by doing this and one day, she'll explode and bring down everyone close to her as well. Still, she can't bring herself to let any of it out.

Micky lives with the mentality that, if no one else can see her pain, she must not really be feeling it. She's got a shell around her heart that she's spent her whole life building and reinforcing. She protects herself with sarcastic humor and excellent acting, pretending nothing in the world matters to her, even when she feels about ready to fall apart.

Still, despite this rock-hard exterior, Micky is fairly fragile inside so she lives her life practically always on the defense, because she's not sure how much more she can take. She's already snapped and lost it once, and she doesn't want that to happen again so she does everything in her power to make sure that it doesn't. Even if that means giving up love.

Mickaela refuses to get close to people. The closest she's ever come to friendship would be her roommate and the only lasting relationship she's ever had is the shitty one she has with Dean. She likes fucking around, but never getting too close. The closer she gets, the more likely she is to end up hurt.
---
---
---
---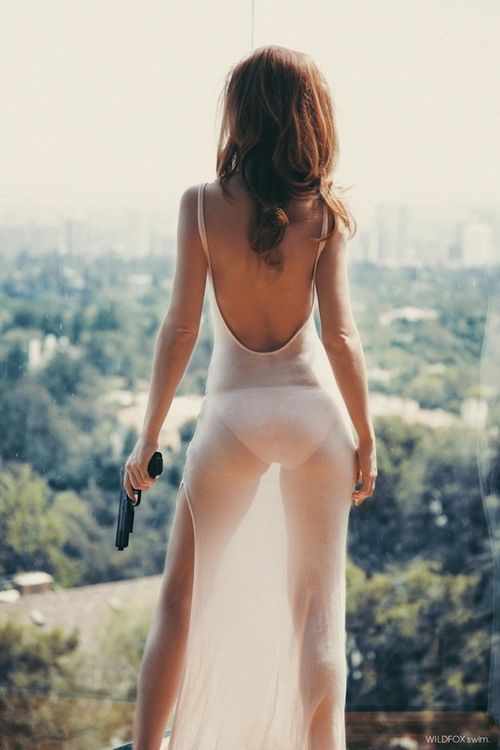 | History |
"I've literally been to hell and back."
Micky's life has never been easy. From the moment she was born, things were already in full, chaotic swing. Her mother, Crystal Hawkins was a heroin addict while her father, Roger Hawkins did everything he could to keep his wife out of prison and raise his three children.

Mickaela was the last of her siblings to be born. Anthony (Tony) was first, and after him, Jackson, and then her, the baby of the family and also the only girl. It was a horrible existence to say the least.

To start, her mother was never really a good parent. The only reason Micky didn't grow up hating her mother for her drug addiction was because she could see she was trying. She knew her mother wanted to give up the drugs, but couldn't and the fact that she fought it was enough for Micky. Still, that didn't exactly make her a good mother.

As a matter of fact, Micky's father was probably the only reason she didn't end up addicted to drugs like her mother and both her older brothers. She was the youngest, by quite a bit, so her father tried to protect her from the chaos of their home, taking her to work with him during the day, reading books to her until she fell asleep and so on. He made things bearable.

When Mickaela was eight, her father died of a heart attack, leaving Micky alone with her drug-addicted family. Tony was rarely ever home and had started selling drugs, having Jackson do a little bit of work for him, and her mother could hardly get herself off the couch on a good day. Jackson terrorized her all day whenever he was home and there was no one left to protect her anymore. So she focused her energy on trying to take care of her mother, hoping to maybe help her get clean.

Less then a year after her father's death, Micky's mother died of an overdose while she was away at school. She was eight years old and both her brothers were already over eighteen, meaning they became her legal guardians and she was stuck with them.

If she thought her life was hell before, she'd been sorely mistaken.

With their mother and father both dead, her and Jackson moved in with Tony. He lived in an elaborate, expensive house in New York City that he payed for by dealing drugs. Without the family so much as noticing, Tony had turned into a drug lord and suddenly, they were his employees.

Which posed a problem for Micky. Jackson was useful, he could sell for Tony and do business. Micky, on the other hand, could not. She was a girl, and a fragile one at that, so her brothers did their best to keep her out of their way by handing her off to their friends to deal with.

Most of their friends were cruel to her, beating her or taunting her, and, when she was thirteen, they started raping her too. It became evident to Tony that she was beautiful and wanted so he started selling her off, putting Jackson in charge of her, making sure she did what she was told and made them money.

Just after turning seventeen, she could no longer handle it. Tony was gone, off doing some sort of business, but Jackson and his friends were home, getting drunk and high. She did her best to avoid the situation and stay in her room, but eventually, Jackson pulled her into the living room by her hair and tossed her down on the floor, claiming that they were going to pass her around.

Micky refused to let it happen. She was sober and something snapped inside her that allowed her to finally lose control. She pulled both his guns from his belt, stood up, and, before any of their drunk minds had even comprehend what had happened, she shot all of them dead. When she finally reached Jackson, she paused, practically sobbing as he taunted her, telling her she couldn't do it.

In the end, she shot him six times. After that, she really didn't want to live anymore. She swallowed a bottle of her brother's pills, hoping like hell to die, only she wasn't that lucky. The cops showed up before she died and the next thing she knew, she woke up in Saint Peter's, locked up with their most extreme cases like some psychopath.

She hates it, it's like hell, but at the very least, it keeps Tony out and that's important. If he ever got a hold of her, he'd kill her on the spot for killing Jackson and several of his business partners that night.
---
---
---
---
Migraine
Twenty One Pilots
Am I the only one I know
Waging my wars behind my face and above my throat
Shadows will scream that I'm alone

I've got a migraine
and my pain will range from up down and sideways
thank God it's Friday
'Cause Fridays will always be better than Sundays
'Cause Sundays are my suicide days
I don't know why they always seem so dismal
Thunderstorms, clouds, snow, and a slight drizzle
Whether it's the weather or the letters by my bed
sometimes death seems better than the migraine in my head

Let it be said what the headache represents
It's me defending in suspense
It's me suspended in a defenseless
test being tested by a ruthless examiner
that's represented best by my depressing thoughts
I do not have writer's block
my writer just hates the clock
it will not let me sleep, I guess I'll sleep when I'm dead
and sometimes death seems better than the migraine in my head

Am I the only one I know
Waging my wars behind my face and above my throat
Shadows will scream that I'm alone
But I know we've made it this far, kid
yeah, yeah, yeah

I am not as fine as I seem pardon
Me for yelling I'm telling you green gardens
are not what's growing in my psyche
it's a different me
a difficult beast feasting on burnt down trees
freeze frame
please let me paint a mental picture portrait
something you won't forget, it's all about my forehead
and how it is a door that holds back contents
that make Pandora's box's contents look non-violent

Behind my eyelids are islands of violence
my mind's shipwrecked, this is the only land my mind could find
I did not know it was such a violent island
Full of tidal waves, suicidal crazed lions
They're trying to eat me, blood running down their chin
and I know that I can fight or I can let the lion win
I begin to assemble what weapons I can find
'Cause sometimes to stay alive you got to kill your mind

Am I the only one I know
Waging my wars behind my face and above my throat
Shadows will scream that I'm alone
But I know we've made it this far, kid
yeah, yeah, yeah

And I will say that we should take a day to break away
from all the pain our brain has made
the game is not played alone
And I will say that we should take a moment and hold it
and keep it frozen and know that life has a hopeful undertone
[Repeat]

Am I the only one I know
Waging my wars behind my face and above my throat
Shadows will scream that I'm alone
But I know we've made it this far, kid
We've made it this far, we've made it this
____________________________
____________________________
Desire
Meg Myers
Baby, I'll learn to touch you
I wanna breathe into your well
See, I gotta to hunt you
I gotta to bring you to my hell
Baby, I wanna fuck you,
I wanna feel you in my bones
Boy, I'm gonna love you
I'm gonna tear into your soul

Desire, I'm hungry
I hope you feed me
how do you want me, how do you want me?
how do you want me, how do you want me?
how do you want me, how do you want me?
how do you want me, how do you want me?

Honey, I wanna break you
I wanna throw you to the hounds,
I gotta hurt you, I gotta hear from your mouth
Boy, I wanna taste you, I wanna skin you with my tongue
I'm gonna kill you,
I'm gonna lay you in the ground

Desire, I'm hungry
I hope you feed me
how do you want me, how do you want me?
how do you want me, how do you want me?
how do you want me, how do you want me?
how do you want me, how do you want me?

I wanna feel you, I want it all
I wanna feel you, I want it all

how do you want me, how do you want me?
how do you want me, how do you want me?
how do you want me, how do you want me?
how do you want me, how do you want me?
---
---
MICKAELA
Code: Select all

[hr][/hr][hr][/hr]
[center][img]http://i1180.photobucket.com/albums/x403/desire99600/temp2_zps5ccd3ced.png[/img][/center]
[hr][/hr]
[center][img]http://media.tumblr.com/330a5ee1e830cdcbbf22863df739de1c/tumblr_inline_mkrer7E3Hn1qz4rgp.gif[/img][/center]
[hr][/hr][hr][/hr]
[font=times new roman]POST[/font]
DECLAN
Code: Select all

[hr][/hr][hr][/hr]
[center][img]http://i1180.photobucket.com/albums/x403/desire99600/desire99600001/temp_zps73766876.png[/img][/center]
[hr][/hr]
[center][img]https://theotherhubby.files.wordpress.com/2014/11/large1.gif[/img][/center]
[hr][/hr][hr][/hr]
[font=times new roman]POST[/font]
[hr][/hr][hr][/hr]
---
---