Name:
"What's in a name? That which we call a rose By any other name would smell as sweet?... Sorry, couldn't help it. It's Alice. Alice Bethany Bryant. Beth would work too; I answer to both."
Alice Bethany Bryant
Age:
"I just turned 17 about a week ago."
Barely 17
Gender:
"… I know I forfeit the makeup sometimes, but that's harsh."
Female
Role
"Role? Like Roleplaying, dice, food, plays? A bit more info please."
Loser girl 3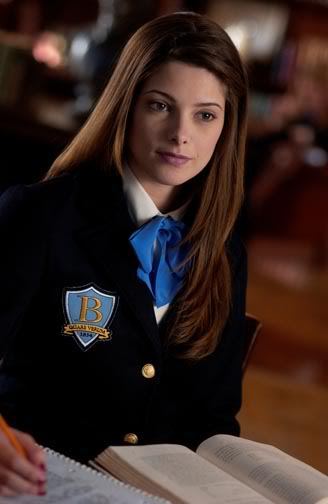 Written Looks:
"Plain. Normal. Nothing to see here people, move along."
Alice stands at 5' 3" and about 112 lbs. She has a thin, oval face with a light peach complexion. Hazel eyes and thin swept eyebrows. Her hair is a light brown, with a bit of blond shining though in the summer; and though it's straight most of the time, it does want to wave when left wet. Also, her hair reaches mid back and is usually kept down and framing her face.
Wears:
"Of all days to ask…"
At the moment Alice is wearing a burgundy sweater with a scooped neck. Black boot-legged jeans with a simple black beaded belt. Simple black ballet flats with a woven flower on top. And finished off with a silver bangle and partly pulled back hair. As well as being a minimum make-up day.
Style:
"Nice, comfortable, reasonable. My wardrobe motto."
Usually Alice can be found in a crisp skirt or boot cut jeans accompanied by a nice blouse or favourite t-shirt. Shoes are always either ballet flats or a low heel in either brown or black. Make-up is scarce if used at all; but she does enjoy accessorising with the small details.
Likes:
~Books
~Chocolate
~Dogs
~Business Math
~Bookstores
~The smell of cookies
~Mounds of pillows
~Carrie Underwood
~Random music
"Disney to K-pop, anything can come up on my MP3."
~Helping
~Seeing other's happy
~Boy's team playing skins vs. shirts.
"Repeat that and I WILL haunt you!"
~Honesty
~Principles
~People with strong will
Dislikes:
~Preps
~Jerks
~Liars
~Cheaters
~Gossip
~Bullies
~Teasing
~Extreme cold
~Milk
~Frogs
~Sushi
"Tried it one time and nearly choked."
~Being the center of attention
~Having to pull an all-nighter to study
~Losing her place in a book
Fears:
~ Not being a good older sister
"Let's face it, good family traits don't run too thick in my genes.
~ Frogs
"They're creepy, they jump, and I'm always scared I'm going to squish one.
~ Losing her friends
"They're more like family to me than anything. I want to make sure they're ok.
Habits:
Alice has a habit of always carrying a book with her, either to keep her occupied or give her something to hide behind. She also has a small habit of stuttering when nervous.
Personality:
A proper young lady was what she was brought up to be; and to an extent she is. Expected to fit right in with the crowd by her parents, Alice did everything but that. She always prefers to listen to other's more than spill her own story; and will lend a hand or shoulder to cry on anytime. Good qualities yes, but she has her hang up's that landed her outside the popular zone. She despises certain traits in people. Two-faced. Gossipmongers. Liars. Bullies. Idiots
"Let's face it, there are some clueless jerks out there."
Basically all the stepping stones she sees as being popular. A bit bias in her opinions, but she has her family to thank for it.
Alice usually spends most of her time with a book, whether she's studying, reading, or just avoiding people, is always unclear. She tries to be timid and thoughtful at all times, but when her temper gets the best of her she will stand up for other's more than she ever would for herself. Though the poor girl can't cuss or curse worth a dern. Usually just sprouting off nonsense in her defence.
On the outside she may appear well kept together, but in all honesty she's shyer than a mouse. It doesn't show very often around her friends, and she's too annoyed around the populars; but bring a guy into the scenario? Change of subject. Change of direction. Where's the next flight out of here. Needless to say her relationship experience is ditto. That doesn't mean she doesn't have a thought or two she feels is worth sharing.
Family:
"Do we have to go there?"
Father ~ 50 and a lawyer, head of his own firm.
Mother ~ 46 and remarried a few years back. Most contact is through mail belated presents.
Step-Mother ~ 35 and pretty normal, married her father two years ago.
Half-brother ~ 1 year old and spoiled rotten already.
Best Friends:
"I have friends… but I don't like jumping to conclusions…"
TBA
Friends:
"The most honest people I've met here."
The Losers
Crush:
"Th-That's kinda personal! Um… Th-There are a few guys… that are cute…"
TBA
History:
"Yes, you're making me go there, aren't you... Ok, you're only going to hear this ONCE."
Alice grew up in a normal town house with a normal unhappy couple, whom divorced later in her early childhood; leading to her many travel miles between the two while growing up. Then there was of course the dating, then the marriage of each of her parents. Her mother was no big surprise. A doctor with no kids and a big house; give it a couple of years and you've dwindled from once a month visits to holiday presents only… a week to late. Then you have the father surprise of bringing home his new 'friend'-turned-'wife'. Way too young for her to consider the woman a mother-figure, Alice just happily-
"Yeah, right."
-left the two to their newlywed life, thankful beyond belief that she was attending a boarding school soon. And soon couldn't come quick enough with the surprise of walking downstairs one morning to a huge cake spelling "Congratulations Big Sis!"
Nine months later we add a baby brother to the mix, adorable and perfect for the new couple; and of course the start of the school year at her parents alma mater .
"And that will be all you are getting out of me today, ladies and gentlemen."
"Never again am I being the dress up guiney pig! I thought I hid all those photos…"