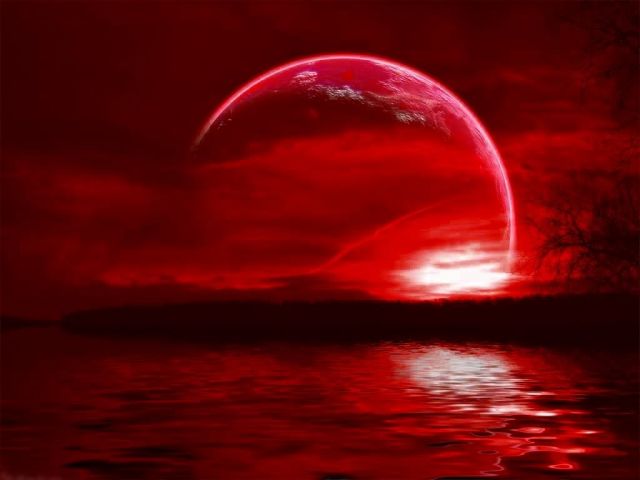 On the 4th April 2015, the Sanguinem Luna, also known as a Blood Moon, changed everything. People unlucky enough to be caught outside in its light were transformed into creatures. Not animals, but creatures of the Supernatural. The dead that rested rose again, fiery souls changed into beasts that shed their form every Full Moon, and vampires quickly rose their way to the top. Humans very quickly became a rare sight to see. They were prey, and most were hidden away in huge castles that were restored and owned by vampires or warlocks. Humans were locked away, used as blood banks and as science test subjects and experiments, humans quickly devolved, having their blood mixed with other Supernatural beings until they could not be classified as Humans any more.
However, humans are not quite an extinct race just yet. A group of five teenagers still survive, leading the group of Changed people who remember what their human lives are like, and cannot live under the rule of Seth and Lillith any more. They desire to help all who need it. Because Seth and Lillith have a plan, a plan to destroy all Humans that are left, and control the entire Earth.
When one of the group members is kidnapped, it brings turmoil to the group. They cannot achieve victory if their group is not together. This pushes them apart, yet... together. Feelings develop, but they soon realise, through the Changed, that the missing group member is hiding out at the exact castle that Seth and Lillith are ruling from...And that it's a 'School' based refuge. And to make things worse, the missing group member has fallen in love with one of the Changed...
Being Exposed to the Blood Moon Changes you IMMEDIATELY. Indirect exposure (eg. through windows) changes you slightly, but you still are considered Human as there is no significant changes to the body apart from any exposure is EXCRUCIATINGLY painful.
Anything can evolve from the Exposure of the Blood Moon, which can range from Dragons to Witches to Demons to werewolves...Anything is possible now.
Werewolves Shift on Full Moons. and also Blood Moons...And ALL Changed become extremely powerful under the Light of this Moon.
A Blood Moon occurs every Month, the night after a Full Moon.
The longer you remain Human, the more powerful you are likely to be when you Change.
Dead that has Risen once again often walk once the Sun goes down...Watch your backs.
When the Blood Moon rose on the first night, the Rifts weakened between worlds, and Humans can reach through the Rifts and pull out useful items, if they have the focus. You can tell when a Rift is being Breached when a light purple swirling mist appears just in front of their hand.
It is NEVER safe to be still. It's recommended that there is a guard when people sleep.
Vampires burn in sunlight, as do Demons and Warlocks. Anything else, though, is free to hunt and roam free.
There is a legend that there lies a Fountain in the most beautiful place left of Earth that can call back Loved Ones once they die...
More powerful Changed, such as Demons, can have an almost 'Human' form, and some can have a much larger, 'True' form...
Some Changed, just before the Blood Moon that they Changed at rose, can almost feel it, especially if they are going to go 'Evil'.
All Changed seem to know exactly what to do...As if it were instinct.
Only some Changed retain any knowledge of their Human life and nature...Some remember, and do not care, and some have forgotten. These are the ones to pity most.
SOME physical characteristics of people's appearances change with them, like eye colour, but mostly it is the same.
Vampires show affection by biting, most often...
Humans smell irresistable and desirable, when not in a room full of Changed...The scent can be masked, but not easily...And the blood of a Human has not been smelled for so long it has been forgotten what scent it holds...ALL Changed can smell Human scents.
Remember...You can never escape the Sanguinem Luna for long...
---
Riley Bleddyn ||17||Fire||Human||FC: Skandar Keynes||

TAKEN BY Wolf'sBane109
The leader of the group. He is a fiery person, living up to his Element.
---
NAME ||AGE (16-20)||Water||Human||FC: Francisco Lachowski||

OPEN
A cool and collected young man, but can also grow to be as raging as river rapids or as cool as a stream.
---
Marley Linderman||16||Air||Human||FC: Hailee Steinfeld||

TAKEN BY ImagineJustice
As light as Air, but can also get whipped up into a rage. Is bubbly and breezy, and can get carried away.
---
NAME||AGE (Between 16-20)||Earth||Human||FC: Nathalie Emmanuel||

OPEN
Down to Earth, but as shy as the flowers around her.
---
Áine Corentin||16||Light||Human||FC: Elle Fanning||

TAKEN BY SANARITH
Possibly one of the shyer members of the group, but tends to 'shine' at her talents. She will protect her friends at all costs, and will be kidnapped.
---
---
NAME ||Age||Vampire||FC: Pawel Peksa||

TAKEN BY cirrus_sd
Once was a 'cool' boy, now is secluded and sectioned off from the rest of society. He remembers his Human Life well, and misses people he knew. He doesn't want to be like this anymore.
---
Aria Corentin||16||Demon (Lillith)||FC: Dakota Fanning||

TAKEN BY Rosuuri
What looks innocent on the outside doesn't transfer to the inside. "Lillith" is Evil through and through, and won't stop until all Humans are eradicated and until she is able to Rule Earth with no questions asked. Adores her big brother, "Seth". Is sister to FC: Elle Fanning. 'Lillith' tends to like blood, and lots of it. She has mental skills and can communicate with mentally as well as create illusions (normally of pain).
---
Adriel Corentin||AGE (Between 17-21)||Demon (Seth)||FC: Ben Barnes||

TAKEN BY AppleSauce
"Seth" is just like his little sister - absolutely twisted and black inside. He won't stop until his sister, FC: Elle Fanning, and her Human friends obey his every will. He is cruel and cunning, and will stop at NOTHING to get what he wants. 'Seth' tends to lust more than his little sister. Has Pyrokinesis skills and can control/create fire.
---
Darcy Millington ||AGE||Demon (Servant to Lillith/Seth)||FC: Emma Stone||

TAKEN BY PANTHERAN
A rather sneaky young demon, who found herself under the influence of Eris and Blake. Remembers her human life and wants to help the Humans survive...But in secret.
---
Victoria || Age (Between 16-20) || Dragon || FC : Eeba Zingmark ||

TAKEN BY thedoctorscompanion
---
YOU CAN CHANGE THIS INFORMATION IF YOU ASK ME OVER OOC! PLEASE POST A PICTURE OF INTENDED FC FOR REFERENCE AND DESCRIPTIONS WILL BE CHANGED ONCE YOUR CHARACTER IS ACCEPTED!!!
[center]
✘ ACTIVITY ✘
Activity is crucial ― I really cannot stress this enough. This is a remake of my own roleplay that died in the past due to this. There's nothing worse than having your roleplay which you worked so hard on die. If you can't be on for whatever reason, your real life has gotten really busy, or you just don't want to be apart of this role-play anymore― please notify me via pm or in the ooc. I understand that, as the creator of this role-play , I set an example when it comes to activity; however, I really don't want you relying on my posts 24/7.
If you are inactive for 3 days without letting me know the reason behind it, I'll shoot you a pm. I want dedicated role-players so please, please, please don't send in a character sheet if you won't be sticking around for the long haul. And while I do expect you to be active, I understand that you have real life commitments. If you know you're going to be away for extended periods of time, please message me and let me know.
✘ LITERACY ✘
This is a semi-literate role-play meaning I do expect good grammar and spelling. I will excuse the odd spelling mistake and grammatical error, especially if English isn't your first language or you have dyslexia. However, I expect at least 3 paragraphs each post!
✘ MATURITY ✘
On another note, OOC drama will not be tolerated. Please come to me if you're experiencing issues with other members OOC, even if that OOC member is myself. I'll help out in any way that I can ― but I can only do that if you let me know what's up. This role-play will contain explicit, mature, and possibly triggering themes. There will be plenty of gore and romance, but for now, sex scenes are banned. If you really wish to do that, take it somewhere else please. :-)
✘ INCLUSION ✘
Please, PLEASE, try and include EVERYONE with plots. PM people, talk OOC, just make sure to discuss it and involve everyone. After all, nobody wants to be left out, and after experiencing bullying though exclusion, I know that it is not a nice feeling. Please PLEASE include everyone! I cannot stress it enough!
✘ DRAMA ✘
OOC drama is not welcome here. IC drama, however, is highly encouraged. Please come to me if you're experiencing issues with other members OOC, even if that OOC member is myself. I'll help out in any way that I can ― but I can only do that if you let me know what's up.
✘
GODMODDING
, [url=http://www.urbandictionary.com/define.php?term=BunnyingBUNNYING[/url]AND [url=http://en.wikipedia.org/wiki/Metagaming_(role-playing_games)]METAGAMING[/url] ✘
Just don't do it. It makes everyone unhappy. If you're new to roleplaying, the links to the definitions are above for those who are new to roleplaying.
✘ FACE CLAIMS
Face Claims are set out down below, but you may change them. However, please reserve OOC and PLEASE, no anime!!
✘ MULTIPLE CHARACTERS ✘
As of now, I will only be allowing ONE character each, unless interest dies down. Sorry for any disappointment!
✘ HAVE FUN ✘
The purpose of a roleplay is to have fun, so please, make sure you do! :-) Enjoy.
Taking place in...
0 posts here • Page 1 of 1
0 posts here • Page 1 of 1
Arcs are bundles of posts that you can organize on your own. They're useful for telling a story that might span long periods of time or space.
There are no arcs in this roleplay.
There are no quests in this roleplay.
Here's the current leaderboard.
There are no groups in this roleplay!
Welcome home, Promethean. Here, you can manage your universe.
Arcs are bundles of posts from any location, allowing you to easily capture sub-plots which might be spread out across multiple locations.
You can create Quests with various rewards, encouraging your players to engage with specific plot lines.
Settings are the backdrop for the characters in your universe, giving meaning and context to their existence. By creating a number of well-written locations, you can organize your universe into areas and regions.
Navigation
While not required, locations can be organized onto a map. More information soon!
There are no groups in this roleplay!
By creating Collectibles, you can reward your players with unique items that accentuate their character sheets.
Once an Item has been created, it can be spawned in the IC using /spawn Item Name (case-sensitive, as usual) — this can be followed with /take Item Name to retrieve the item into the current character's inventory.
Give your Universe life by adding a Mob, which are auto-replenishing NPCs your players can interact with. Useful for some quick hack-and-slash fun!
Mobs can be automated spawns, like rats and bats, or full-on NPCs complete with conversation menus. Use them to enhance your player experience!
Current Mobs
No mobs have been created yet.
Locations where Mobs and Items might appear.
You can schedule events for your players to create notifications and schedule times for everyone to plan around.
Add and remove other people from your Universe.
Orphanage
By marking a character as abandoned, you can offer them to your players as pre-made character sheets.
"Who would chose to be sad?"
The Forge
Use your INK to craft new artifacts in Sanguinem Luna. Once created, Items cannot be changed, but they can be bought and sold in the marketplace.
Notable Items
No items have been created yet!
The Market
Buy, sell, and even craft your own items in this universe.
Market Data

Market conditions are unknown. Use caution when trading.

Quick Buy (Items Most Recently Listed for Sale)
None
Discussions
Topics

Replies
Views

Last post
Most recent OOC posts in Sanguinem Luna
There have been no posts in the OOC topic for this roleplay!