"Material things will eventually fade, memories don't."
---
---
---
---
Full Name
Justin Tyler O'Brian
Nicknames
He's used to being called O'Brian by his teammates and his father. His mother and his girlfriend call him Justy and he absolutely hates, but it makes them happy so he doesn't say anything. He also gets Jus a lot, because people are too damn lazy to say his whole name.
Age
Seventeen
Occupation
Between football practice and homework, he doesn't have much time for a job, not that he needs one, because is family is pretty wealthy, but, occasionally he helps his mother at work.
Role
Football Player/Falls for Daisy
---
---
---
---
Likes
✯
His Truck
✯ Going down to the river
✯ Cats
✯ Country Music
✯ Smart Girls
✯ Parties
✯ BBQs
✯Summertime
✯ Smoking
✯ Living in a small town
✯ Helping his mother
✯ Doing nice things for people, without them knowing.
Dislikes
⚓ His Father
⚓ Mean People
⚓ Bullies
⚓ Taking life too seriously
⚓ Big Cities
⚓ Not feeling good enough
⚓ Bitchy Girls
⚓ People who take life for granted
⚓ Material things
⚓ Being Popular (Most of the time)
⚓ When people think they know him
⚓ His Girlfriend (Most of the time)
⚓ Football (Despite how good he actually is)
Distinct Markings
-He has both his ears pierced, because his girlfriend convinced him it would look good.
-He has a few scares from football other than that nothing.
---
---
---
---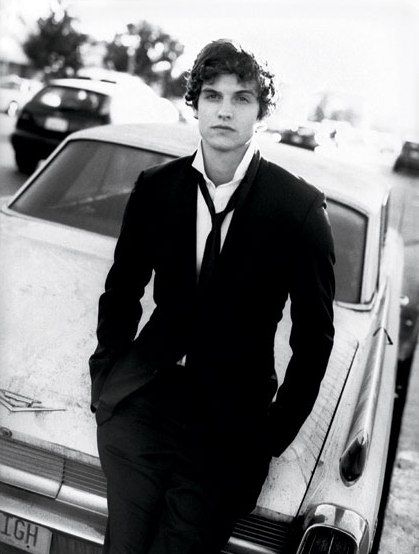 Personality
Justin is a fairly simple guy, though most people wouldn't know that, because to everyone at school, he's Mr. Popular, smart-ass, rich boy jock. His been playing the role of the popular jock since day one of high school. He's a flawless actor and no one aside from his mother, sister, and the old folks at the retirement home know who he really is.
Too everyone in Angel Falls, Justin is the high school hero. Taking their football team to state every year since he was fifteen, breaking girls hearts with his good looks and his perfect smile. He's every girls dream guy, the perfect All-American boy, who's going to make it far. This is the Justin that everyone has come to know and love.
But, in actuality Justin is nothing like the person he pretends to be. He's always striving for his father's approval, despite the fact he knows he'll never get it and that kills him more than his father will ever know. He's always helping his mother and loves spending time with his little sister. When he's not studying to make straight A's or on the football field at school, he enjoys going down to the retirement home and listening to the stories of some of the elderly people as well as helping them out.
Justin is honest and he has a huge heart. He's tries his best not to be mean, but it doesn't help that he has a snobby girlfriend and he's got a reputation that his father expects him to up hold. When he is mean he always feels shitty about it, but would never admit it allowed.
Jus is a strong believer in living in the moment and not taking a single thing for granted. He knows how short life is and he lives as if every breath is his last. When you really get to know him, the real him, he's super refreshing to be around. His smile is contagious and he makes you feel alive. He has a way of making you smile and saying just the right thing to make you feel amazing. Unlike his father he'd never hit a girl, even though he doesn't love his girlfriend, he treats her like a princess and lets her know how important she is to him.
When Justin want's something bad enough, he won't stop till he gets it. He's worked hard for everything he has, despite the fact that most people think everything is handed to him on a gold platter. He tries to stay as positive as possible, because the way he sees it is even as shitty as his life is, someone has it worse than him, so he tend to appreciate the thing she has.
---
---
---
---
History
Richard O'Brian||Father||Age: 36
Casandra O'Brian||Mother||Age: 33
Bailey O'Brian||Younger Sister|| Age: 15
The O'Brian name is actually pretty famous. Justin's grandmother was an accomplished actress in the 60s. While his grandfather was a famous NFL quarterback. Justin's father had a promising career as well, he was being scouted out by some of the top collages in the US and there was no doubt he'd got to the top. Until of course he got his sixteen year old girlfriend pregnant. Justin's father still went off to college and was rarely around for Justin growing up. His father would have gone onto play professional football, if it was for him suffering a back injury that ended his career.
It was then the O'Brian family relocated to Angel falls. His father was always bitter, towards him, telling him even as a little kid how he ruined his life, which would only cause his mother and father too fight. Justin's grandparents, helped his mother open a restaurant in the small town, that actually took off fairly well, while his father took on a job as the high school football couch.
Growing up wasn't the easiest for Justin, in fact it was hell. No matter what he did, he could never get his father's approval. It was obvious his parents had fallen out of love, by the way they acted and they were only staying together for Justin and his sister's sake, and his father never tried to hide the fact that he favored Bailey, Justin's little sister. However, Justin never let it get to him, his mother always made sure that he knew she loved him and deep down his father loved him too and so Justin tried to stay positive.
Once he was in high school, his father started to show more interest in his son, when he realized Justin had a natural talent for football, just like his father and grandfather. So Justin's father pushed him, yet he was still never good enough and if the team lost a game, it earned Justin a beating from his father, that his mother would try her hardest to stop. Their family was a mess, yet on the outside they appeared like the all American family. Justin learned to cover his occasional black eyes or make up stories for them. He also learned that winning kept his father happy, so football, being popular, and straight eyes became his main focus, because that's what kept his family held together and his father happy. His sophomore year of high school was when he started dating his current on again off again girlfriend Tiffany.
By his senior year of high school, Justin had learned how to keep his mother and little sister safe and his father happy, while keeping his family looking like the all American family and keeping everyone from finding out how shitty his life really is, but at the cost of his own happiness.
---
---
---
---
Roger Rabbit
-Sleeping With Sirens

Theme Song
Is there a right way for how this goes?
You've got your friends
And you've got your foes
They want a piece of something hot
Forget your name like they forgot

Oh, ain't that something?

Some wanna see you crash and burn
And criticize your every word
I'm trying to keep from going insane
Ain't that the way of this whole damn thing

Oh, trying to be something more

Nobody's gonna love you if
You can't display a way to capture this
Nobody's gonna hold your hand
And guide you through
No it's up for you to understand
Nobody's gonna feel your pain
When all is done
And it's time for you to walk away
So when you have today
You should say all that you have to say

Say all that you have to say

Is there a right way for being strong?
Feels like I'm doing things all wrong
Still I'm here just holding on
Confess my heart and forgive my wrongs.

Oh, just trying to show you something more

Nobody's gonna love you if
You can't display a way to capture this
Nobody's gonna hold your hand
And guide you through
It's up for you to understand
Nobody's gonna feel your pain
When all is done
And it's time for you to walk away
When you have today
You should say all that you have to say

Don't point the blame when you can't find nothing
Look to yourself and you might find something
It's time that we sorted out
All of the things we complain about

So listen close to the sound of your soul
Take back a life we led once before
If it ain't you then who?...
If it ain't you then who's gonna love you?

Nobody's gonna love you if
You can't display a way to capture this
Nobody's gonna hold your hand
And guide you through
It's up for you to understand
Nobody's gonna feel your pain
When all is done
And it's time for you to walk away
When you have today
You should say all that you have to say

So when you have today
Say all that you have to say

Lyrics
Hanging by a Moment
-Lifehouse

His song to Daisy
Desperate for changing, starving for truth
I'm closer to where I started, I'm chasing after you

I'm falling even more in love with you
Letting go of all I've held on to
I'm standing here until you make me move
I'm hanging by a moment here with you

Forgetting all I'm lacking, completely incomplete
I'll take your invitation, you take all of me now

I'm falling even more in love with you
Letting go of all I've held on to
I'm standing here until you make me move
I'm hanging by a moment here with you
I'm living for the only thing I know
I'm running and not quite sure where to go
And I don't know what I'm diving into
Just hanging by a moment here with you

There's nothing else to lose, there's nothing else to find
There's nothing in the world that can change my mind
There is nothing else
There is nothing else
There is nothing else

Desperate for changing, starving for truth
I'm closer to where I started, I'm chasing after you

I'm falling even more in love with you
Letting go of all I've held on to
I'm standing here until you make me move
I'm hanging by a moment here with you
I'm living for the only thing I know
I'm running and not quite sure where to go
And I don't know what I'm diving into
Just hanging by a moment here with you

Just hanging by a moment
Just hanging by a moment
I'm hanging by a moment
Just hanging by a moment here with you