Name:
Jager Kaiser
Age:
21
Sex:
Male
Country of Origin:
Dasoon
Mediere specialty:
Fire Mediere
Physical description: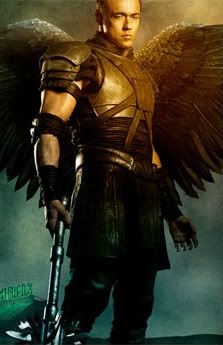 Ignore the wings and the mace in this picture. Jager stands at 5'11 and weighs 200 lbs giving the apperance that Jager is very strong. He has tannish skin that is littered with scars and burns from years of living on the Mountain. He wears black leather pants and a brown thick shirt. Black boots that reach up to his knees are also worn. Over his chest he has a breast plate made by his uncle, a blacksmith who regularly makes trips to the top of the mountain to collect a type of Ore not normally used by others to create armor, for it is a rare type. Over the breast plate is a type of harness that not only keeps the plate even more secure but also has a sheath connected on his back by the harness. A brown belt is also worn, with a buckle that has his family's crest on it. A thick layer of leather covers the back part of his upper legs and looks almost like the back half of a skirt but is much more than that. He also has shoulder plates made of the same ore as the breast plate on both of his shoulders. Jager also likes to wear forearm covers that are made of leather with a plate of steel on top. He also wears something that resembles elbow pads and functions the same way.
Personality:
Raised in nobility Jager is very polite. He is also educated because of his family's position. Mainly a happy individual he likes to joke and flirt as well as enjoy any challenges that comes his way. He is also very honorable and loyal. Raised to be a protector of Dasoon he is basically a knight that follows a righteous code.
Likes:
Fire, flirting, talking, joking, anything that gets his blood pumping.
Dislikes:
Thieves, uptight people
Strengths:
His combat, riding and talking skills.
Weakness:
Does not trust alot of people, his running endurance is not very high
Equipment: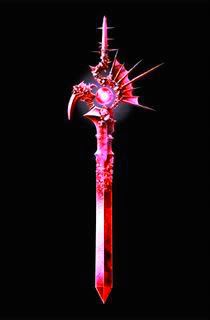 The Inferno, this sword has been handed down generation to generation. The blade's age is unknown but it has been kept in the best condition that it possibly can. The blade itself is 34 inches long while the hilt is big enough to be held with two hands but it is light enough to be held with one. The top of the hilt has a hook on one side to disarm an opponent and a fin on the other end to help protect the hands. The pommel is just a spike to be used to pierce armor. The whole sword is colored red, when Fire Mediere is applied to the sword the orb just above the hilt glows a bright red and the sword becomes scalding to the touch but still appears normal. This is just one of the many ways Jager can use mediere, for each time he uses it for this ability it subtracts from his total amount of mediere.
A small satchel to carry basic equipment as well as food, water and money.
A knife located in a secret sheath in his boot.
His horse named Coal. He is a black stallion that is basically Jager's best friend. Also has saddle bags to help lug around stuff.
History:
Raised behind the second walls of Dasoon Jager's family is a very rich one that is also very disciplined. With a sense to earn their place as nobility they are a hardworking and loving group. They don't treat the peasants any differently than they do with another rich family. The Kaiser family is mainly filled with warriors and blacksmiths. And damsels who are not in anyway distress. Including his sister, Alleigh. Jager's uncle would always allow Jager to trek the mountain with him, thus building up his muscles and giving him the scars he has now. Years of working on farms and the ironkeeps have made Jager very physical. His father is a warrior and would teach Jager the ways of being a warrior and not a soldier. For it was drilled into his head that soldiers fight following orders and warriors fight following their hearts. With war on the horizon Jager vowed to protect those who cannot protect themselves and keep the Storm Mediere forbidden for it was too powerful and dangerous to control.