Nohizar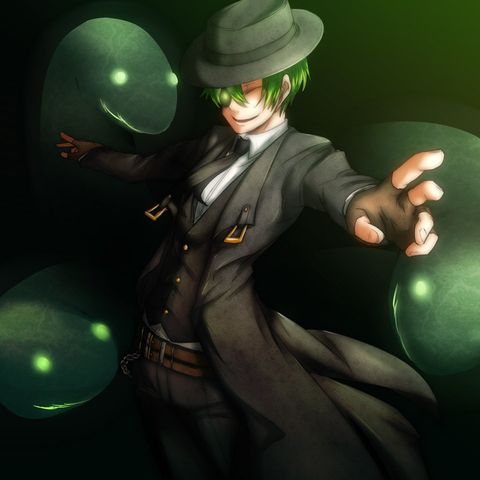 Name:
Virgil Adalbeohrt
Inner Self's Name:
Nohizar
Age:
He looks like a 14 or 15 year old boy.
Gender:
Male
Appearance:
Nohizar is a lithe, almost fragile looking boy. He is short, being just a little over 5 feet and very skinny. Despite his less than impressive features he usually has an arrogant smirk on his face, as if nothing in the world could touch him. He almost always wears some form of suit and a fedora hat and takes great care not to dirty or wrinkle his clothes to much. Nozahir also has inexplicably green hair, which does not seemed to have been dyed in any way.
Personality:
As Virgil, he is an excessively quiet and shy boy, incapable of even looking in another's direction, much less speak with them. He also prefers to avoid confrontations of any kind.
Nohizar is the complete opposite, being a loud and ultimately somewhat destructive child. Nohizar is prone to lash out or yell at things that bother him instead of looking for a more peaceful solution. He does this to keep his more fragile side hidden, preferring to destroy or drive away the things he sees as threatening, rather than taking a chance and seeing what wonderful things they may reveal. Deep down he is a scared and shy child, with little experience when it comes to interacting with others, and what few experiences he does have been mostly negative. He also has a lively imagination and is an ultimately caring, if somewhat childish person.
Razihon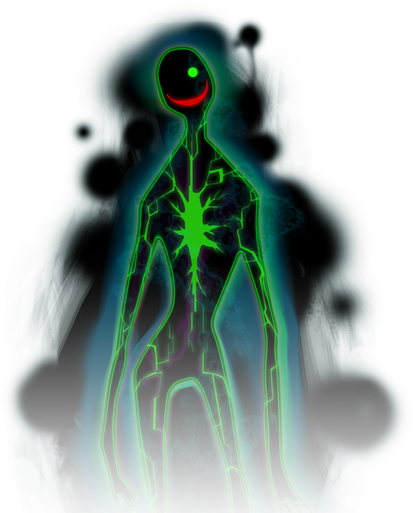 Soul Sphere:
Nohizar's Soul Sphere only has a single pulse, but it a strong pulse. His pulse allows him to create things from thin air. His first creation was a strange entity that goes by the name Razihon. Razihon is intelligent and has his own will, and has accompanied Nohizar since his creation. However, his personality is quite different from Nohizar's, Razihon is quiet and observant and stays in the background as much as possible, letting Nohizar do all the talking. He also avoids all questions of a personal nature and occasionally sneaks off to do something known only to him. Razihon has similar abilities to Nohizar, but can only transform parts of his own body into different shapes.
Since he created Razihon, Nohizar has been incapable of creating something with true intelligence again. Instead, he prefers to use his powers to create ethereal swords or snakes and launch those at whatever gets in his way. Although he usually uses his powers aggressively, he could technically use his powers for many other purposes, as long as he can imagine them.
History:
As Virgil, he was a sheltered boy, kept in a large mansion by his rich parents and never allowed outside. His parents, who became afraid of anything happening to their son after he got in an accident outside, are highly over protective and keep him caged up away and away from children his age. He spend the majority of youth inside his room and alone, only ever visited by either his parents or his tutors.
As Nohizar, he was no longer constrained by his parents, by manners, by tutors or by his room. And as any bird released from its cage he tried to fly. Nozahir discovered his powers at that very moment and created Razihon, a feat he would never again recreate. From that moment on the two would travel across the dream world, getting into adventures and dangerous situations, all the things he could not do in the real world.