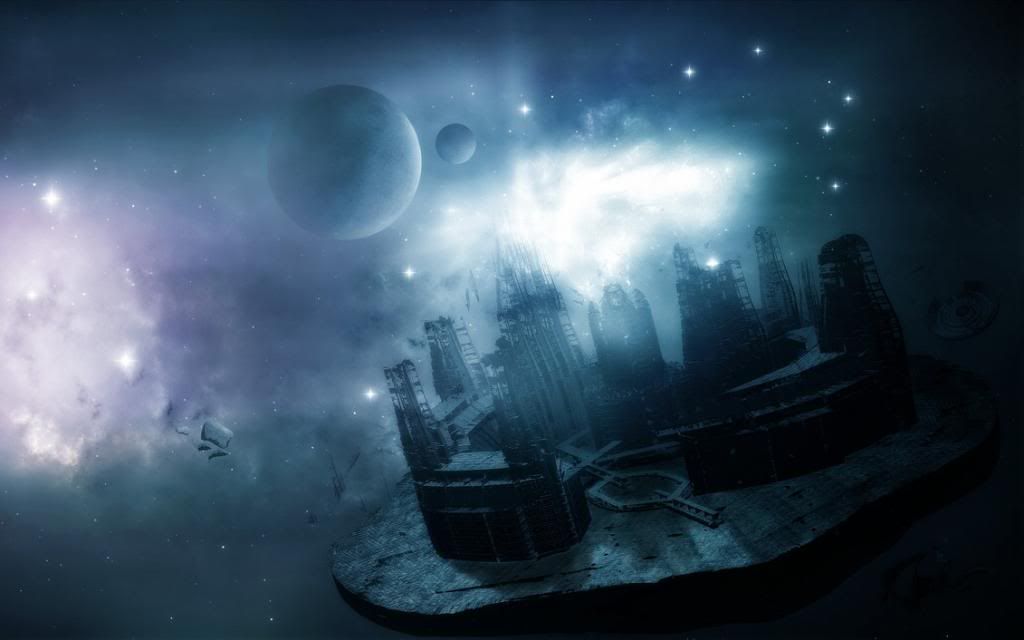 The world of dreams is a world that is glimpsed by very few indeed. It is a world that does not function based on the logic of the rational waking world and in many ways defies expectations and beliefs. It is a world where morals do no exist and the line of what is right and wrong is very blurred. A single thought can create a very large ripple in dream space and cause creation or destruction.

Many humans who dream have no recollection of their interactions with this world or what they had done during the course of the night. For you see, adults do not bear nearly as much imagination as children do, and the belief in mana has long since faded in their minds. But to a child who has not yet been forced to grow up, there is a bond to their subconscious that allows them to accept and perceive dreams in a different light. These are the few that do remember--the few that can hold on to those brief glimpses of the world beyond reality. And it is those few that possess the greatest threat to the Dream Entity, an organization that rules over the entire space.

It was passed off as a "peaceful death" experienced in in one's sleep, supposedly natural and not worth investigating. However, an increasing number of children seem fell prey to this type of death, baffling authorities around the world. What they didn't know was that the Dream Entity is targeting children, as they are the main supplier of dreams within the other world and without their influence, the Entity can grow more powerful. Children provide mana--the dreamscape's natural life energy. Their colorful imaginations and open minds keep the unreal dimension healthy, but make it impossible for the Entity to hold any influence over the subconscious minds of dreamers.

The world is not as it appears--the state of waking is a thing of the past. Adults, unable to stop the mysterious deaths from piling up, were forced into a state of uselessness, allowing The Entity to gain enough power to force the world into slumber. Things have reversed and unreality has become the new reality; what was once thought impossible has now become a normality. Most of the dreamers are idle and without purpose, mindless drones for the Entity to control. There are a scarce few left that remember lucidity, and who can take control of themselves within dream space; the last obstacle left to be conquered.

You are one of the few that can see and remember this world--and the form you take in it is different. It is the inner self, the form that you are most strong in and the one that communicates your will the greatest. It has turned into a game of survival and perhaps the only way to get by is to find others that are like you--ones that are from reality and ones that can still dream. Time is running out, the longer that you linger in the world, the greater the risk you run of being killed. But even as you fight, there is still one lingering question. Who, ultimately, is the Dream Entity...?

Author's Note: This roleplay is a sort of "sequel" roleplay, if you want to call it that. There was an Act One beforehand and this story is resuming at the end of it. The prequel was basically a prologue and I would like to regard this as the start of the true story. While previous players will be returning once more (hence the reserved slots already), do consider that for the most part, we will all be on the same page. If there are any questions, do not hesitate to comment in the OOC or PM me.


"A child" does not specifically relate to an age that one has to have physically, nor does it influence the inner self's age appearance. Though very rare, it is possible for an adult to still have the belief system of a child, one who has only grown physically but mentally, still holds on to that subconscious connection. Thus, it is not unreasonable for an adult in their thirties to exist and be able to have a persona in the dream realm.


The Inner Self/Persona of a person is reflective of their will and mental state. The limitations and rules that are binding in the waking world have no implications on the inner self whatsoever. Inner selves can range in age, appearance, and can look virtually nothing like their real host body. In addition, they may not necessarily act completely like the original host. Persona's are the true nature of the heart and mind of the individual. This is why there is no correlation to the age or even, to an extent, personality of the conscious mind of the person. These persona's are also capable of having powers, abilities, on the dream plane. These attributes can also vary, some amazingly fantastical indeed. Each ability is unique only to that inner self and no two persona's can have the same power.


Soul Spheres are small pulses of energy that represent the mana flow of the individual. Some have stronger pulses than others, and this represents a stronger affinity to the subconscious and dream state. Soul spheres can also channel the mana and change it's form to reflect the power or ability of the individual. It is possible to have multiple energy flows, thus, more than one power; however, everything flows from an origin point in that power tree. So, for example, if someone were to wield fire as an affinity, they could not, in turn, also wield water, as it comes from a different power tree. There are no limitations on soul spheres and as such, powers come in all different forms and varieties.


There are two types of dreamers: normal dreamers and lucid dreamers. Normal dreamers exist inside of their respective dream bubbles, a space created in the dream world that hosts the dream of that particular person. While inside of a dream bubble, the person cannot normally communicate with outside parties or leave the area. The person in question is not conscious of this bubble of created dream events and just flows with the events before them. They are guided subconsciously out of the dream when it is time to awaken. Lucid dreamers are fully aware of this bubble and can influence it, creating a dream to their liking or preferences. They can even leave their area and travel in the dreamscape. In the state the world is in now, normal dreamers will merely think that the whole dreamscape is their bubble and not be aware they are actually moving about in the world. Lucid dreamers will not yet understand the severity of the situation and therefore will not possess a sense of urgency.

Note: The slots for lucid dreamer have already been filled but don't worry! Eventually all characters will awaken as lucid dreamers, we will just have two in the beginning.
Code: Select all

[center][img]Your Character's Name Here--Go to www.fontmeme.com[/img][/center]

[left][img]Your Character as their Inner Self[/img[/left][size=85][b][u]Name:[/b][/u]

[b][u]Inner Self's Name:[/b][/u]

[b][u]Type of Dreamer:[/b][/u]

[b][u]Age:[/b][/u]

[b][u]Gender:[/b][/u]

[b][u]Appearance:[/b][/u]

[b][u]Theme Song:[/b][/u] [url=Youtube Link]Song Title Here[/url] (this is optional)

[b][u]Current Relations:[/b][/u] (For returning players only--this notes any friendships or interactions your character might've had with others during Act One.)

[b][u]Personality:[/b][/u]

[b][u]Abilities:[/b][/u]

[right][img]Your Character as their Waking Self[/img][/right][center][b][u]History[/b][/u][/center]
[/size]

As the number of people with an affinity to remember their dreams and have access to their dream persona are limited, likewise, so are the number of people that can participate. I am accepting up to nine participants of dreamers so things don't get too hectic~ There is one additional character slot you will notice. PM me about this particular slot. This are open but it very essential that we discuss over this particular role ahead of time. It is important to note that I only hold reservations for a week's time. Unless otherwise notified via PM, OOC post, etc; I will have to garner that you are not interested and open up the slot for someone who wants to be involved.


Rule One
Literacy is an absolute requirement. You aren't expected to have the most expansive vocabulary in the world but please review your posts for grammatical/spelling errors and correct them if needs be.

Rule Two
One sentence posts will be disregarded. It isn't that difficult to make an adequate posting so put in effort! We're all working together to make this turn into a wonderful story so contribute fairly to make that possible~ Posts should be 600 words minimum. Frankly speaking, I prefer long posts ranging somewhere around 800-1200, perhaps even more but I won't push it so long as it's 600.

Rule Three
Make sure to always remain polite and respectful of other people's characters! Always ask for permission first. There isn't any favoritism--so even people who have been pre-accepted I will call out if there is rule-breaking.

Rule Four
Don't god-mod. You may be as creative as you like with your powers, but bear in mind limitations. No power is without fault. I will allow two slip-ups, the third and I will ask you to leave.

Rule Five
Be active! All successful roleplays need constant contribution. This doesn't mean you have to post several times a day but remember to stay involved~ I'll be expecting posting once daily or every other day. If you don't think you can keep up, then please don't join.

Rule Six
Keep everything realistic. While romance can be possible, try not to make decisions without making sure both parties are alright with it. I don't discriminate based on gender so you can knock yourselves out if it strikes your fancy. Also take into account that using powers constantly will tire out your character.

Rule Seven
And of course, have fun~! If there is ever any disagreement or discrepancy, whether it be with a person, post, or otherwise, you may always PM me or post it in the OOC section.
Arcs are bundles of posts that you can organize on your own. They're useful for telling a story that might span long periods of time or space.
There are no arcs in this roleplay.
There are no quests in this roleplay.
Here's the current leaderboard.
There are no groups in this roleplay!
Welcome home, Promethean. Here, you can manage your universe.
Arcs are bundles of posts from any location, allowing you to easily capture sub-plots which might be spread out across multiple locations.
You can create Quests with various rewards, encouraging your players to engage with specific plot lines.
Settings are the backdrop for the characters in your universe, giving meaning and context to their existence. By creating a number of well-written locations, you can organize your universe into areas and regions.
Navigation
While not required, locations can be organized onto a map. More information soon!
There are no groups in this roleplay!
By creating Collectibles, you can reward your players with unique items that accentuate their character sheets.
Once an Item has been created, it can be spawned in the IC using /spawn Item Name (case-sensitive, as usual) — this can be followed with /take Item Name to retrieve the item into the current character's inventory.
Give your Universe life by adding a Mob, which are auto-replenishing NPCs your players can interact with. Useful for some quick hack-and-slash fun!
Mobs can be automated spawns, like rats and bats, or full-on NPCs complete with conversation menus. Use them to enhance your player experience!
Current Mobs
No mobs have been created yet.
Locations where Mobs and Items might appear.
You can schedule events for your players to create notifications and schedule times for everyone to plan around.
Add and remove other people from your Universe.
The Forge
Use your INK to craft new artifacts in Scattered Dreams, Fragmented Unreality. Once created, Items cannot be changed, but they can be bought and sold in the marketplace.
Notable Items
No items have been created yet!
The Market
Buy, sell, and even craft your own items in this universe.
Market Data

Market conditions are unknown. Use caution when trading.

Quick Buy (Items Most Recently Listed for Sale)
"Overworld"
"Remnants of a once grand city"
"A disturbing place of childish fantasies..."
"The city of engineers, spell weavers, and clock makers"
"Mirror Mirror"
"Origin Point"
"Deception Area"
Discussions
Topics

Replies
Views

Last post
Most recent OOC posts in Scattered Dreams, Fragmented Unreality
There have been no posts in the OOC topic for this roleplay!