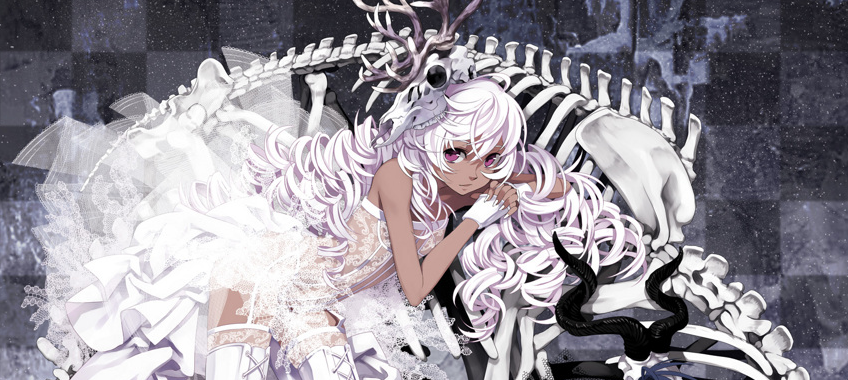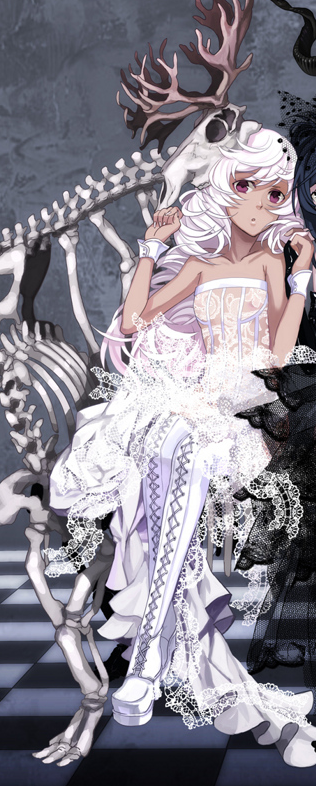 Name:
Kanaria Lhavanthe
Inner Self's Name:
Erixianti
Type of Dreamer:
Lucid Dreamer
Age:
Appears to be in her early teen years
Gender:
Female
Appearance:
Erixianti is small, rather petite girl; her slender frame barely reaching five feet in height. Her weight is even less noticeable, which can almost make her seem dainty and someone that would break if squeezed too hard. Small lips, a tiny round upturned nose, and noticeably wide eyes only help to enhance the doll-like figure she possesses. She has curly locks of white hair which foam around her, coming to rest an inch or so below her waist. Her eyes are a lavender hue which can seem more lilac if hit with light at just the right angle, long lashes surrounding the orbs. Adorning her head is a crown made of a deer's skull, the antlers sticking out several inches beyond her. She wears all white, a contrast of lace, silk, and a more rough fiber that makes up her frills. The boots she wears add almost nothing to her height and are fashioned with a pair of garters.
Theme Song:
Gracefully
Current Relations:
She regards Quinera as her knight figure and feels that the jester is her loyal guardian and defender. She relies on the girl as much as any princess can and feels unsure if she is not in Quinn's protective shadow.
Personality:
Delicate in visage and in behavior, everything she does is quiet and careful. It can be near impossible to detect any sort of noise from her, giving her an association with a "wraith" for her ability to slink away unnoticed. She prefers to remain an observer, the outside player, and the reader peering in on the unfolding story. She enjoys the vantage point as it means she does not ever have to be directly involved with events but she can still watch them as they transpire. This position stems from her love of books, particularly those that involve daring adventure and mystical powers. It is from this that spawned her hero complex and oft are the times that she will compare her experiences to events in a fantasy novel. Inwardly, she thinks of herself as the heroine that has yet to experience her own tale and is waiting until she is swept up in a story of her own. Only then will she stop being a watcher.
As passionate as her love is for such things, her belief is even stronger and she will throw herself wholeheartedly into something if her faith is there. If she finds that someone attempts to contradict this belief, she will do her best to tell them otherwise but in the most polite way she can manage. She does not like confrontation and tries to avoid initiating conversation altogether as she finds it very difficult.This, in turn, makes her a touch of socially awkward and she will shy away, even from contact with others. She rarely knows the "proper" thing to do when put in a situation where she must actually converse with another. Most of the time, she subsides to profuse blushing or glances down at her shoes since she doesn't feel she has much to say or contribute.
Getting her to speak can be a feat within itself and her method of communication often throws others for a loop. She is seemingly a "mute", using her second pulse to animate the deer skull on her head to speak for her. The voice of the deer is always changing, reflecting the emotions that she is feeling or the atmosphere that is present. As such, no one really knows what she truly sounds like. The deer is unable to speak when it is not in physical contact with her--when it does, it makes distinct clattering noises much like that of bones being shaken. Though she will not willingly admit it, she does have a slight fascination with bones and if she feels comfortable enough, will squeeze someone's arm or poke at their ribs to feel how firm their bones are. She likes collecting any that she sees but it's unknown as to exactly
where
she stores them all.
Overall, she will appear endearingly cute and this perhaps gives her a bit of charm where her charisma is lacking. She is not a hard girl to please and is easily impressed by even the smallest of parlor tricks. Strangely enough, if she feels that someone has fit into her story, she will become intensely attached to them. In her mind, there are three main characters beyond herself--the knight, the prince, and the wizard. Those three are the ones that she will dedicate herself to--that is, if she can find them. They can't just be dreams, right?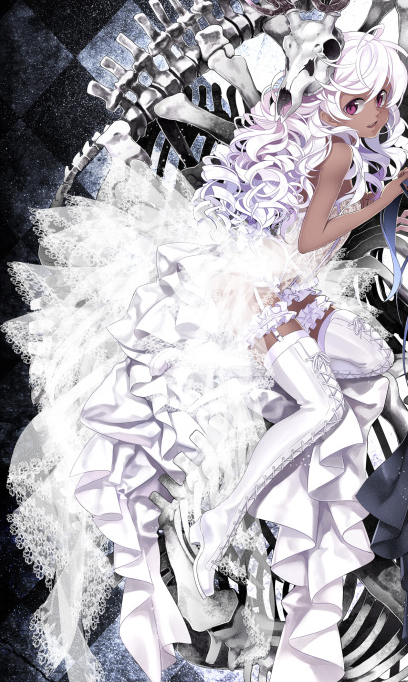 Her Soul Sphere has two different pulses, though she is unable to use both at the same time.
Pulse I
Her first pulse derives from shadows, giving her the ability to summon darkness and will it into different shapes. These shades will often appear as nothing more than shadows when passive, taking on stronger, more three-dimensional shape when physically summoned. Through vocalization and mental projection, she can alter the form of her shades. These forms can range from something simple like a cloak to wrap around her shoulders to a huge beast to defend her. The shadows can expand about 75 meters beyond her physical body before they fade away.
The limit to what she can summon and how powerful it can be is tied to her current mana and stamina levels. Physically, she is not a fighter whatsoever so any and all attacks are done from long range only. Her shades are automatically summoned the instant she uses her voice, contorting to match her dialogue. This makes it impossible for her to speak lest she wishes to constantly be bringing her shadows into existence. When she is not using them, they often whisper to her and ask for freedom and form, though she rarely pays this any heed. Between her two pulses, this is the less taxing out of the two but the one that she uses far less.
Pulse II
Her second pulse is, quite simply, energy transfer. If she culminates her desire strong enough, she can imbue an inanimate object with a personality and a short life span. This is primarily done with the deer skull that rests atop her head in order for her to speak with others. However, the life energy that she has given this object will automatically leave should she summon her shades. Whatever personality traits she gives to the object, she will lose herself and be unable to properly express it. Therefore, if she wished to make her deer skull more friendly, she would turn a bit more distant and cold. This is part of the reason her skull can be a tad obnoxious and loudly talkative.
Her control over the transfer is not without its faults. The larger and more complex the object, the more energy it will take from her. The transfer is something of an ongoing exchange. She must continue to imbue life into an object even after it has been "brought to life", so to speak. Her range with this ability is much shorter, only able to stand about 2 meters away from her target before her energies can no longer reach it. As time progresses, she must steadily draw closer to the object until she has no choice but to maintain physical contact in order to keep the transfer. If she attempts to put too much life energy into something, it can drain her completely and cause her to pass out.
In the waking, she was known as Kanaria, a mildly sociable woman whose goal was to become a lawyer. In actuality, she is closer to around 26 years of age, possessing short locks of black hair and hazy blue eyes. When she was much younger, she had discovered her interest in fantasy upon reading her first full-length novel. Since then, she had always found comfort in books, stories of dashing heroes and amazing feats. She could spend hours curled up against a bookcase or at a coffee shop with a pile of books at her side.
At that time of her life, she had always wanted to be an archeologist--someone who would forge something new into the world and bring light to incredible events that had transpired many years ago. Progressively, this began to be implemented into the inner self that would take over when she would dream. She had not always been a lucid dreamer, having her first truly lucid experience when she was ten years old. It took her several years to duplicate the process and many more hours of research on lucid dreaming to finally get it down. Dreaming was her escape, where she could live out the dreams she had always wanted to and where her wishes came true.
As she grew older, her career choice became more of a memory and she moved into law instead. Due to her reclusive and often bookwormish nature, she had never been able to make a great deal of friends. This never seemed to bother her, there was always comfort to be had in stories anyway. However, this also meant that she had never had a relationship so her ideals of romance where always tinged with child-like naivete. As mature and cordial as she came off, she would always end up fantasizing about the day her real prince would show up.
This mentality is what aided her in maintaining her close link to her inner self. Though she is a woman, on the inside, there is still a bubbly child waiting for all her dreams to come to pass.