XX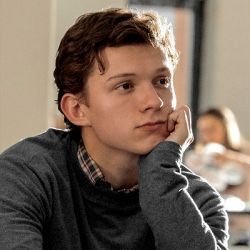 nickname: Archie
age: 19
sexuality: bisexual
Talent: Photography
Faceclaim: Tom Holland
hexcode:
#A81919
---
---
O U T S I D E || ----------------------------------
H E I G H T || 5'8"

W E I G H T || 154 lbs

E Y E S || Deep brown

H A I R || Brown hair that is short on the sides and long and wavy on top. Tends to curl a little in high humidity.

O D D I T I E S || Has a birthmark behind his right year that's mostly hidden by his hairline.

A P P E A R A N C E || Archie is average size for his gender and considers himself a tad short even if he wont admit it. In fact, he likes to hold himself in such a way that he appears taller than he really is. It doesn't exactly work. He has an infectious smile. His face is mostly open and expressive, but he knows how to hide them when he needs to. His hair tends to be combed back or at least brushed from his face and curls with product in his hair or humidity in the air. He has a dimple in the middle of his chin. His style varies depending on the situation. During school hours, he tends to dress a little nicer. Meaning button down shirts, nice jeans, simple sneakers, and plain sweaters or jackets. During off hours, he wears t-shirts, jeans, and comfortable sweaters and jackets.
---
---
--------------------------| | I N S I D E
L I K E S ||
✓ Red ✓ his cameras [He has two] ✓ photography ✓ Theo ✓ The School of Dreams ✓ warm sunny days ✓ astronomy ✓ people ✓
looking
at traditional art ✓ Autumn ✓ Indie rock ✓ cigarettes ✓ Rowan (they're friends oddly enough) ✓ puns ✓ comic books ✓ action movies
D I S L I K E S ||
✗ alcohol ✗ coffee ✗ tea ✗ nuts ✗ being pushed around ✗ bullies ✗ ruined photos ✗ drawing ✗ dancing ✗ violence ✗ chick flicks ✗ boats (easily seasick)
Q U I R K S ||
-- Picks at fingers and nails when he's nervous
-- Messes with his hair when he's uncomfortable
-- Curls his hands when he's angry
F E A R S ||
-- Being kicked out of school
-- Snakes
-- Complete darkness
S T R E N G T H S ||
--
Photography
: Ever since he was a little boy he loved to take pictures and learned from the best.
--
Singing
: He's no angel, but he's also not tone deaf. He doesn't sing often considering he goes to school with musical prodigies.
--
Writing
: He's actually a fairly decent writer.
W E A K N E S S E S ||
--
Traditional Art
: He loves the look of traditional (painting, drawing, etc.) art, but he's terrible at all of it. Even his stick figures are squiggles.
--
Emotions
: He feels his emotions strongly and can't always control them. He's also not very good at expressing or handling his emotions properly.
---
---
D E E P
X
D O W N | |--------------------
| Fun-loving - Optimistic - Creative - Courageous |



Archie is incredibly easy-going and fun-loving. He loves being included in jokes and pranks and things puns are the best. He makes silly faces constantly and will do anything to help cheer someone up. He up for pretty much anything at any time. He enjoys adventures and shenanigans and he loves to laugh.

Archie is optimistic to a point. He looks for the good in everything, but he knows when to quit. It doesn't happen to him very often. This does allow him to be humble in his life. He knows where the good ends and the weaknesses begin. Especially when it comes to his own talents. He does try to keep things lighthearted whenever he can.

Archie may not be able to draw, but he is creative and imaginative. It helps a lot in his photography especially his digital work. It also helps him write short stories. He wants to find an illustrator who will collaborate with him on a comic book or a graphic novel. He has a few ideas up his sleeves, but without an artist, they're 1-D nightmares and not 2-D daydreams.

Archie was bullied a lot as a child and so was his childhood best friend. This eventually lead to his best friend's death. Ever since Archie has always been courageous and stood up for what was right. This was especially true when it came to bullies. He has no patience for them and will stand his ground whenever the situation arises. He's also been known to use his fists, but its only when words don't work which isn't much of an issue at the School of Dreams, but he's had a few close calls.


---
---
---------------------------------------- | | H I S T O R Y

Archer Andrews has always loved photography. Even as a child he would spend hours looking at photographs and playing with his empty disposable camera his mother had given him to play with. His father was a photographer and once he was old enough, he taught him everything in he knew. Archer had even come up with a few techniques on his own that impressed his father. The student had really surpassed the teacher. His father had also gotten him into comic books and graphic novels. The idea that evil doers were punished when they did something wrong and in the most epic of ways with magical powers, blew Archer's mind.

As a kid, he struggled in school. Not because he struggled with subjects like math and english. He struggled because making friends was difficult for him. None of the kids in his class shared any of the same interests with him. They still read picture books, but he would read comic books with his dad. He always brought a photo or a camera for show-and-tell and was even confronted about it by the teacher in front of the class. They all laughed at him and called him Camera Boy. At first, he thought it was the best name ever because it sounded like the name of a superhero. Eventually he realized they were making fun of him. At one point, they had even broken one of his camera. It was a disposable one and not the one his mother had given him as a child. No that one sat on a shelf with his other cameras his father had given him. This camera wasn't special, but he could never shake the thought of what if it had been? After that, he stopped bringing his cameras or photos to school and he stopped trying to make friends.

That is, until he met Michelle in middle school. She was a bit of a tomboy and liked to go by Mickey. Yes, like the mouse. She liked to wear her hair up and in different hair styles: pig tails, braids, etc. Mickey liked comic books too, but didn't care much for photography. Or any art form really. She just thought being a superhero would be cool. Actually, she enjoyed being the villain even more. The two were fast friends and were very close. But Mickey was bullied. The girls didn't like her because she was "gross" and acted like a boy. The boys didn't like her for the same reasons. They thought girls were supposed to be prissy and clean. Granted, she did get along better with the boys.

In their final year of middle school, Mickey had enough. There was an incident with the other girls in their class. They had taken her clothes and had hidden them. They said that she was a girl and would remain naked until she acted like one. Thankfully, they didn't have cell phones at the time--at least none that had cameras--but they had told everyone in the school of her naked moment in the dressing room. The teachers tried to punish the girls, but there were too many to know who was actually involved and who didn't do anything considering no one would admit to doing it. The giggles and jokes continued for a few weeks. And then, Mickey was gone.

It crushed Archie, but it also taught him a lesson. After the death of his best friend, he decided he would never let anyone be bullied again. It was also the start of his emotional issues. He saw a therapist and his control improved, but he was never the same. Not long before his middle school graduation, he received a letter from the School of Dreams inviting him to participate in their photography department. He jumped on it. He didn't want to go to school with the kids who had tormented him since pre-k and killed his best friend. He would go on a new adventure in a place where he belonged.