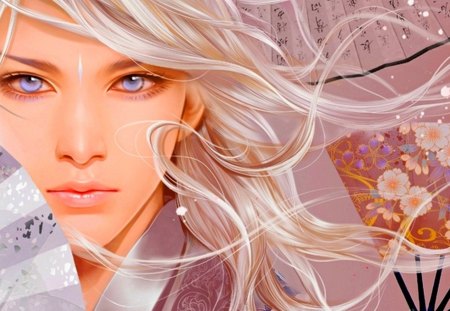 Full Name: Katherina Opal
Nicknames/Aliases: Prefers to be called Kate. Tends to change her name according to the times.
Age: At least 4,000 years old
Gender: Genderless, but appears female
Species: Azure
Post/Rank: Doctor
Description: Just like their age, the Azure change appearances depending on where they are and what the time period is. Currently, Kate gives the appearance of a young woman in her late twenties. She "has" fair skin and a slender build. She is of average height and "has" thick, long, pale hair. Her eyes match her crystal form, which is blue in tint. She tried to have the most average appearance as to not to be discovered by normal humans who may have come across the legends of her people.
Personality: The Azure are very kind hearted. Kate is no exception. She is always tending to other creatures' needs and is generally selfless. Kate does have a tendency to be silent for long periods of time. She also may seem distant to a modern human, considering she is much older. She has a desire to learn pretty much anything and everything. The only time she becomes angry is if one destroys nature for selfish reasons or if one destroys the life of another. She can be found studying or using her abilities to keep the SCION agents alive.
Skills: Able to use water in various ways. Able to purify water (as in, to expel evil entities and such.) Able to heal various injuries/diseases unless widespread/too advanced. Able to use her body as a shield.
Weaknesses: Kate has a few weaknesses. If she is away from fresh water for too long, she loses her ability to manipulate water and could possibly die. She can also be shattered (although it is very hard to do so) and cannot put herself back together, which almost always results in death. Her people also cannot be submerged in salt water, otherwise they literally corrode and die. (She cannot purify salt water.)
Brief History: Kate has had many names and many forms throughout millennia. Her people have no origin story, nor any faith. It was said by humans that they were created by the gods to be angels on Earth. Kate herself has never been mentioned in myth since she is young compared to the rest of her race. She was given a mission by the Azure who created her to heal all creatures and to protect the Earth, which Kate has been doing since her introduction to life.
Other: She tends to find humans in particular fascinating. Kate is also willing to teach others about her race since they are so rare.