Yomi Tamura
---
---
Name:
Yomi Tamura
Age:
27
Gender:
Female
Height:
5'7"
Weight:
132 lbs.
Sexual Orientation:
Pansexual
Nationality:
Japanese
Weapon(s):
A pistol and a stun gun.
---
---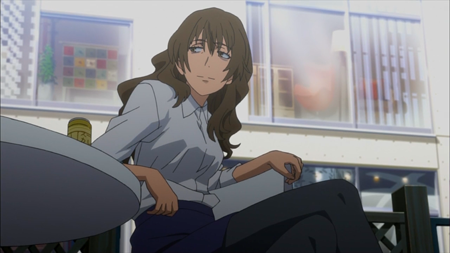 Personality:
Dry and perhaps a bit aloof, Yomi is also the type to become engrossed in her work with an unhealthy measure of focus. From the outside she might appear cold, but she cares deeply for those close to her. She is not one to simply sit around, if she's not working she's usually playing a game or doing some research, the only time she truly relaxes is when she's enjoying a nice cup of coffee. Social interactions aren't things she avoids but she often only interacts with others when it comes to work. Yomi is not afraid to fight (And is actually pretty good at it) but is someone who likes to plan and think ahead to avoid conflict if possible.
Likes:
Coffee, eroge/dating-sims and other video games, computers and technology, working.
Dislikes:
Overly sweet or fruity things, loud or crowded areas.
Talents:
Hacking and computer security, she's also not a bad shot with her pistol.
Flaws:
Often neglects her own well-being, can become quickly and overly attached to others
Hobbies:
In her free time (Which she has little of) Yomi is a bit of a gaming nerd.
---
---
---
---
Bio:
Yomi's childhood was wholly average. Incredibly intelligent but very unmotivated, she never excelled in school or in any other aspects of her life. She would often choose to immerse herself in comics, shows, or games rather than play around with friends. This isn't to say she had no friends, but most of them were ones she had only met online, but Yomi didn't mind. It wasn't until High School that she began to apply herself and make an effort in her classes with the goal of getting into a prestigious university.
Yomi took on an overload of classes, mostly relating to computers and technology while also taking on a part-time job as an intern in a cyber-security company one of her professors was a part of. Thus began her nasty habit of putting off sleep and food in favor of work and her introduction and fascination with the world of hacking and cyber-crime.
After finishing college, she moved on to work full-time at the same company she had been an intern at. She took her job very seriously, often working overtime and going far out of her way to do her job to the best of her ability. After a few years of tireless work her superiors took notice, one of whom was her professor who also happened to be a part of the Secret Police. Seeing her ability and potential, she was offered an invitation to join the group, to use her talents to help others in this city full of crime.
Yomi took to her new job seriously and with the same focus she had given in the past. A particular effort put forth to become a more fit combatant. Yomi has been a part of the Secret Police for a little over a year now, providing support to many others and even completing several jobs of her own.
Other:
Yomi almost always has a portable game device on her with some sort of dating-sim ready to be played whenever she has some downtime.
Relationships/Thoughts towards Other Characters:
Kira
:
"She's a good girl, very smart. I'm her caretaker and I really do care for her, I just hope I'm doing things correctly. Perhaps I should do some research on raising kids or something, I've really got no clue what I'm supposed to be doing."
Jin Tsubaito
:
"Jin... He's lazy. I can't say I was never like that either but, I hope he grows up a bit and begins to live up to his potential, it'd be a shame to waste it. However when he finally gets his ass in gear he gets things done, and he takes the job seriously so he doesn't seem like a bad kid."
Ayano Tsubaito
:
"Jin's sister. She's an odd one, perhaps one of the oddest I know of in the organization. She's kind, overwhelmingly so. I really don't know how she gets this job done but, she's still around so she must be doing something right. I think I envy her ability to smile in the face of anything honestly."
Hagen Dawn Adriel
:
"I respect him. He's the kind of person this organization needs, intelligent, very talented, and he has a sense of justice. I don't know if there's much more to say, don't know much about him really."
Katherine Preston
:
"She worries me. Often throwing herself in the line of fire. However it's not really my place to try and change her ways, she's got a good heart and she's not to be underestimated. I simply hope she begins to place a greater value on her own life."
Youji Karakuni
:
"Loud and arrogant, but he is a kid after all. However his confidence is not completely unfounded, he's pretty bright and talented but he needs a shot of humility. That said, if he pulls that megaphone out around me I won't hesitate to break the thing."
Kotaro Daiki
:
Laurel Steadwell
:
Kurosaki Eko "Neko"
:
Kanako Greene
: