Youji Karakuni
---
---
Name:
Youji Karakuni
Age:
16
Gender:
Male
Height:
5'8"
Weight:
124 lbs
Sexual Orientation:
Homosexeual
Nationality:
Japanese
Weapon(s):
Tinkers with a wireless droid, which is about the size of one's torso and floats about, with various fire arms weapons, and sends that out to do missions for him. When backed to a corner, he uses an automatic pistol.
---
---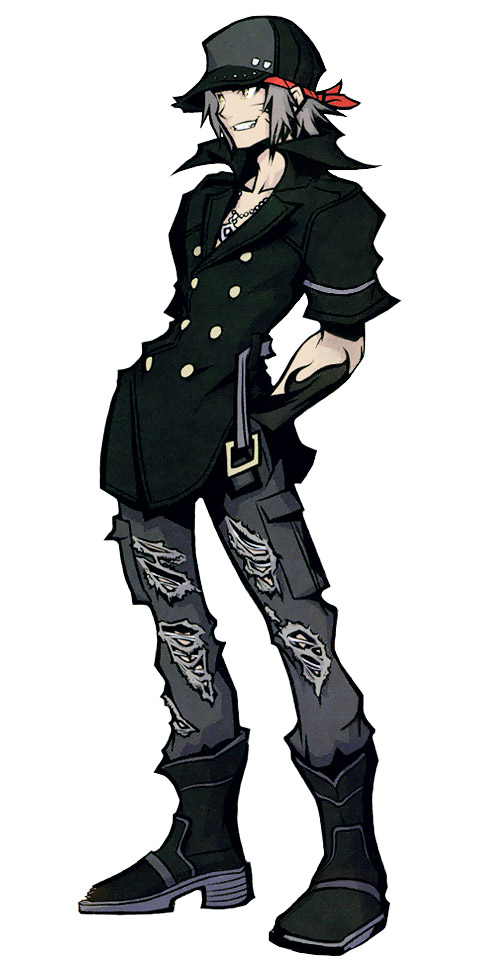 Personality:
Cocky and laid back, Youji has the confidence to do anything he pleases, at whatever pace he believes is best. He doesn't care much for the hierarchy of their organization, just knowing that he does have to follow orders or else he'll be booted, losing all that he currently has just by being with the secret police. He hates losing above all else, and does things in a way he believes is 'coolest'.
Likes:
Waffles
Winning
Computers
Robots
Dislikes:
Waiting
Losing
Bitter things
Alcohol
Talents:
Loves computer programming, and will make all sorts of various little robots to take care of mundane tasks for him in his office, but takes great pride in his field drone.
Not quite a genius, though he likes to think of himself as such. Youji may not seem like it, but he likes to study. He will put all his effort into learning things and then implementing what he's learned into his craft.
Holds a very keen memory, able to be quite useful at remembering things.
Flaws:
Easily one of the most proud, if not at least loud mouthed of the team. Always the first to pat himself on the back.
Snake-o-phobe: A childhood trauma caused him to be deathly afraid of snakes.
Hobbies:


He'll download torrents of his favorite anime.
Makes internet memes.
---
---
---
---
Bio:
Ever since he was a child, Youji had a great fascination with technology. He had been disassembling working computers and them reassembling them perfectly by age eight. By the time he was ten, he had figured out how to fix most hardware issues as well as any tech service agent. His parents were so proud of their little 'genius'. Though what they didn't know was that he had a bit of an obsession. By thirteen, he had been going out and coming home late, his parents having no idea where he'd be disappearing to all the time. One night he had come home to show them his great project. A robot puppy he wanted to surprise them with. But when he returned, his parents weren't home. There was a sign of a break in, but nothing else. No blood. No note. Simply an empty house. Youji was distraught, and confused. He had no clue where his parents were. He went to the police for a missing persons but nothing turned up. As far as he knew, his parents up and left. Abandoned him. Nowhere to go, and in danger of being sent to an orphanage, Youji wandered through Tokyo on his own, using his robots to cause trouble for the sake of causing trouble. At age 15, he had been approached by dark, mysterious people, who offered him an invitation to the Secret Police.
Other:
Likes to shout at people sometimes with a megaphone.
Relationships/Thoughts towards Other Characters:Kira
: The closest that Youji can relate to in terms of interests, he holds an unofficial rivalry between them. Easiest to talk to and relate to, Kira treats him more as a friend than some of the others, and views her not only with respect and kindness, but also with admiration for her skills and intelligence, though he'd never admit it aloud.
Jin Tsubaito
: Not quite able to put up with one so...uppity. He has no personal problems with that one, however not only is his shameless flirting annoying, but whenever they talk, there's always this sense of "I'm better than you" coming from him, just because he's older. Even though there's only a two year difference between the two.
Ayano Tsubaito
: Pretty much the other extreme from Jin, Ayano seems to be too passive compared to her brother. Youji almost feels sorry and tries to hold back, but also because he hears the stories of never crossing her. Regardless, there's this itch whenever she's around to walk all over her.
Hagen Dawn Adriel
: Stinks of alcohol a lot so he generally stays clear of this one, however he pretty much traps himself whenever he's in his office and Hagen just happens to visit. Not a bad guy, seeing as they both have similar interests, but there's not much else for him to connect with otherwise.
Katherine Preston
: She seems like one to keep a lot of secrets. Youji finds her to be an interesting one and likes to poke and prod.
Yomi Tamura
: Intimidating to some degree, Youji isn't particularly fond of Yomi, though he will admit she's dependable if nothing else. In a small way, he sort of relies on her during missions, though he'd never admit it.
Kanako Greene
: There's a strong mutual feeling of meh between the two. Kanako is generally inapproachable and he doesn't mind too much. Though her interests in criminal profiling do intrigue Youji.
Kotaro Daiki
: Definitely one he doesn't like to associate with. Childish, creepy, unstable, all the things that annoy Youji to no end.
Laurel Steadwell
: Is friendly enough towards her, though he's not exactly beholden to her in any way.
Kurosaki Eko
: Fun one to annoy, just because he irritates Youji with his over seriousness.