---
---
███████████████████████████████████████████████████████████████████████
---
---
revelation
- troye sivan and jónsi
dasher
- gerard way
good to you
- marianas trench
looks red, tastes blue
- mayday parade
holy
- pvris
just got caught between someone i just invented, who i really am, and who i've become.
---
---
███████████████████████████████████████████████████████████████████████
---
---
F U L L

X

N A M E
Matthew James Montgomery

N I C K N A M E (S)
Only Tommy gets to call him Matty or Matt.

B I R T H D A Y
March 12

A G E
23.

R O L E
Scout.

S E X U A L I T Y
Bisexual.

E T H N I C I T Y
White.

H O M E T O W N
Wolf Pines.

H E X


#072303
---
---
███████████████████████████████████████████████████████████████████████
---
---

S T Y L E
Matthew is quite a simple, if stylish, dresser. Once upon a time, he also dressed extremely conservatively, and that sometimes sneaks its way back into his wardrobe. But for the most part, he has mastered the art of appearing stylish and not dressing like somebody twenty years older. His trousers are always tailored and always slim fit, but seldom skinny. He's more or less always found in a button down, only found in a t-shirt when he's really, really dressed down.

H E I G H T & W E I G H T
5'11", 150lb

A P P E A R A N C E
Matthew is one of those people who has a serious case of resting bitch face. People often assume he's angry or pissed off, when in reality he's probably just thinking about what he's cooking for dinner. His face completely changes when he smiles, lighting up and making him seem even more attractive. His pale green eyes hold all of his intelligence and his emotion. His hair is a light brown, but depending on the light can appear to be anywhere from almost blonde to a medium brown.
---
---
███████████████████████████████████████████████████████████████████████
---
---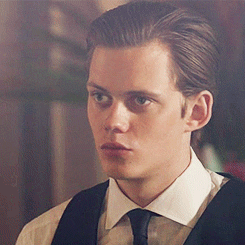 L I K E S
Matthew adores being a part of a group that all feel like his extended family. | After a long, stressful day, the only thing that really helps Matthew relax is cooking. | His guilty pleasure is old musicals, and he can sing most of them word for word. | Being out in nature, especially as a wolf, is one of the only things that really keeps his mind quiet and calm. | He loves electronic music and is frequently found listening to it while he works.| Thrillers are his favourite type of movies.

D I S L I K E S
Matthew hates reading because it makes him feel stupid. | The smell of roses makes him feel nauseous and reminds him of his grandmother. | He hates the smell of cigarettes. | Any and all medical personnel make him incredibly anxious, to the point of just seeing them makes him feel panicky. | He has a deadly fear of flying and has to nearly be knocked out to get on a plane. | He hates anyone who isn't Tommy calling him by any sort of nickname.

---
---
███████████████████████████████████████████████████████████████████████
---
---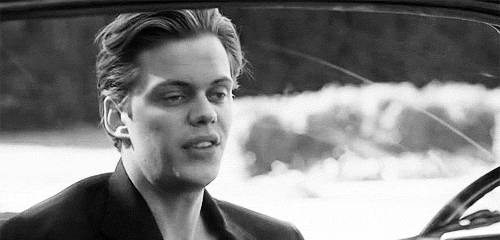 P E R S O N A L I T Y
Matthew is the more "mature" party in his relationship. He wouldn't describe this as being by choice, however. He was forced to grow up quickly when his parents died and he moved in with his grandparents. He wasn't allowed to just be a dumb kid. And he never missed it. Not until he met Tommy. Now, Matthew is constantly learning to let go and to let himself do dumb things. The first night he got drunk, he was afraid of what his grandparents would think, how they would react. Now, he just regrets not staying more hydrated and avoiding the inevitable hangover. He's more adventurous in every aspect of his life. He's figuring out who he is, and that's okay.

But he still reverts to being the same old responsible, mature Matthew, the one who puts his friends in a taxi at the end of a night out, the one who does the shopping for the house and makes sure that they have at least some healthy food. It's not a bad trait, even if some would see him as uptight. He finds it exceptionally difficult to just... switch off. He can be drunk, half asleep, or stressed out of his mind, but the minute somebody needs his help or they need an adult in the situation, Matthew is there and in complete control. He wishes he could just switch it off for a while, not have to feel the compulsion to always be the responsible one.

Matthew is deeply insecure. He feels that no aspect of his personality is right for anyone. He's afraid that when he lets go, he's too much, too dumb, difficult to handle. When he's being responsible, he's afraid that he'll push his friends away and they'll see him as the boring one. There are very few people that he doesn't feel intensely insecure around, and that's only because he's known them for years, knows they've seen his worst sides, and despite what he might expect, they still love him.

It's probably no surprise that he is deeply protective of those he loves, to the point of being overprotective. He knows that it must be frustrating for them when he dives in to fight their battles for them, but Matthew is just too afraid of losing them. He'd much rather sacrifice himself than let anything happen to them. He does everything he can to protect other people, or just to make their lives a little easier, a little better. His parents taught him to be the kindest person you can, and to always do the right thing. Trying to determine what exactly is the right thing is what Matthew finds hard sometimes, but he usually gets it right.

---
---
███████████████████████████████████████████████████████████████████████
---
---
F A M I L Y
As far as Matthew's concerned, the only family he has is the pack. His maternal grandparents are alive, but he refuses to associate with or even acknowledge them. His parents died when he was eight, and he never had any siblings. When it all got too much, he turned to the pack, and the pack took him in.

---
---
███████████████████████████████████████████████████████████████████████
---
---

H I S T O R Y
Matthew was born a lycan. He knew from a relatively young age that at some stage, he too would transform. His parents were scouts in the pack, and almost always worked together. Matthew's mom never spoke all that much about her parents, and Matthew never really knew why. His paternal grandparents had moved to Russia at some point, and so he never met them. Matthew's life was incredibly happy until a few weeks after his eighth birthday. His parents were killed by a freak vampire attack who poisoned them both with Wolf's Bane. Matthew came home to find them dead.

His grandmother appeared and whisked him away from the town where he'd grown up. There, his life was entirely different. His grandparents were extremely conservative, and had never liked Matthew's father. They knew nothing about Lycans, and didn't even know that Matthew was one. And so he shifted for the first time alone in the woods near their house, alone and afraid. They ruled Matthew with an iron fist. He went to school. He was allowed take part in one extracurricular activity, which had to be a sport of some kind. They dragged him to church at least twice a week. The priest there seemed like a lovely man and preached about love above all else. But Matthew had developed the ability to hear their thoughts around that time, and what he heard in his grandparents' thoughts terrified him. He had started to realise that he wasn't just attracted to the pretty cheerleaders, but was also attractive to the pretty football players. While he'd had a few crushes on girls, it always seemed to be other boys that he was more drawn to.

But his grandparents would not have accepted their grandson dating another boy. And so Matthew buried it, buried it deep down, tried to deny it, tried to change himself. He couldn't see a way out. His grandparents wouldn't let him party, wouldn't let him meet his friends on the weekends, wouldn't let him do anything that might "corrupt" his young mind. And then he heard one of the other boys, one of the boys he'd had a huge crush on, thinking about Matthew in the same way. They stole moments together where possible, neither of them publicly out. It was brief, both of them more desperate for an escape than anything else. The boy went to college, and Matthew was left to face senior year alone.

His grandparents told him that he would be attending a Christian college of their choosing, studying a course that they deemed appropriate. This was Matthew's snapping point. He started saving money for a car. He told them that he'd applied to that college to study Law, a course they deemed appropriate. But he had done nothing of the sort. He made plans to escape. And the moment they handed him his high school diploma, Matthew climbed into the car that he'd been hiding at a friend's house and drove back home to Bear Point, leaving only a letter behind. It took him a while to find his bearings, but he found the pack and was taken back in by them. He approached a local graphic design business, and they agreed to take him on as an intern. The money wasn't great to start with, but as he found his feet, they've given him a more definite role and started paying him better.

He wouldn't say it was love at first sight with Tommy. But the first time they met, Matthew had a crush on him by the time they parted ways. Both assigned as scouts, they spent a lot of time together, and yet Matthew found himself wanting to spend more and more time with him.

---
---
███████████████████████████████████████████████████████████████████████
---
---

R E L A T I O N S H I P

X

S T A T U S
in a relationship.

A B I L I T I E S
Matthew has the ability of mind-reading. It requires considerable amounts of concentration and works better with people he's familiar with, and if he gets distracted, the connection almost immediately drops. When he was younger, he struggled to control it at times, but now that he's surrounded with people like him, he's perfected the control involved. He finds words easier to "hear" and interpret than images. Executing the control required to keep his ability in check tires him quickly, and pushing himself too far results in nosebleeds, migraines, and passing out on one occasion. As a Lycan, he also has excellent low light vision. His vision is perfect and his hearing, while occasionally a little oversensitive, can hear the smallest of sounds at larger distances than a human. He's stronger than both humans and vampires.

T A L E N T S
Matthew is an incredibly visual person, and took to his role as a graphic designer with ease. He's a very observant person and often notices things that others may miss. He's very good with his hands on both a large and a small scale, able to hand the most delicate of materials with ease. Even if he isn't the fastest, his endurance is good and he can run miles with ease.

S T R E N G T H S
Matthew is an organisational genius it seems, and seems to be able to organise pretty much anything at the last minute. He picks things up easily and finds it easy to learn new skills. He's very technologically and mathematically minded.

W E A K N E S S E S
His literacy skills are below average for someone of his age, and he gets extremely defensive about it whenever anyone asks. He's overprotective of those he loves, to the point of almost being overbearing at times. His insecurities sometimes win out, and he lets himself fall into a pit of self-hatred which only time can get him out of.

---
---
███████████████████████████████████████████████████████████████████████
---
---