---
---
███████████████████████████████████████████████████████████████████████
---
---
Flares | The Script
From Yesterday | Thirty Seconds To Mars
"Only the dead have seen the end of war."
x
"There never was a good war or a bad peace..."
---
---
███████████████████████████████████████████████████████████████████████
---
---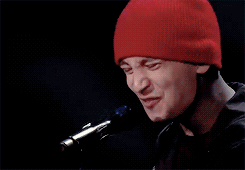 F U L L

X

N A M E
Nicholas Benjamin "Anders" Anderson

N I C K N A M E (S)
Anders

B I R T H D A Y
March 14th

A G E
Was turned when he was 25, so he is 99 years old

R O L E
Xavier's Body Guard and Soldier

S E X U A L I T Y
Asexual

E T H N I C I T Y
50% German, 50% Russian

H O M E T O W N
Bavaria, Germany

H E X


hex
---
---
███████████████████████████████████████████████████████████████████████
---
---

S T Y L E
Nicholas' style is rather plain and simple. He is always seen with a short haircut, never growing it out passed a few inches, otherwise, it drives him mad. Due to his time as a soldier, he keeps his style plain and as form-fitting as possible, jeans, shirts, button-ups, and t-shirts are usually his go-to, but on the occasion, he will wear jackets and skinny jeans with the occasional hat. But nothing about his style or appearance is anything ordinary, even with his assorted amount of tattoos that cover his arms and back which he covered with long sleeves or jackets.

H E I G H T & W E I G H T
5'9 and 153lbs

A P P E A R A N C E
Nicholas has short, often jelled down jet black hair, smooth, pale skin, a slender chiseled jawline, and an almost boyish look that seems to compliment his overall look, even with his often jet-black eyes, which tend to go back and forth between dark blood red, to a solid black color. But don't his oddly charming and seemingly harmless exterior confuse you, his very presence radiates a feeling of cold and helplessness, often getting weird remarks and looks from people around the town.
---
---
███████████████████████████████████████████████████████████████████████
---
---

L I K E S
First and foremost, Nicholas has a fascination with blood, human blood to be specific. Just the smell and taste is enough for him to lose his mind and go on a rampage if there is enough of it around him, as if it was a drug for him. Silence, that is usually what he prefers to be around, as most sounds give him a headache from his times in the war. Solitude, any time that he can find himself being alone is where he'll be. As he lacks most or any form of human communication, he prefers to be by himself no matter the time, unless his master calls for him. Xavier, seeing as how he was saved by his very own master himself, he is one of the few people Nicholas can stand being around. Violence of any shape or form is one of the things that he can ever seem to find himself getting into, and as such wherever Nicholas is,danger is soon to follow.

D I S L I K E S
Humans, even though he was in the military something about humans now makes him sick, and he can't help but find release whenever a human life is exstinguised. Loud noises, as his time in the military has given him severe PTSD, any form of a loud noise will cause him to lash out violently. Human food, as he finds the taste and texture of anything that doesn't pertain to blood as bland, tasteless, and absolutely terrible tasting.

---
---
███████████████████████████████████████████████████████████████████████
---
---
P E R S O N A L I T Y
In simplest terms, Nicholas is a loner. He is always by himself, regardless of the situation. With his reputation as more of a nuisance among the vampires, he keeps few if any friends in his company. He is usually seen by himself whether it be in his home, in the city's streets, or any other place that he goes, which is either the local diner, pub, or the local docks in the small port-town of Bear Point.

Regardless of his rather intimidating and vancate looks, he is rather intelligent and inquisitive. Sometimes the most simple things fascinate him and hold his curiosity for long periods of time, even with his otherwise short attention span and a strong case of OCD and ADHD. He is usually always putting things back into their normal spot where he last remembers placing them, and if he cannot remember where he last put a certain item, he will, in fact, trace his steps until he finds what he's looking for, or if he can't find it he will simply go on a rampage until he either calms down, manages to find it, or someone else finds it for him.

With his lack of sympathey or empathy for humans, Nicholas would rather watch a human's life be torn from them slowly and painfully than sit around an do nothing. He is known for being one of the most sadistic and violent vampires among most of the clans, and has even gone on the record of being far more bloodthirty and violent than his own master Xavier which has gotten him into many scraps with the others like Xavier's second in command, Luke, and even his wife. Once he even threatened to have Liliana murdered in front of Xavier in one of his rampant cases, and as such, is on a very short leash with Xavier, and is only a matter of time until Nicholas loses his cool, and Xavier will have his head on a pike, and he is very aware of it and is slowly pushing his boundaries with Xavier.

---
---
███████████████████████████████████████████████████████████████████████
---
---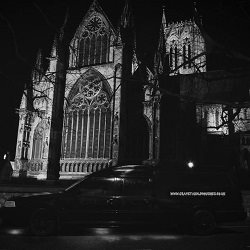 F A M I L Y
He doesn't really remember his family much as they died shortly before he was turned, thus he doesn't really remember them, nor does he care to. The only person he remembers even the slightest was his sister, who died due to the war, even then he doesn't even remember what she looks like.

---
---
███████████████████████████████████████████████████████████████████████
---
---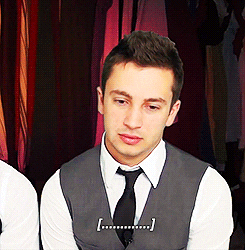 H I S T O R Y
Not much of Nicholas' past is known, not to the Coven or even really himself, as he chose to simply forget about everything. The past life he once lived, when he was human, mortal, weak before he became what he is today. And what he and many of the Covens believe to be superior creatures and that humans are simply there for them to feed on and continue thriving, no more than cattle on a farm in their eyes. The man that used to be the now undead slave to Xavier was born as Nicholas Benjamin Anderson as a small, happy baby boy in the year of 1920 a year after his sister was born. From what he shared he was born to a young couple who had lived away from the city life in a small part of Bavaria Germany, away from people and the trouble they brought as they lived reserved away in the mountains.

From an early age, he grew up with poor people skills and communication due to being brought up in such a reserved part of the country, only really ever seeing his parents and sister. The years slowly passed by as he only really knew how to survive in the woods and how to get around them, knowing them like the back of his hand even at an early age he started showing signs of being skilled in hiding. He was known to hide in the woods from his parents for hours, even days on end until he would come back home, which would usually result in his father, who was a disabled veteran in the military years prior, who would constantly beat Nicholas and tell him how worthless and troublesome he was. But never did he hurt his sister, as Nicholas was the one to always take the brunt of his anger. It was when he was nineteen years old that he saw a break for him to get out of the house and away from his father, the military was inlisting and he wanted out, war was better than staying home he thought.

So he simply packed his things and left, but little did Nicholas know what he was getting into. It was proclaimed to be the "War To End All Wars", and he was going to see it through. But little did he know how twisted and sick it would end up turning, people were taken from their homelands and brought in small camps where Nicholas was forced to watch over them, not just adults but children, from newborn to five and older. He witnessed as children were ripped from their mother and father's arms, families being torn apart, promising they'd see each other again when it was all over, but just like the others, he knew they'd never see each other again. For years he witnessed the mistreatment and violence his own people were forcing upon the people they took captive, for the first three years he would look away as he felt a knot form in his stomach as he was forced to hear their screams and crying every night. For years it was the same, bringing people in, taking them from their loved ones, sending them into the facilities and never seeing them again, but he knew. He knew what they were doing, and for the longest time it made him sick. But it was one day that changed his life, but not in the way that he ever would have dreamed of.

It was September second, 1945 when all hell broke lose. Enemies had come into the compound, and Nicholas knew what, or more so, who they were after. Nicholas had fought tooth and nail to keep them from getting past the front gates of the compound, but it was useless. Too many had gotten in and he realized how futile it was. He watched as blood, smoke, ash, and dust filled the air as bodies both ally and enemy laid at his feet. It was when he looked up that he had seen something that changed his life, it was a man, or what looked like a man. His face was pale, smooth, skinny, almost gaunt like in appearance. But what alerted him was the man's eyes, they were void of any life at all, dead almost. No light shone off them like it normally would, not even a soul was seen as he looked into the monster's eyes. He had heard rumors of his fellow soldiers having seen things, but this was the first time he came across one. He stood his ground, preparing to die defending what he believed he was fighting for, even if what they were doing was considered one of the most horrific events in human existence. He stood firm, gun in hand, feeling as they shook as he looked at the monster that seemed to taunt him as it slowly crept towards him in one moment, but the next in almost a blink it was in front of him with its hand wrapped around his neck, slowly squeezing his life from him.

Things seemed to turn dark, silent, and cold as there was nothing but silence as he felt his body drop to the ground, landing on something hard and sharp. When he was able to force his eyes open as he slowly sat up, he looked and to his horror blood was spilling from his abdomen as part of the bayonette of his weapon had impaled him when he fell. With labored breathing, he laid there on the battlefield as he began to feel cold and numb when he suddenly saw someone beside him, his eyes were a dark, almost blood red tone, which stood in contrast to the pale face that stood next to him. Nicholas had given up everything, he had accepted that this was his fate, how he was going to die. Not on the field as a soldier doing his duty, but as a victim of one of these monsters. But a voice, soft and smooth, yet raspy and harsh came from the monster as it seemed to speak in a low whisper to him.

At first he didn't understand what it had said to him, until it repeated its question. Did he not want to die, is what the demon seemed to ask him, slowly he turned his head and mocked the monster, of course, he didn't want to die. But he didn't understand what that had entailed until he felt a searing, hot, almost fire like feeling in the side of his neck as the monster hunched over and seemed to have bitten into his neck. What had come next was a blur, a fading memory as time had passed by him. Everything he knew had changed, his senses were increased his hunger for bloodshed seemed to be tenfold its natural limit. Nicholas found the monster had asked him if he had wanted to join him, a place of refuge, someplace that they could reside in safety, away from war and humans. Where they could simply hide in plain sight and not be tormented. He had agreed with the figure who had introduced him as someone having connections and high powers around the world, knowing people, others like them. He had gathered others and were hiding in a small part of a town in Canada, and which is where they had since resided. Finding themselves watching over the humans, slowly growing their numbers, waiting for when the time was right to strike and take the humans for themselves. But now, now they lie in wait for the command from their master, waiting until they have to stop picking off humans when they absolutely needed to. Now, they wait in the shadows until they can unleash their bloodshed upon the small humans of Bear Point, or at least that is what Nicholas and several others of Xavier's Coven are hoping for...



---
---
███████████████████████████████████████████████████████████████████████
---
---

R E L A T I O N S H I P

X

S T A T U S
None as he desires no relationship with anyone.

A B I L I T I E S
Nicholas has the usual of his kind, inhuman speed, strength, stamina, hearing, sight, and smell. His senses specifically make him a perfect soldier and hunter for Xavier's Coven, which is why he is still by his side even with his recklessness and constant urge for human and Lycan blood. Due to his swiftness and agility in the darkness, he has honed his abilities for fighting in the darkness, so much so that his ability special to him is shadow manipulation. Meaning he can creat spot pockets of pure darkness as long as he can concentrate and focus, which allows Xavier to use his abilities more frequently and without as much caution as he would normally.


T A L E N T S
For starters, his battle tactics. Since he was once a soldier in World War II, he has been able to hone his strategies and tactics down to a science, even without having to use weapons, just bare hands, and brute strength. Aside from battle strategies, he uses his shadow manipulation rather often and it is his main source of cover while on the hunt for prey as well as transportation around the town, keeping low and to the shadows is his field of expertise.

S T R E N G T H S
Shadow manipulation and battle tactics are his true strengths, as well as tracking down prey as well as leading away his enemies to somewhere closed off and cramped for where he can stay in the shadows and take them out swiftly and silently without alerting anyone of his presence.

W E A K N E S S E S
His constant flare-ups of anger issues, which often lead to violence and innocent blood being spilled. If something often doesn't go his way he will go off and blow off some steam in the form of hunting, mainly humans and on occasion some small animals. But with his reckless behaviour, he is often the prime target for Xavier's anger and silver tongue.

---
---
███████████████████████████████████████████████████████████████████████
---
---