XX
The Starcrossed
Age: 21
Sexuality: Heteroflexible
Faceclaim: Lucky Blue Smith
Hexcode:

#8000BF
---
---
----------------------------------| | O U T S I D E | |----------------------------------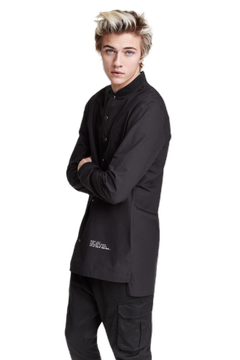 H E I G H T ||

6'3"

W E I G H T ||

176 lbs.

E Y E S ||

icy blue

H A I R ||

hazelnut (natural) - platinum blonde (dyed)

O D D I T I E S ||

A small heart

tattoo

on the center of his back between his shoulder blades.

A P P E A R A N C E ||

Maximilian has been called tall most of his life. He has slender muscles that are often hidden by his clothes. He keeps his hair short except for the locks at the top of his head. The longer hair is normally smooth back to stay out of his face. For the most part, he tries to dress in nice clothing like buttons ups, dress pants, etc. Maximilian does wear normal everyday clothes, but he prefers to dress up.



---
---
--------------------------| | I N S I D E | |--------------
L I K E S ||
✓ long walks ✓ sex ✓ learning
✓ parties ✓ sports ✓ cinnamon
✓ gold ✓ lace ✓ adventure
✓ cuddling ✓ olives ✓ waterparks
✓ roller coasters ✓ dreamcatchers ✓ gum
✓ sweets ✓ camping ✓ tidiness
Q U I R K S ||
--
Klepto
: has been a habit since he was young.
It may have formed thanks to his mother. He
doesn't steal major things. He usually sticks to small
things he can get away with. The act gives
him an adrenaline rush.
--
Endearments
: He gives everyone a term of endearment to
call them by. For Elyse, he uses Princesses.
S T R E N G T H S ||
--
Seamster
: Since he was able, he learned to sew.
He hated going to school with holes in his
clothes. As he got older he became better and
better at sewing. He can fix anything now if
sewing is the required tool. He even started to
learn to make clothes.
--
Chameleon
: If all his career plans fail, he could
become an actor. He has a knack for changing
his demeanor or speech to fit in with any
crowd. He'll even change his clothing if able.
--
Survivor
: His childhood has made him resilient. No matter
how many times the world has knocked him down,
he has gotten right back up. He always plans
on getting back up since he knows life is
a heartless bitch when it pleases.
D I S L I K E S ||
✗ cheaters ✗ failure ✗ mosquitoes
✗ guns ✗ drugs ✗ liars
✗ hard candy ✗ butterflies ✗ labels
✗ dentists ✗ watermelon ✗ mud
✗ vomit ✗ medicine ✗ insults
✗ burns ✗ dust ✗ soreness
F E A R S ||
--
Poverty
: Living in poverty once has left its mark
on him. He never wants to be so poor
again in his life. It took him every grueling
day for him to get where he is today.
--
Having Children
: He fears not being able to provide
for them always. He doesn't want to mess them
up mentally. He isn't sure he would trust anyone
to have kids with. Lastly, he knows the world
is cruel and that he won't always be there
to protect them. What if they die before him?
W E A K N E S S E S ||
--
Impatient
: He hates waiting unnecessarily. He likes things to
start on time. He likes to be early, so
he is always on time. The worst is when
someone isn't on time. Doctor appointments are nightmares for
him.
--
Elyse
: She makes him a better person. Well, he
wants to be a better person because of her.
When he is with her, he doesn't fall into
as much bad behavior. He has a soft spot
for her as well, so he is extra nice
to her. He is more willingly to give into
her suggestions and wants as well.
--
Risk Taker
: He loves flirting with danger. He takes
great pleasure in the adrenaline rush certain situations give
him. Also, all the dangerous stuff he has done
has been fun and hasn't killed him.
---
---
--------------------| | D E E P
X
D O W N | |--------------------



| Friendly - Fiery - Respectful - Flirtatious - Optimistic - Selfish|


Maxiliman's default demeanor is friendly. He does his best to be kind and pleasant to everyone he meets. His desire is for everyone to see him as a friend. Although, this is a difficult desire to fulfil. This is because of his fiery spirit. It is easy to get Maxilian angry as he is quick-tempered. He feels his anger more passionately than any other emotions. It was as if he was born with an inner rage. For the most part, he isn't totally bad. If he isn't in a fiery rage, he is respectful. He does his best to be considerate of other people's feelings, wishes, traditions, etc.

No one would know Maxilian is flirtatious when he is dating someone. He will only flirt with his significant other. Although, when he is single, he is a major flirt. He'll do his best to sweep someone off their feet. He believes his success for flirting is because of his optimistic nature. Since he was young, he has always been hopeful and confident about the future. He never let his misfortunes in life effect his positivity. It may be why some think it is odd for this optimistic person to be selfish. When his selfishness takes over, he lacks consideration for others. He will only be concerned with his own person gain or pleasure.




---
---
--------------- | | H I S T O R Y | | ---------------
Benjamin was the one who picked the name Maxilian for his son's name. His wife Lucy happily agreed. They both liked that the name meant greatest. The family had a small business called Silver's Closet. The business did good for about three years before things began to tank. They were forced to move to a cramped apartment in a bad part of the city. Lucy found work as a maid, but Benjamin struggled to find work. He still had hope he could save his business. When his business went into bankruptcy and the bank foreclosed on the property, he stopped looking for work. He just went to the local bar to drown his miseries. It was no surprise that the family struggles became worst after this.
Despite everything, Maxilian was a child filled with joy. He rarely cried as a baby and rarely did as he grew up. He had struggles throughout his life. His father was a drunk who soon became addicted to dangerous drugs. When he was ten, their house was broken into by some thugs because Papa owed them money. This break in and gunshots attracted a dozen cops. His father went to jail. His mother was left on her own. He was thrown into the foster system and bounced home from home. He ran away once as he missed his mother. He found her. Although, she always told him to go back. She said she'll get him back legally. It was when he was sixteen that his mother gained custody of him again.
They lived happily and got on just fine. There was one incident where Maxilian got caught for shoplifting, but he got a second chance. This is when his mother gave him another of her speeches of how he should aspire to do great things. The scare helped Maxilian take the speech a bit more seriously. He finished his high school years with perfect attendance and high honors. This was how he was able to get into a good college. It was at this school he met Elyse. They fell hard and fast. His mother chastised him, but he didn't care. As they continued to see each other, their family's disapproval grew. They decided to fake their deaths and run away together. The jump was the last thing the couple did together while alive.