---
---
"I had a dream that my life would be so much different from this hell I'm living."
Hikaru's voice (The girl's, not the guy in the clip)
Theme: Fight Song - Rachel Platten
---
---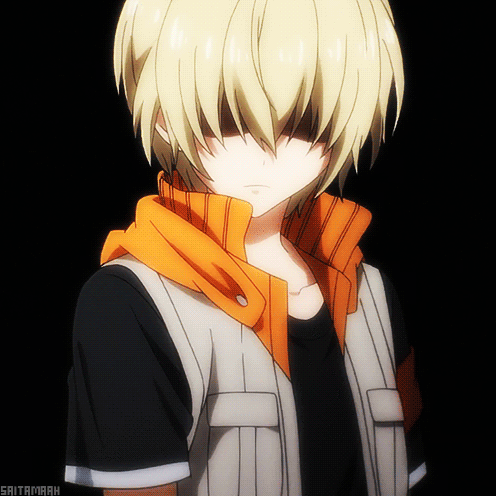 |Name|
Hikaru Yoshika
|Face Claim|
Totsuka Saika
|Age|
16
|Race|
1/2 British and 1/2 Japanese
|Grade|
Junior
|Prefers|
Boys
|Height|
5'2''
|Weight|
110 lbs
|Hair|
Blonde
|Eyes|
Olive
|Crush:|
TBA
---
---
|Secrets|
She has a severe allergy to..
Chocolate. Hikaru has had this allergy her entire life and cannot even eat a tiny piece of the sweet treat. If she were to consume it by accident, it becomes hard for Hikaru to breathe within minutes. She has to carry an EpiPen. When she was a child Hikaru made the mistake of eating just one Hershey kiss, unaware of her severe allergy, and it put her in the hospital. Since then, Hikaru is very selective when eating sweets, always reading the labels of her food choices before ingesting them. She has learnt her lesson and does her best to protect this secret as it could be used against her and have potentially fatal consequences.
Hikaru gets sick fairly easy.
Hikaru would frequently end up hospitalized as a child, and none of the medical professionals in Britain could determine an exact cause, other than Hikaru was born with an extremely low immune system. Despite her low immune system, she never misses a day of school. Often when she's feeling really bad, Hikaru opts to skip class to rest on the roof of the school when she is feeling ill rather than going to the nurse and admitting she's not feeling well. She destroyed her medical records pertaining to her illnesses before coming to Japan, wishing to start over. Her grandmother is unaware, but her stepbrother is up to speed where her state of health is concerned. Hikaru does not want athletic limitations, so she carefully 'erased' all evidence of her health, aside from vaccinations of course.
She's never had a boyfriend.
Hikaru despite
having long hair and looking quite cute when she lived in Britain,
Hikaru has never dated. Her lack of romantic skills is mostly due to the fact that Hikaru never knows how to react around a guy once she's grown to like him as anything more than a friend. Hikaru has had her first kiss before moving to Japan, but it was a complicated affair that she would rather not talk about. She doesn't count it and tries to push the thought out of her mind, even though she shared the kiss with her first love. She never talks about her first love, because after her parents died the two drifted apart, and she grew to realize that she had ruined her chances with him. Before the two could reconcile, Hikaru was forced to move to Japan. She is over him now, but she is scared to fall for someone like that again.
---
---
Athletics
She has always loved sports, especially gymnastics and track. She is attending Fuugaki High on a Gymnastics scholarship and it is what she is best at. Hikaru is very flexible and good at what she does. If you name a flip, she knows how to do it or will not stop until she learns it. Despite her narrow sports scholarship, Hikaru is willing to play just about any sport, or participate in almost any athletic activity, so long as she knows the rules first. She also has become athletic due to working several jobs to pay the rent. Hikaru works out a lot, because she's afraid of being weak. She got mugged once when she was younger, so she cut her hair and became a bit of a tomboy, vowing to never be helpless again. She has physically fought with her brother a lot, so she has picked up bits and pieces of his Aikido skills, but she's never been officially trained in martial arts herself.
Altruism
Hikaru has a habit of never showing enough concern for her own well-being when others are in trouble, and whether it's a good or bad trait of her's depends on who you're asking. If she sees someone getting bullied, Hikaru is quick to throw a fist in any scuffle to aid them, regardless of the odds. If someone is carrying a stack of books, she'll take half of the load to make it easier on them. She is often found showing a selfless concern for the well-being of others, and her step brother assumes it is because no one showed them kindness when their parents died. She grew up poor, so she is used to being unselfish and believes that everyone should be kind, if possible. Almost every bit of the money that she earns is snatched up by her grandmother, the rest Hikaru secretly hides so she can spend money on a few recreational items. She is used to having nothing, and being forced to survive on her own so she understands and wishes to lend a helping hand to others as much as possible.
---
---
She has a step-brother.
Hikaru never talks about her older brother, Akira. Their relationship isn't exactly typical, and it's quite strained. Only those who meet him by chance ever discover their relationship as siblings. Hikaru totally denies his existence as her sibling, despite his dad having married her mom before Hikaru's birth. He is in college so he is rarely at home. When he is home, the house is..quiet, painfully quiet. He cares a lot for Hikaru, and is quite protective when it comes to boys, but she hardly ever invites anyone over in fear of him humiliating her
---
Her Grandmother wants her marry for money
The relationship between these two is a close, yet somehow equally distant one to say the least. Before her parents died, Hikaru didn't even know about her grandmother. Shortly after the death of her parents, the British government located her biological grandmother, Miyuu, Chiyo in Japan. She arrived in Japan and her Grandmother quickly learnt it would be easy to rely on her granddaughter to do all the physical labor in the house. Hikaru loves her grandmother and tries to please her, but it never seems good enough for her strict and hypochondriac grandmother. No matter her approach, Hikaru's grandmother is almost constantly insulting her. Her grandmother has very little concern for Hikaru's well being, she just wants someone to take care of her, so she encourages her granddaughter to find a boyfriend with a rich family. Her grandmother's shallow and selfish demands when it comes to Hikaru's love life cause many arguments between her and her grandchild who enjoys a simple existence. Hikaru disagrees with her grandmother's thoughts on marriage and wishes to marry for love, not for financial stability. She disagrees with many of her grandmother's beliefs, customs, and the supposed health issues she suffers from, but she never expresses these thoughts out loud for her own benefit. She would never hear the end of it if she labeled her grandmother as a fraud.
---
Her biological father left Japan to be with her mother, but he drifted elsewhere halfway through Elizabeth's pregnancy. Hikaru refuses talk about her parents, even if approached with a question directly pertaining to her parentage. She never willingly mentions Elizabeth, her Step-father Keiran, or her biological father Yukito, no matter what. Elizabeth and Keiran died in an unfortunate accident while living in Britain together with Hikaru and her brother Akira. Hikaru grew up with them in London, spending her school years there up until the summer before she started high school at Fuugaki. One day after picking Hikaru up from a friend's house, a drunk driver went into direct collision with their car, and only Hikaru survived the accident. Without a single scratch from the event, she couldn't help but feel guilty. After her parents perished, Hikaru began to experience mild anger issues. Hikaru became short tempered and socially awkward, and distanced herself from all of her prior friends. She would occasionally get in fights with boys and girls alike. She didn't really care, she'd fight anyone who brought up her parents. Though, there was one incident in particular that stands out among the rest.
Not long after she began willingly seeing the school counselor to get a grip on her anger, one boy who used to pick on her decided he was unwilling to let go of their mutual history. He called her mother a whore one day to piss her off, and it worked. Hikaru slapped him like almost anyone would in her situation. She couldn't walk away after he called her mother such a derogatory term.
The slap was all the excuse he needed. After Hikaru slapped him and attempted to walk away, to avoid further violence, the boy punched her. Hikaru forced herself to endure it, and hit the ground. He kept repetitively hitting her after she fell, and Hikaru did her best to shield herself from him as he continued to kick and punch her aimlessly. However, eventually she instinctively shoved him away from her.
She was getting sore and she couldn't take the abuse anymore. He wasn't showing signs of stopping, and at the rate he was going he could have beaten her to death. She didn't even see the direction she'd shoved him through her tears. However, Hikaru's desperate shove made him lose his footing. The boy fell backwards and hit his head on a jagged point of a nearby fountain in the center of their neighborhood park. The blood began pouring from his wound almost instantly, and Hikaru stared a few moments in horror. She never meant to hurt him, let alone something of that degree. In fear for the boy's life Hikaru ran off to get help.
Thankfully the ambulance made it in time, and the boy lived. She still is bothered by the events, because under different circumstances that boy could have died. She was sent away to Japan to live with her grandmother, and doesn't mention the event. She wants to move past it and doesn't want to risk losing friends she's made at school. She doesn't want to be judged for her rare violent behaviors. That was a rough time in her life and with medication she has been able to make it through a whole three years without incident. She still felt a sense of guilt, so she under no circumstances speaks of her parents, it brings back too many painful memories of them and her catastrophe with that boy.
Now she is awkward, hyper, and energetic, but also struggles to make connections with other people. She is an outgoing and kind girl, but Hikaru is known to try too hard at times. Despite having the best intentions, life has a way of disregarding them. She hopes to get herself together and have a high school experience that when she's old and gray she can look back on it and smile.
---
---