---
---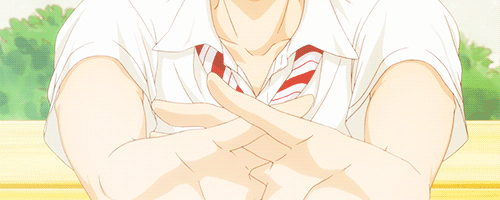 Say what you feel, it's not being rude; It's being real.
тнємє: Bitch, Look At Me Now by Childish Gambino

diαlσgυє cσlσя:

#848482



тнσυgнт cσlσя:

#B6B6B4



fαcє clαiм: Kyouya Sata
---
---
Basics
αgє, biятнdαy αиd zσdiαc:
18 years old // October 25th // ♏ Scorpio ♏
lαиgυαgєร:
First language: English (Fluent) // Second language: Japanese (Fluent) // Third language: German (Learning)
иαтiσиαliтy αиd єтниiciтy:
50% Japanese, 25% German & 25% English // Hapa (Half-white/Half-asian)
gєиdєя:
Cis-Male
รєxυαliтy:
Heteroromantic // Pansexual
яσмαитic iитєяєรт:
TBD
σccυραтiσи:
Student and part-time florist
---
---

Personality


тяαiтร:


|| Flirtatious || Lazy || Rebellious || Caring || Brave || Flirtatious || Proud || Protective || Irritable || Violent || Passionate || Romantic || Intense || Friendly || Blunt || Stubborn || Pessimistic || Jealous || Perverse || Sensitive ||



likєร:


♥ Flowers & gardening ♥
♥ Attractive people ♥
♥ Sex ♥
♥ Food ♥
♥ Photography ♥
♥ Sleeping and naps ♥
♥ Healthy food ♥
♥ Teasing ♥
♥ Dogs ♥



diรlikєร:


✗ His "bitchy" grandmothers ✗
✗ Junk food ✗
✗ Being teased ✗
✗ Airplanes ✗
✗ Heights ✗
✗ Morning birds ✗
✗ The idea of getting married ✗
✗ Stupid bugs ✗
✗ Waking up early ✗



fєαяร:


☠ Acrophobia - Fear of heights ☠
☠ Entomophobia - Fear of insects ☠
☠ Gamophobia - Fear of commitment (for Yoichi, it's only fear of marriage) ☠



รтяєиgтнร:


Physical strength: Yoichi's top strength is simply that; his strength. Yoichi started training his body at the ripe age of eleven to protect his loved ones and has since then forced himself to go to the gym at least four times a week. Besides, it doesn't hurt to have a good body either.
Protectiveness: If you get close to Yoichi, your safety is guaranteed because he is extremely protective over people he cares about. If anyone other than him is teasing his loved ones, he'll get super protective over that as well.
Intelligence: Despite skipping school occasionally and not listening in class, he gets surprisingly good grades. The reasoning behind these good grades is that when he returned to Japan after his uncle died, his father put him in tutoring to help keep him busy and he got taught things that were ahead of his years, so he knows more than your average student. He still sees his tutor once in a while to refresh his memory.



wєαkиєรรєร:


Sensitive: Yoichi takes almost everything personally, even if it wasn't meant for him and depending on who it is, he'll either proposition a fight or just argue with the person because of how offended he gets. It causes rifts between him and people occasionally.
Argumentative: When he has a very strong feeling about a particular subject or person, his passionate and stubborn side combine and he becomes the ultimate asshole who argues for lengthy periods of time. While he is just expressing how he feels, people often find it annoying and choose to not talk to him.
Scary: Although Yoichi doesn't see this as a weakness, his family and friends recognize it for what it is: A way to push people away. Despite Yoichi's friendly attitude towards acquaintances and strangers, Yoichi has a resting bitch face and some believe it's for the purpose to keep potentially hurtful people away from his friends.


---
---

Appearance


нєigнт & wєigнт:


6' 3" & 178lbs.



bσdy тyρє:


Musclar, fit build



єvєяydαy αρρєαяαиcє:


On most days, Yoichi is either at school or at least somewhere on school grounds, skipping his classes. Therefore, he's almost always wearing his school uniform but likes wearing his tie loose; despite getting in trouble occasionally for wearing it like, he continues to do so. When he doesn't have to wear his school uniform, he has a decently wide variety of clothing that he wears but prefers to go with comfier clothing. For tops, Yoichi switches between hoodies, sweaters, short sleeves, no sleeves and long sleeves. For bottoms, Yoichi switches between sweatpants and jeans. For shoes, he normally wears his variety of flats but sometimes wears runners or his school shoes. For jewelry, he wears a few rings on each hand, a watch and a silver chain around his neck. He has one ear pierced and wears a silver hoop through it. Yoichi doesn't accessorize besides the jewelry he wears.



єqυiρмєит:


In Yoichi's backpack, he has a water bottle, his classroom books, his glasses and cellphone charger. In his pockets, he normally has his wallet, cellphone and keys. In his wallet, he carries some bills, his debit and credit card, ID, a picture of his mother and sister, a picture of him and Reika, a picture of him and his best friend and license.


---
---


Background


нiรтσяy:


(ideas: mom and dad met because their rich parents wanted to merge their companies and thought marriage was the best way and they thankfully eventually fell in love, mom and Yoichi loved gardening together, mom got a terminal illness and died and dad worked all the time to avoid his children that reminded him of her, Yoichi got mad & rebellious and went to live with uncle Ashton for a bit in Germany, Yoichi and Ashton got close and formed the father-son bond that he never had with his own father, Ashton gets killed in a car crash, sad Yoichi goes back to Japan and vows that he's going to protect his sister, his bff and Reika (ppl he cares about most in the world) and gets ripped, secretly beats the shit out of the guy that rejected Reika, avoids his forceful, bitchy grandmothers and often tells them that they should've died instead of his grandpas, etc.)



fαмily:


Charlotte Yamada // Mother // Dead
Kyo Yamada // Father // Alive
Kasumi Yamada // Sister // Alive
Alice Anderson // Maternal grandmother // Alive
Harold Anderson // Maternal grandfather // Dead
Midori Yamada // Paternal grandmother // Unknown
Mitsuo Yamada // Paternal grandfather // Dead
Ashton Anderson // Maternal uncle // Dead