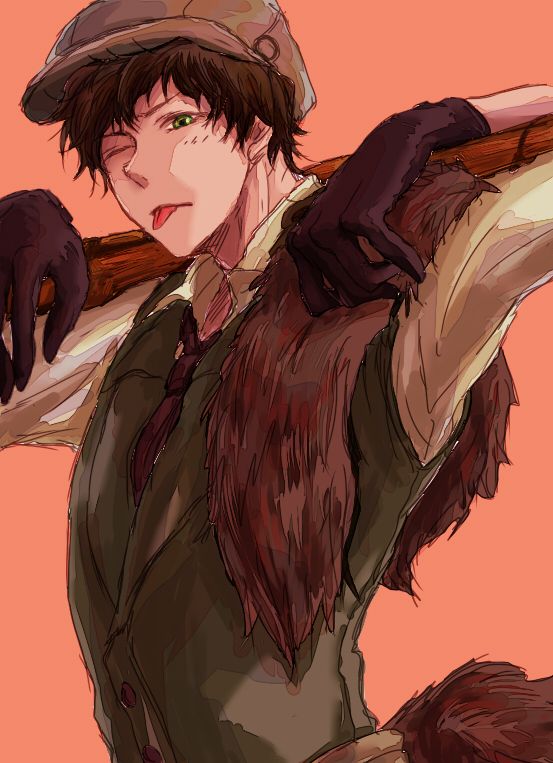 Name: Hansel Lorraine
Is that my last name? Or is it someone else's?
Tale: Hansel and Gretel
Who's Hansel and Gr-Oh right, me and sis.
Gender: Male
[i]Oh, right now I'm a guy. Ask later in the day and maybe I'll be a girl. Hm, or maybe not. Or maybe so. Or maybe not...or maybe so...
Sexuality: Gay
Whatever gave you the inclination I liked girls?
Age: 19
That's what Gretel tells me. Far as I'm concerned, I'm living in the same day in the same month in the same year every single day or my life.
Appearance: Hansel always wears whatever is most practical for the situation. And since the situation is mostly getting involved in a bloodbath, he tends to wear a white shirt, a thick vest and long brown trousers to minimize the possibility of getting injured by a knife wound, and brown leather riding boots.
Alliance: Gretel and Hansel
Gretel's my sister, right? Can't exactly leave her alone. As for Hansel-No wait, I am Hansel, right? Huh.
Likes:
-Gretel
(Is like really the word I'm looking for?)
-The Wilderness
(It's nice...when there aren't creepy witches trying to eat you. Or was she trying to eat Gretel?)
-Blood
(Looks like paint)
-Birds
(I'd have died as a kid without them. Or maybe I'm already dead. Huh, never thought about that...)
-Killing
(A broken neck is always satisfying. Ever heard the crunch it makes when it snapes?)
Dislikes:
-Sweets
(Sweets means that old witch. That old witch means death. Death means...ah right. Death.)
-Gretchen the Witch
(Was that her name? All I remember is that she was really ugly.)
-Rain
(We never get anything done in it)
Fears:
-Death
(Who isn't?)
-Forgetting things
(I get so confused these days...wait, who's Gretel again?)
Abilities:
-A few harmless white pebbles: No matter where he is or what he's doing, Hansel never gets lost if he has his white rocks with him. It's impossible for him. Even though he forgets just about everything else, including his name, he doesn't ever forget his surroundings or how to get back home. .
-Bird summoning: A dove and a swan were what saved Hansel and Gretel when they were children. Hansel now has the ability to summon any bird at his will and command it to do something. Though of course, birds are hardly ever violent...
-Wood manipulation: He is a woodcutter's son, so he'll never forget his affinity towards the wood. Hansel is able, to some extent, manipulate wood. Maybe he'll have the branches of a tree strangle someone. Maybe.
Specialty: Escaping tight situations and killing
I've gotten really good at that. Training ever since I was a kid after all.
Status: Bastard Prince
Yeah, totally not appreciated anywhere.
Reasoning: TBA
Reason...well...I forget...
Kingdom: Ashwood
Lovely little place. Where is it again?
Cargo: His white pebbles
I didn't forget them. Now if I can just remember everything else...
Bodyguard: Gretel
I was going to bring someone else. I can't remember for the life of me though, who that was.