---
---
|*| The Assassin |*|
---
---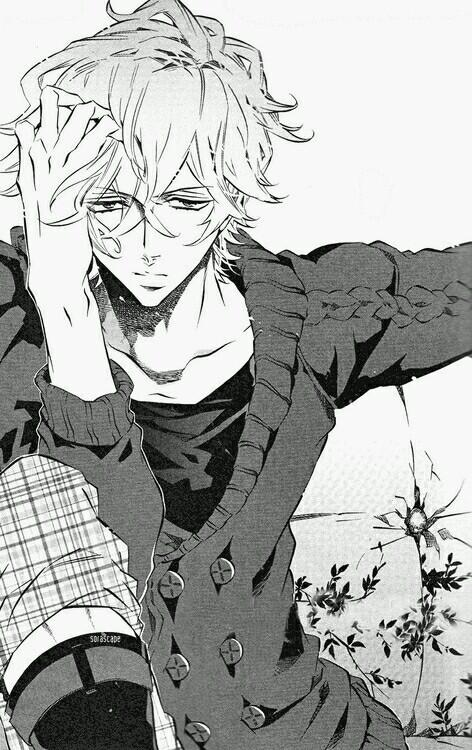 "Quote."
Before you read further, it's important to know that I will be using two different colours to show both of his personas. The first, his cover, will be written in

green

. The second, his true self, will be written in

orange

. This simply to avoid confusion between the two. Information that is correct for both sides will be written in

blue

.
---
---
|| True Name ||
The name he was given at birth, presumably by his parents.
Unknown.
|| Chosen Name ||
The name he adopted upon leaving his home. It is his 'work name', to be put simply.
X.
|| Current Alias ||
The name he uses to disguise himself as a student.
Alexander Cross.
|| Age ||
Twenty.
|| Birthday ||
12th June.
|| Gender ||
Male.
|| Sexuality ||
Heterosexual.
Asexual.
|| Scent ||
Vanilla.
|| Nationality ||
1/2 British, 1/4 Scottish, 1/4 American.
|| Accent ||
British (strong).
|| Voice ||
Smooth, deep, lazy.
|| Social Class ||
Upper.
|| Occupation ||
College Student ~ Unemployed.
Assassin.
|| Reputation ||
He is new to the school and, as such, is only referred to as the "New Kid".
X is a skilled assassin, known far and wide for his abilities.
|| Place of Residence ||
An apartment.
|| Face Claim ||
Yogi (Karneval).
|| Theme Song(s) ||
Alex - Arctic Monkeys - "R U Mine?"
X - Digital Daggers - "The Devil Within"
---
---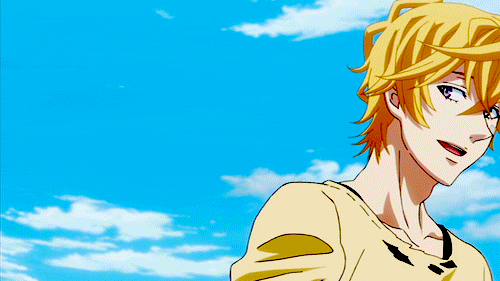 || Role ||
X was hired by Svend to assassinate all of the five essences. Understanding their powers, he thought it would incredibly hard to simply kill them by surprise, and so he created a fake persona (as he usually does when contracts like this arise). This persona, Alexander, is attending the same college as the essences; this way, he can get to know them and 'gain their trust' so that they do not suspect he is an assassin.
|| Likes ||
Silence | X values silence over almost everything in the world. When he has completed a contract or spent a day tracking a victim, he often likes to sit alone in silence. It's peaceful, and oddly comforting.
Anonymity | If there's anything that an assassin loves, it's remaining anonymous. He does everything in his power to avoid being found out, and he quite enjoys the fact that he can simply 'disappear' after completing his contracts.
-- |
-- |
|| Dislikes ||
Technology | X dreams of a time when there were no computers, no phones; a time when people didn't spend all their time watching TV or playing video games. He's just old-fashioned like that.
-- |
-- |
-- |
|| Habits/Mannerisms ||
Finger Tapping | Usually when bored or stuck with an interesting dilemma, he will tap his fingers rhythmically against a solid surface.
Tutting | A rare habit, but certainly one of the more notable ones. He tuts only when he finds something or someone unappealing, or sometimes to scold someone for doing something of which he does not approve, accident or no.
Creating Words | As odd and uncharacteristic as it might sound, he does often like to create nonsensical words for specific situations where he finds himself stuck and without a viable solution.
Denial |
|| Fears ||
Being Found Out | X is known to be one of the most skilled and successful assassins in the world. His true identity remains completely anonymous, and he changes his entire appearance and all of his personal information each time he completes a contract in order to be able to 'disappear'. Of course, if he were to be found out, his entire 'secret' career would be in ruins. He'd be at risk of being caught out by the law and he'd never be able to go out in public again.
-- |
--
--
|| Personality Traits ||
|| Manipulative ||
--
|| Sadistic ||
--
|| Observant ||
--
|| Callous ||
--
|| Charming ||
--
|| Quick-witted ||
--
|| Friendly ||
--
|| Energetic ||
--
---
---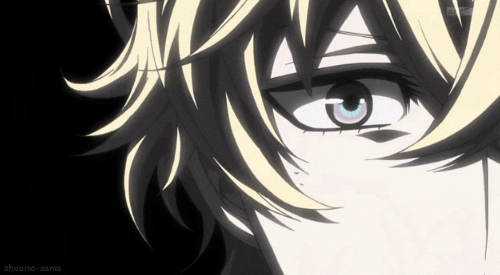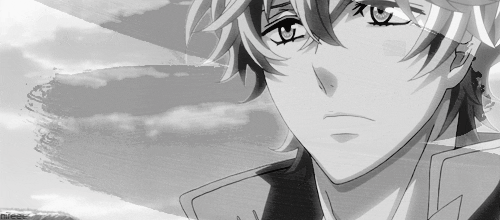 || Abilities ||
Weapon Mastery | X is a master of all weapons. He can handle anything you've got the nerve to hand him, from ranged to melee. He can also even turn everyday items into the deadliest of weapons.
Free-running/Parkour | Most jobs require entry beyond normal means. One cannot simply walk through a victim's front door, meaning that he often has to go through windows or other unethical forms of entry. He can climb, jump and run whenever or wherever he needs to.
Poisons | X knows his poisons and will not hesitate to use them wherever necessary. When he cannot buy them, he can create them.
Hand-to-hand Combat | This skill is not often put to good use, and it is certainly not often required. He prefers not to fight, but he has prepared himself for a time when he might have to. He has a varied knowledge of most fighting styles, but he mainly draws his focus towards martial arts.
Trap Dismantling | Most victims know what is coming to then and, in an attempt to prevent their premature death, set up traps to fool assassins. As such, one of the most basic skills an assassin can learn is how to detect and dismantle traps without alarming the victim.
Lock Picking | Again, this skill is extremely basic and is required of most assassins. X is able to pick locks to open doors/chests where necessary, whether they are of a basic or advanced level.
Environmental Blending | X is able to blend into his environment incredibly well, which helps when a victim must be assassinated in a public area. It is an easy feat for an assassin of his level and reputation; he could walk past someone and have them drop dead behind him in a matter of seconds. This skill is most handy when crossing rooftops at night, because it is almost impossible for someone to spot him.
|| Strengths ||
No Attachments | X makes it a point not to form attachments or build relationships with others. As such, his priorities never change. He can focus solely on his job and all that entails. It also means that he can never feel sympathetic towards his victims and kill without remorse.
High Pain Threshold | As part of his training, X developed a rather high pain threshold. This means that, even if he is caught out and possibly tortured, he will not give up information as easily as others might. It also means that, in a fight, he can hold out much longer than most.
Agile | X is incredibly agile and flexible, as most of his skills might suggest. His body bends in ways that others might not even be able to imagine. He can run, jump and climb to incredible levels of speed.
High Lung Capacity | This helps with his free-running skills. It would not do him well if he got tired easily or ran out of breath whilst performing jobs. He could run for a mile without tiring, if any of his contracts called for such a task.
|| Weaknesses ||
Water | One of X's main weaknesses is that he is scared to death of water. He can't function well as a human being when he's around it; even something as simple as crossing a bridge is almost impossible for him. He can shower, of course, but it'll still uncomfortable or him. He will also begin to panic when he is wearing wet clothes or when someone pours water on him, and will try to avoid being caught in rain as much as humanly possible.
Right Knee | When he was much younger than he is now, around 14 years of age or so, he suffered a traumatic incident to his knee. As of now, a strike to the knee could be fatal in combat; enough to floor him, perhaps. It also bothers him a little bit when climbing or running, but not so much as to make the tasks unpleasant.
The Colour Purple | Whether it is something to do with events in his past or if it ties closely to something terribly unpleasant, X doesn't know what it is about the colour purple that sends a shiver down his spine. He assumes it is something that he has slowly repressed over the years. Much like with water, X feels uncomfortable around purple objects or items of clothing and will become visibly nervous. He has been known not to even be able to touch such items.
Common Colds | When X catches a common cold, the symptoms are much more severe than they would be even for children. He holds unbearably high fevers and his entire body aches with an unspeakable level of pain. He has been known, on occasion, to pass up several contracts at a time because he can't even get out of bed.
---
---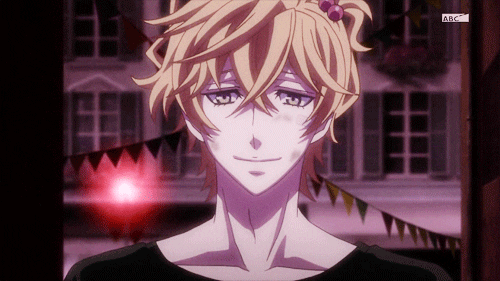 || Current Employer ||
Svend, The Eternal One.

|| Current Co-workers ||
[url]The Hunter.[/url]

|| Crush ||


None.



|| Marital Status ||


Single.



||~~~~~~~~~~~~~~~~~~~~~~~~~~~~~~~~~~~~~~~~~~~~~~~~~~~~||

|| Bianca Willis ||
"This child... She is what others might consider 'normal', yes? Hmm..." - X does not like Bianca, and he never will. Her optimistic and playful nature will always be a mystery to him, but one that he would not pursue.

|| Gwendolyn Dimitriou ||


TBA.



|| Quintin Reiner ||


TBA.



|| Amu Ginny ||
"Ugh. How disgustingly adorable, and... pink." - As much as he hates to admit it, he cannot bring himself to hate Amu, despite how much her nervousness irks him; there's something about her that X finds cute, and a weird part of him doesn't want to harm her.

|| Felix Stone ||
"Quiet, withdrawn, smart. He's certainly one of the more likeable ones, but he's too submissive." - While X does not wish to 'like' any of his contracts, he certainly prefers Felix over the rest of them.

|| Svend, The Eternal One ||
"Svend? He's nothing more than my employer." - X makes a point of never holding personal feelings towards any of his employers. Though, at a first impression, he could tell that he would not get along well with the narcissistic, god-like man.

|| (The Hunter) ||


TBA.




---
---
|| Weaponry ||
It all depends on the job he is performing. He goes from carrying knives and swords to guns and crossbows, or more basic forms of weaponry such as bats and hammers. For some assassinations, he has been known to use unsuspecting weapons such as piano wire for slitting throats or poison to quietly kill a victim.
|| Wardrobe ||
X dresses entirely in black when he's out on a job, as it's easier to steal through the night if he's not wearing bright, noticeable colours. He wears a jacket with a hood in an attempt to conceal his identity if anyone were to catch sight of him whilst he's working, and he also chooses to wear a mask beneath the hood. The mask is designed to resemble a Wolf, and it has become a symbol for his work as of late.
Alexander's wardrobe is full of scruffy, casual clothes. His clothes are all baggy and look as if they've been worn a hundred times before, but in an oddly clean way. He sticks to jumpers and baggy pants, mixed with converse sneakers. He also has a few beanies that he will wear at times when it is fairly cold outside.
|| Trinkets/Collections ||
X always takes something from his victim's home or person, after they are dead. It can be something as small as a piece of jewellery or something more useful like a book or a device of some sort. He has amassed quite a collection in his time as an assassin.
Alexander has never really had the time for collecting random items.
|| Accessories ||
X does not wear any accessories on his person when working.
Alexander can often be seen wearing a variety of bracelets and wristwatches. He never wears necklaces but has, on occasion, been known to wear a green handkerchief around his neck.
|| Funds/Wealth ||
Xyon has never been one to splash out on the things that he wants, only the bare necessities - apart form his apartment and his bike. Accompanied with the fact that his rates are unreasonably high, his savings are also very high.
Alexander's father is quite wealthy, due to his job, and so the family as a whole have quite a bit of money to spend between them. However, Alexander claims that any money he spends belongs to his father only, and so he is hesitant to buy things with it.
|| Transportation ||
A black Harley Davidson '883 Roadster'
|| Prized Possession(s) ||
None.
None.
---
---
|| Note ||
It is important to remember that, in order for X to remain anonymous, he must change his appearance regularly. This means that any and all features, like hair and eye colour, are not true to his real appearance.
|| Hair Colour ||
Blonde/Yellow.
|| Hair Style ||
His hair is long and unkempt, though still rather neat.
|| Eye Colour ||
Grey-blue.
|| Skin Tone ||
Pale.
|| Complexion ||
Clear and free of blemishes.
|| Body Type ||
Mesomorphic.
|| Build ||
Alexander has a very healthy body; he isn't too skinny, nor is he over the average weight for his height and age. His muscles are toned, though in a very subtle way.
|| Height ||
6'2".
|| Birthmarks/Scars ||
He has one single scar, running along his left hip bone. It is deep and ugly, but never visible.
|| Piercings ||
None.
|| Distinguishable Features ||
None, as of yet.
|| Grooming ||
Relatively neat, in a very casual way.
|| Colour Scheme ||
Green | Yellow | White | Black
---
---
|| Birthplace ||
London, England.
|| Parents ||
Unknown.
Alexander's father is some 'important businessman' and is rarely ever present in their home.
|| Siblings ||
None.
(These are simply hired actors)


Skip | Younger brother, aged 16 | One of the twins.


Cookie | Younger sister, aged 16 | Another of the twins.

|| Upbringing ||
X did not have parents. He was raised specifically for his role as an assassin, and this has impacted his life greatly.
Alexander's upbringing was fairly average, aside from all the moving around. His mother and father were divorced before he was born and he stayed with his mother for the first few years of his life. When he was four, she became pregnant with twins (not belonging to her ex-husband), and they all moved back in with his father - who had previously offered to help out, money-wise. When his mother got sick of them all, she took off and left all three of them with Alexander's father. His father was rarely ever around, as he was busy with his work, so the care of the children was left to hired help.
|| Education ||
X was taught in the comfort of his carer's home, and was never given the chance to attend public school.
Alexander has been home-schooled for his entire life by a special tutor, hired by his father. This will be his first experience in such an environment.
|| Grades ||
X's grades were extraordinarily high during his time in training. He took it very seriously, as was required of him at the time.
Alexander's grades are fairly average. Not too high, but not stupidly low either.
---
---