---
---
"I CAN SMELL YOUR FEAR, BITCHES!"
---
| Nicknames |
Ell || No one ever calls her Ell, but
you're more than welcome to.
| Gender |
Female
| Sexuality |
Bisexual (Leaning toward females.)
| Face Claim |
Miki Hoshii
| Age |
Nineteen
| Role |
Essence of Smell
---
"Woo! Another sparring win for Ellie! Who dares to feel my wrath!?"
---
| Likes |
✔ Muffins || Muffins are by far her favorite treat. She loves them and stuffing her face with one never seems like a bad idea. If you want to cheer Ellie up, get her a muffin. She doesn't have any preference when it comes to the kind of muffin.
✔ Football (A.K.A Soccer) || Ellie loves playing soccer; she's even on the school's soccer team. She's excellent when it comes to blocking and scoring, though she needs to work on passing it to her teammates. She tends to hog the ball.
✔ Sparring || Sparring is one of Ellie's favorite activities. She even got her parents to enroll her in a fighting class. She's very talented when it comes to fighting; Ellie is very strong physically and not to mention she loves sparring in itself.
✔ Green || For some unknown reason, Ellie has always been attached to the color green. There is no reasonable explanation for this.
✔ Sleeping || Ah, one of her favorite pastimes. Sleeping has always been the highlight of her day, and she will do anything in her power to make sure that she gets sleep. It is unheard of for her to lose sleep on purpose, and when she does, it's glaringly obvious that something is wrong. Also, when Ellie sleeps, she does so deeply. It's near impossible to wake her up.
✔ Singing || Singing is a private hobby of Ellie's. She only sings when she thinks she is alone, and she does so very softly. In fact, it's so soft most people would think she's humming. She'll only sing in front of you if she trusts you, and even then it's very rare that she sings in front of her friends.
✔ Well Made Food || Ellie adores food, as long as its well made. The only reason she isn't chubby is because she plays soccer so much. Also, she never shares food.
| Strengths |
✦ Enhanced Smell || Because of her heightened sense of smell, she can smell everyone's scent, and it's almost impossible to sneak up on her.
✦ Lie Detector || Ellie can smell your lies, though she can't tell what the truth is. Because she doesn't know what the truth is, she usually refrains from pointing out lies. But if she feels it is important, she will mention it. (She almost always mentions when someone is telling the truth.)
✦ Strong (Physically) || Ellie is very strong, physically speaking. Though she may not look like much, her punches and kicks often leave nasty marks. And not only that, but through her taekwondo classes, she has learned to control her hits.
✦ Swift || 'Fast' is an understatement. Ellie is extremely swift, and can run vast distances within a few minutes. People don't even dare to dream of beating Ellie in a race.
✦ Confident || Ellie is very confident, and in some cases, proud. She isn't afraid to rebel or step into battle, though some agree that she may be a little too confident from time to time.
---
| Dislikes |
✘ Poorly Made Food || Ellie absolutely hates food that's burnt, uncooked, you name it. She will not hesitate to tell you that your food tastes like crap, either.
✘ Being Wrong || Yes, it's true, almost no one likes being wrong. But due to her competitive nature, Ellie takes it a bit more harshly than others.
✘ Cats || Ellie hates cats. She claims that every cat that's she's ever met has held some kind of grudge against her (which is a valid statement) and she's now holding a grudge against their species.
✘ Losing || Ellie cannot stand losing. Once again, due to her competitive nature, she feels the need to win... everything. It doesn't even matter what it is, she must win. But this desperate need to win often provokes a strong sense of determination, which can result in a win.
✘ Laziness || She hates people who are lazy, and if you are one of those people, she will yell at you to get your sorry ass up and do something active. It doesn't matter who you are.
| Weaknesses |
▬ Asthma || Though Ellie is very fast and strong, she gets winded easily. It's not that she isn't fit, but her asthma causes her to have a shortage of breath. In rare cases, she'll have an asthma attack. She always has an inhaler on her just in case.
▬ Overconfident || Sometimes, Ellie can get overconfident. She tends to underestimate her opponents and overestimate herself. Her overconfident way of thinking can easily result in a loss.
▬ Blunt || In Ellie's mind, telling the truth is always the way to go. In other words, she doesn't sugar coat the truth. She will be completely honest with you, even if the truth is hurtful. She has lost friends due to this.
▬ Food || Her natural weakness. If you want to persuade Ellie... 5 star cooking is the way to go. (Don't forget the muffins.)
▬ Overly Active || Ellie is all about working hard, especially when it comes to being active. She often pushes herself to her limits, and it's even more often that she pushes herself beyond her limits. She's almost always sore, and constantly pulls muscles, though she never complains. It's not rare that someone needs to tell her to go easy on herself.
| Fears |
✳ Ailurophobia || The fear of cats. This is a secret fear that she has never admitted to, nor does she plan to.
✳ Arsonphobia || The fear of fire.
✳ Selachophobia || The fear of sharks.
✳ Kakorrhaphiophobia || The fear of defeat.
---
"Nyaahhh! I can smell that garbage can from a mile away! WHO LETS FRUIT ROT TO SUCH A DEGREE?!"
---
| Power |
Ellie is the Essence of Sight, therefore she can
Enhanced smell
Can "smell" lies (can't smell the truth, though).
Can identify people by their scent.
Can sense ('smell') danger.
She absorbs emotions (when she smells others emotions, it effects her own mood in a subtle way.)
Can find the EXACT location of something just by smelling it.
Every smell is a hell of a lot stronger than it would be to the normal person.
Smelling too many emotions at once makes Ellie tired. The more smells the more tired she becomes.
Can make anyone smell anything (as long as she's actually smelled it before).
Major panic attack when her sense of smell is blocked; usually results in an asthma attack.
---
"Ughh... I'm so tired... Though... I guess I could manage... Another fight,"
---
---
| Aggressive | Impatient | Impulsive | Upbeat | Protective | Irritable |
| Blunt | Proud | Loyal | Caring |
| Aggressive |
At first, Ellie may seem like the most upbeat, loyal and friendly person you'll ever meet. Though most find that first impression completely wrong. Ellie is aggressive to say the least. If you anger her, she will not hesitate to take you down... With fists, that is. When she fights, she doesn't mind. In fact, she loves it. The satisfaction of winning (for she usually does win) and smashing her foot into someone's face never gets old. Though she enjoys fighting, surprisingly enough, she doesn't show it. The thrill of battle is usually overridden by anger, so it's no wonder people don't notice the delight she obtains while punching someone's gut. Funny enough, because of the joy she gets from fighting, after her aggression wears off she tends to be very cheerful and fun to be around.

| Impatient |
Ellie is not a patient girl. In fact, she's quite the opposite of one. One second can seem like one thousand years. A minute is an eternity in her eyes. If there's one thing she hates, it's waiting. Nothing is more dull and boring than waiting. When Ellie is in any situation where she is forced to wait, her mood will quickly deteriorate and she will complain constantly.

| Impulsive |
When it comes to decision making or anything that requires thought, Ellie has never been one to think things through. She doesn't think before she acts; she simply acts and that's that. It's not that she doesn't want to think or doesn't care to, it's just that thinking never comes across her mind. When she's distracted by the heat of battle or by a simple conversation, thinking isn't relevant therefore she doesn't think. She just... does. Her impulsive nature often leads to disaster, whether it be because of a salty remark or an "accidental" punch to the face.

| Upbeat |
When Ellie isn't beating someone up, she can be very fun to be around. She's very energetic and optimistic when she's in a good mood, always making fun suggestions and playing around. When upbeat, she will also do anything in her power to cheer her friends up. She loves it when everyone around her is happy, and she does well when it comes to keeping everyone that way. When Ellie isn't mad or busy yelling at someone, she's usually her spontaneous and upbeat self.

| Protective |
Messing with Ellie is one thing, but if you mess with her friends she will never forgive you. And you probably won't be able to apologize because she'll have knocked your teeth out. Ellie is extremely protective and will do anything to protect anyone she values, even if it costs Ellie her life. If you mess with Ellie's friends, you are dead. Perhaps literally.

| Irritable |
Just one sour remark can turn Ellie's smile upside down. She's quick to anger and it takes a lot to calm her down. Truly, the only thing that can settle Ellie's nerves is a good fight... As long as she wins, of course. Though she's been known to control herself around her friends, for their sake. Not to mention, when it comes to her friends, her tolerance level is much higher. However, if she doesn't like you, even your presence will irk her.

| Blunt |
Ellie doesn't know the meaning of 'sugar coating'. She never gives out undeserved compliments, even if you're her best friend. If she doesn't like something, she will not hesitate to tell you. Her blunt nature has cost her many friends, but due to her impulsive ways she still hasn't stopped being so blunt. However, because she is so frank, she tends to be very trustworthy.

| Proud |
'Overconfident' is an understatement. In her eyes, Ellie is a gigantic boot and her foes are mere ants. Ellie isn't just overconfident, but she is proud and not afraid to show it. It's no secret that she likes to boast, especially among her enemies. She takes joy in rubbing her victories in others' faces, however, she tries not to brag in front of her friends. But when she loses, she tends to be very withdrawn and rather quiet. She'll have a pessimistic outlook for the next few days, and the only thing that can cheer her up is at least three well-deserved wins or sweets. Specifically speaking, muffins, but other candies and treats will suffice.

| Loyal |
Ellie is one of the most trustworthy and loyal friends you could ever have. She never lies (wellll... That's a bit of a stretch) and is loyal to a fault. Betrayal is out of the question and if you happen to betray Ellie, you are dead to her. Always and forever. But because betrayal is such a big thing to her, she would never dream of crossing her friends. This is what makes her so trustworthy and loyal. You can always depend on Ellie to have your back.

| Caring |
Despite a few of her... unpleasant qualities, Ellie can be quite the caring person. She has a soft spot for those who cannot defend themselves or are more on the submissive side. She tries her best to be tolerant and nice to them, even if they annoy the crap out of her. She also defends them, as long as she thinks they deserve her help. Ellie is very sympathetic to those she values and would do anything to protect them.


---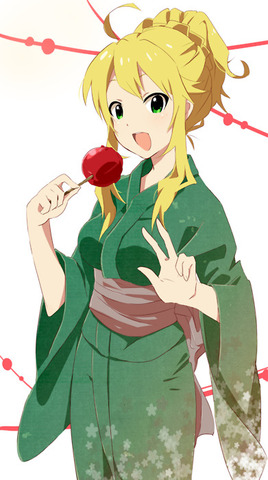 | Backstory |
Ellie has always been a fighter. When she was little, she spent most of her time starting fights and throwing violent tantrums. She was an average babysitter's bane. But her parents never knew, for they never took care of her. When she was little, at least, for that was up to the servants. You see, when Ellie was first born, her parents were too busy to deal with a newborn. However, they were wealthy enough to hire servants to take care of her. It wasn't until Ellie turned thirteen that her parents had the time to pay attention to their daughter and try to correct her behavior. However, by then fighting was already in her blood and it seemed impossible to get out. So, instead of trying to fix her aggressive attitude, they simply ignored it and decided to believe that Ellie was an angel.

As the years passed things got worse, and they found that Ellie was developing quite the ego... So they enrolled their daughter in soccer and taekwondo classes, hoping the soccer lessons would introduce her to losing (so she wouldn't think she's invincible) and the taekwondo classes would give her discipline. However, their efforts backfired. The taekwondo sharpened her fighting skills and earned her even more wins, boosting her ego, and she turned out to be a master when it came to soccer, which also boosted her ego. At one point, her parents gave up and Ellie grew up to be the egocentric troublemaker she is now.
---
| Thoughts on Others |
Bianca Willis


Amu Ginny


Gwendolyn Demitriou


Felix Stone


Svend, The Eternal One
...

Alexander Cross
...