Being a Sandbox roleplay there is no fixed plotline to follow and what happens in this world is entirely in your hands.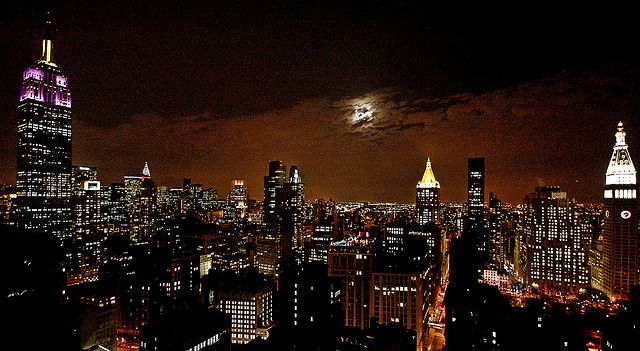 It is a commonly accepted fact that Vampires aren't real. This however is just a ruse, it is an age old tact to hide yourself in plain sight in order to remain the best hidden. This is exactly what the Vampires have taken to doing.
If you wanted to make the entire world ignorant to your existence the best thing to do is to turn yourself into fiction, make the masses think you are nothing but stories and myths. In doing this vampires have led quiet and unhindered lives, without the ever impending problem of mortals that they once suffered.
There are of course a set few of humans who not only know of the existence of vampires but have set out on missions to rid the world of their kind, some choose this occupation through the loss of loved-ones whilst others have been hunting the undead for generations.
Just south of the Canadian border somewhere in America sits a bustling city, in day time it is no different from any other city throughout the world but it's night the streets are crawling with Vampires, Werewolves, Witches and their mortal hunters. They have all been brought here for the same reason, the Penumbra bar. A safe haven for all and a widely accepted neutral ground, it is staffed by members of each faction to appease all, all forms of fighting are banned from within its walls though it is not uncommon for brawls to break out, usually after a few choice words of heritage have been shouted across the bar.
Other Info;
A penumbra is the partially shaded outer region of the shadow cast by an opaque object.
Links
http://write.roleplaygateway.com/p/Shades%20of%20Penumbra
Code: Select all

[b]Name:[/b] (With preferred pronunciation)

[b]Race:[/b]

[b]Age:[/b] [b]Looks:[/b](If applicable)

[b]Original Place of Birth:[/b]

[b]Gender:[/b]

[b]Appearance:[/b](Please give a description and a picture.

[b]Height:[/b]

[b]Build:[/b](Slim, Skinny, Fat, Stocky, etc…)

[b]Personality:[/b]

[b]Likes:[/b]

[b]Dislikes/Phobias:[/b]

[b]Quirks/Flaws:[/b]

[b]Weapons/Items if any:[/b]

[b]History:[/b]


1. God-modding is unacceptable, anything I consider god-modding I will call up and if it is not changed I will insist upon your leaving.

2. I will not accept Anime pictures, sorry.

3. I have no problem with romances, rivalries, fights or even families but please take the rumpy pumpy to PM (If you so wish) and avoid pointlessly gory scenes.

4. There is no need to reserve characters as there is no character limit.

5. Although I have no character limit I would advise you not to make more then you can handle for your own sake as well as everyone else's. If this happens I will PM you to sort out the possible storing of characters for a later revival or killing them off.

6. I have no problem with swearing but every other word is just unnecessary.

7. If you intend to kill off your own character then you are free to do so in any way you wish but unless someone PMs you about killing their character it is unlikely that they wish for you to do so.

8. Please stick to the character sheet.

9. If you have any problem with other players and you cannot resolve it between yourselves please inform me and I shall help as much as I can.
Arcs are bundles of posts that you can organize on your own. They're useful for telling a story that might span long periods of time or space.
There are no arcs in this roleplay.
There are no quests in this roleplay.
Here's the current leaderboard.
There are no groups in this roleplay!
Welcome home, Promethean. Here, you can manage your universe.
Arcs are bundles of posts from any location, allowing you to easily capture sub-plots which might be spread out across multiple locations.
You can create Quests with various rewards, encouraging your players to engage with specific plot lines.
Settings are the backdrop for the characters in your universe, giving meaning and context to their existence. By creating a number of well-written locations, you can organize your universe into areas and regions.
Navigation
While not required, locations can be organized onto a map. More information soon!
There are no groups in this roleplay!
By creating Collectibles, you can reward your players with unique items that accentuate their character sheets.
Once an Item has been created, it can be spawned in the IC using /spawn Item Name (case-sensitive, as usual) — this can be followed with /take Item Name to retrieve the item into the current character's inventory.
Give your Universe life by adding a Mob, which are auto-replenishing NPCs your players can interact with. Useful for some quick hack-and-slash fun!
Mobs can be automated spawns, like rats and bats, or full-on NPCs complete with conversation menus. Use them to enhance your player experience!
Current Mobs
No mobs have been created yet.
Locations where Mobs and Items might appear.
You can schedule events for your players to create notifications and schedule times for everyone to plan around.
Add and remove other people from your Universe.
The Forge
Use your INK to craft new artifacts in Shades of Penumbra. Once created, Items cannot be changed, but they can be bought and sold in the marketplace.
Notable Items
No items have been created yet!
The Market
Buy, sell, and even craft your own items in this universe.
Market Data

Market conditions are unknown. Use caution when trading.

Quick Buy (Items Most Recently Listed for Sale)
None
The bar is filled with the musky smell of smoke and beer, mixed with the metallic scent of blood. It is obvious that this place is filled with both the heavily muscled and scarred hunters as well as the pale and dark vampires.
This city, has long been favoured by Vampires and Hunters alike. It is home to hundreds of vampires and dozens of vampires not to mention several hundred thousand humans.
The massive sky rise building towers above the streets, home to hunters, some vampires and the ever oblivious humans.
Long winding streets cover the city, some leading to the darker ends of the city others leading to the safer public areas.
Discussions
Topics

Replies
Views

Last post
Most recent OOC posts in Shades of Penumbra
There have been no posts in the OOC topic for this roleplay!