Rider
Nickname: Ali, Coop
Gender: Female
Age: 16
Horse: Persephone
Position: Rider/Competitor
Personality: Ali is extremely competitive, but you'd never know it to talk to her. She has an extremely soft, light voice, and people often have to strain to hear her speak at all. Ali is very focused and determined, and doesn't like anything getting in the way of her training. While she is competitive, she isn't one to be mean about competition. Ali is known to help people out, even at the expense of her own performance. As she is aging however, this is getting more and more rare in Ali. She wants to win, badly. Ali has a fire in her that was lit by her grandfather, a fellow rider.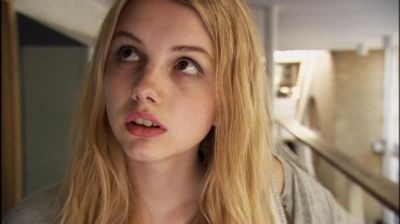 History: Allison Marie Cooper was born in London, England to Geoffrey and Rebecca Cooper. Ali lived with her grandfather, Richard, because her parents both had extremely demanding jobs and they couldn't deal with a daughter. When her grandfather passed when Ali was only 10, it devastated the young girl. Richard had left in his will that everything he had, house, horses, everything, went to Ali. Ali got in touch with a lawyer, sold everything, and used that money to go to Shady Oak, where she has been since she was eleven. Ali doesn't speak to her parents, and wants nothing to do with them, as they wanted nothing to do with her.
Dating?: No. Ali is far to focused on her training to be dating anyone.
Married?: She's only 16, so no.
Ali stands at five feet, four inches tall. She weighs only 100 pounds, and she is extremely muscular. Ali has long, dirty honey blonde hair that reaches the bottom of her shoulder blades. She has large, wide chocolate eyes that always look like she's terrified of something. Ali is curvy in all the right ways, with wider hips and a decent size bust. Ali can often be seen in jeans (skin tight) and long sleeved t-shirts (of any color, it all depends on her mood) and a pair of black converse.
Horse
Barn Name: Persephone
Gender: Female
Breed: Ukrainian Riding Horse/Unmol
Age: 3 and a half years
Discipline: endurance riding, dressage
Personality: Persephone is an easy going, sweet horse. Her personality is gentle and easy to mold, and she learns quickly. Persephone gets on easily with other horses, and Ali plans on breeding her some day.
History: Persephone was purchased for Ali, by Ali, when she decided that her old horse, God of Snow (Blizzard) was to old to compete anymore and she put him down. She was bred specifically for Ali in the Ukraine. Ali had her brought over by the most trusted person in her life, her lawyer. Ali loved Persephone from the minute she saw her, and the two clicked instantly. Persephone was easy to train, and Ali had her in a show for the first time when she was barely two years old. The pair came in second in their first performance together.
Persephone is a tall, broad horse. She is the ideal weight and the ideal height. While from a distnace she looks pure white, Persephone is actually speckled with grey. She is a perfect horse thanks to Ali's strict conditions surrounding her breeding. Persephone has black ears and black eyes, and her hooves are the color of charcoal.