Given Name: Gwyneth Alexander Crusoe
Nickname: Gwyn
Gender: Female
Age: Eighteen
Horse:
Position: Boarder
Personality: Meet Gwyneth, sarcasm-efficient and bitch-extraordinaire. She isn't afraid to speak her mind, every single time something is brought up. She will 'forgive' you of your mistakes, but they will always be thrown in your face five minutes later. Found commonly among teenage girls is a drive to be accepted by everyone. And on her surface layer Gwyneth will put off the vibe she doesn't give a shit if you like her because in her mind you are temporary. She wasn't raised under the teaching 'people are disposable,' but she certainly tries to live by it. But she is hurting, just like everyone else. She longs to be accepted, but is unsure of the way to accomplish this task. Instead her frustration turns to anger and sarcasm and she tells herself no one will remember her if she doesn't make a name for herself now. And not just her family name.
History: Gwyneth was born to a mother of sixteen and a father who was never around. She learned that in life you make your own way, people won't pave it for you. At least that is how her mother acted until Gwyneth was four. She was then abandoned after a church service. Her mother was never found, as she never introduced herself on the single day she attended church in her life.
Gwyneth didn't talk much after that. She was in and out of foster care for the next couple of years. At age seven she was adopted by a couple who had tried to conceive and couldn't. She then took on the middle name Alexander and the last name Crusoe. Her adoptive family was a very well off family, with a well-known name around that town. Her father owned a chain of hotels extending from Washington State to Florida and up to Maine and back to California, the entire US. Her social status therein took a radical leap and she was whisked from location to location. She had the finest educational tutors and the top riding instructors.
Unlike most young adults, Gwyneth is still supported by her parents' money. She has never been worried about the next meal or where the next month's board would come from. On the 30th of every month a lump of money is transferred into her bank account by her father. From there she determines what will be done with it, and usually it is spent on clothing or new tack. She has never struggled, which may be where her snootiness stems.
Dating: Likely…
Married: You realize I'm eighteen…
Appearance: Gwyneth never considered herself attractive, but from her flowing blonde tresses to her stormy-grey sky eyes she is clearly an attractive person. It just happens to be, like everyone in the world, she has her doubts and her insecurities. Having been riding horses since her early years, Gwyn's body weight has been consistently healthy at 130, and she stand just at 5'6. She isn't curvy, like some of the other girls, but she isn't a stick either, she does know what food is. Most often she can be seen in a t-shirt, sometimes a polo, and a pair of breeches. She has never been one to 'wear' her money. Instead she likes her horse to.

Accompanying Horse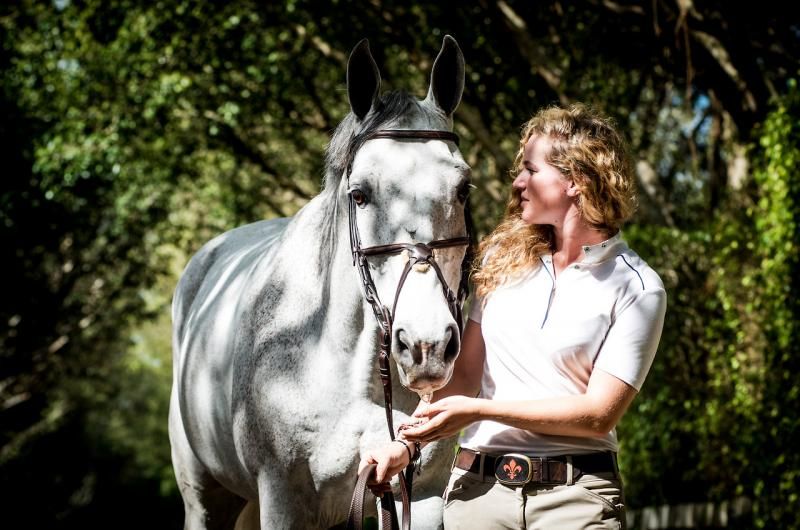 Show Name: Show Robber, Heart Stopper
Barn Name: Bandit
Gender: Gelding
Breed: Thoroughbred
Age: Eight
Discipline: Dressage and Jumping
Personality: Bandit is a very laid-back horse, compared to his rider. He and Gwyneth lack every comparable trait with each other. But oddly enough they make quite the pair. He has carried her to more than a few championships. That is due in part to his quiet demeanor not translating to the show ring. He is quite the stunner, and he knows it when he is prancing about in the ring. He was over-looked by many for that exact reason. They didn't want to take the chance his lax attitude in training would ruin his chance for winning.
History: Born into an upscale racing community, Bandit never quite cut it. He didn't care much for the race, or to run, or gallop, or canter for that matter. It wasn't that he was slow, he simply knew it wasn't the life for him. And he simply stopped running one day, to the astonishment of his trainers, owners, and his rider. He was supposed to be the next Seabiscuit or Secretariat. But that was the exact opposite of what he wanted, but luckily he had an excellent pedigree and wasn't tossed aside like so many other failed racers. He was sold and trained in dressage and jumping, soaring was what he wanted after all. But his lack of determination in training in turn made many potential buyers over-look this darling horse. Then along came Gwyneth and the two were inseparable from the beginning. They have been riding together ever since.
Appearance: There isn't much to Bandit's coat, except that it is flea-bitten grey. He sports two grey to black stocking on his front legs and his back legs have a pair of short black socks. He stands an astonishing 17 hands, which makes Gwyneth look dwarf-like next to him. His mane and tail are the required gray, with strokes of black painted in. He is quite the large horse, but is a baby when it comes to people. He is quite the gentle giant, when he isn't in the show ring. But with a solid foundation of training underneath his saddle and a rider who is driven to win, he is quite the decorated equine when it comes to award.