It is the year 1097, and a lot is happening. Crusades, Scotland gets a new king, wars in Croatia, and a lot of other things.
Oh, and gateways have opened in the kingdoms of Hungary, the Holy Roman Empire, the kingdom of Norway, Kingdom of Leon and the dominions of the Seljuk turks.
At first, the huge mile-tall gates of light were regarded with fear and confusion, and word spread rather quickly through the surrounding area. For a short while nothing big happened.
And then
things
started coming out of the portals of light. Monsters, Dragons, and Demons. Beasts quickly attacked the surrounding lands.
The destruction was so wide-spread that nations were forced to unite. Templars of the Holy Roman Empire were sent out en-masse to fight the threats.
What will come of the world now?
Map:
https://www.globalsecurity.org/military ... e-1097.jpg
Character types:
Crusaders, Templars, Knights, and really anybody from that era.
I'm kinda new to this so any advice is welcome!
1. Please keep all characters era-specific.
2. No god-modding, please.
More rules to come once I figure out what I'm doing.
Taking place in...
2 posts here • Page 1 of 1
Setting
Characters Present
Tag Characters »
Add to Arc »
The beast let out a horrific screech as it ran. Not one of the men there had seen such a thing before. Two of the men broke ranks and ran as fast as they could. The rest stood fast, standing silently and sweating. They were waiting for a signal. This small militia of peasants were surely terrified. They were armed with bows and cudgels and daggers, but not much else. The tall trees all around them were imposing, almost blocking out the sun. Then another screech is heard. Dozens upon dozens of monstrous figures charge through the trees, their inhuman bodies hurling themselves past branches and towards the men. The men in question ready their arms and charge forward, yelling. The two forces meet and the battle begins.

Twenty-four minutes later and not a man is left standing.
---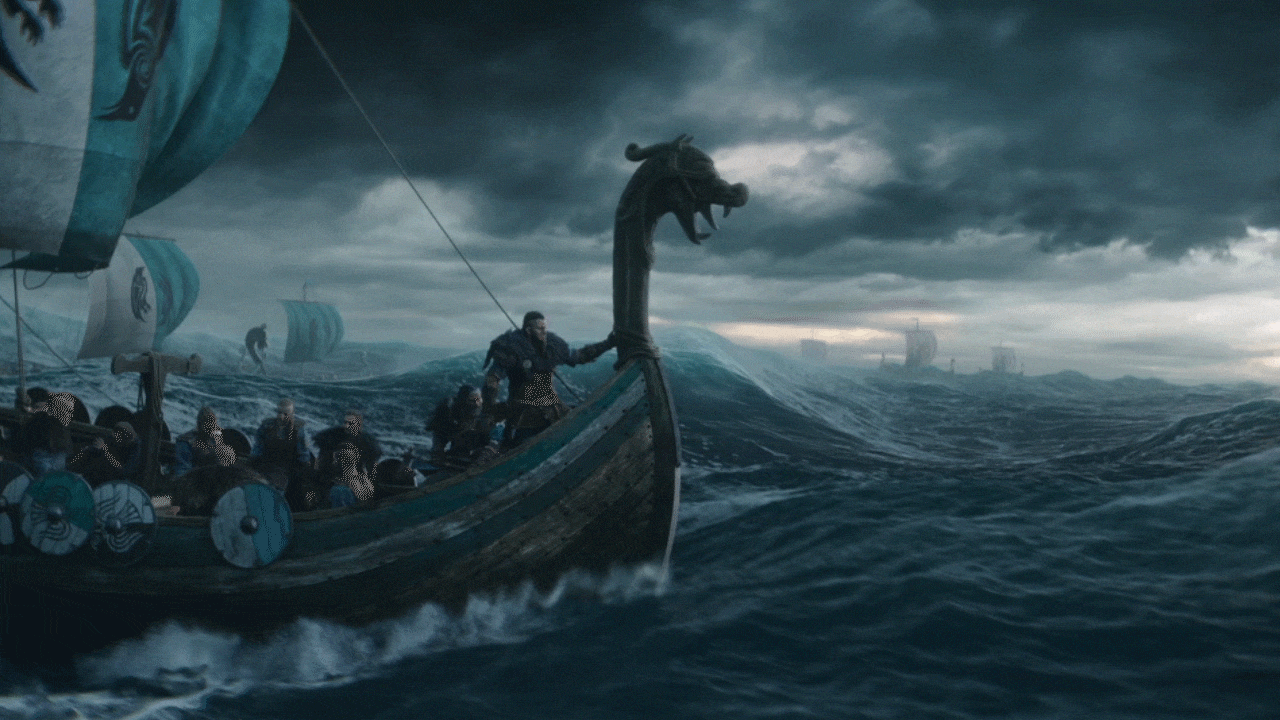 A silver moon hung low in the clouded sky, winds whipped over the sea, and through the Jarl of Grimstads hair, as he and his men sailed westward. Land would be coming up on them quickly, though they were unsure of what would be left. Rumor of great beasts from beyond the realm of man had begun spreading their way through Northumbria, and Delvin was not one to shy away from a fight. He sent word via carrier pigeon to several other kingdoms, hoping for some support, but expecting none. The true Vikings of Grimstad knew what they were riding into, and they ached for a good battle.
"Fetch the Raven" Delvin barked at a crewman. He quickly jumped down the stairs, shortly thereafter producing a raven, and loosened her from her small cage. "Keep an eye on her, she's our map now, too cloudy for stars" Delvin spoke calmly. The crewman nodded, and watched as the bird sailed west, and began circling an unseen beach. "Drop the sail and arm yourselves men, Glory awaits us all!" Delvin Barked, as they neared the beach. The clang of sword and shield from the two longships was ear-shattering.
Fires burned brightly, as what looked like a small beach encampment slowly came into view. The ships ride cleanly near the beach, as the crewmen dropped anchor and jumped ship. A small welcoming party met the clan as they made their way towards the encampment. "Wine?" said a small man, nervously looking up at one of the Jarl's larger men. Delvin laughed, "I think you mean to turn your attention to me, holy man. I am Jarl Uldthar of Grimstad, and these 20 men are my crew. We come to pledge our swords against the beasts, and our mead towards our newfound companions! Brynjoff, Haldar, fetch the mead barrels. Lufthar, Arik, bring the weapons crate up to the encampment armory, My friend here is going to inform the other commanders of our presence, tell them to come to our camp." Delvin finished his sentence and gazed down upon the holy man. "On any other day my friend, we would be the last thing you see before you met your god. However, this day is not any other day. This day is today, and you need not fear me and my men, we do not cross our gods, or our companions." Now, where might we raise drink, and lie our heads?" The holy man pointed towards an oversized tent.
Two men made their way past, carrying a large crate, 1/3 full with shields, 1/3 full with axes and swords, and the rest, simple woven leather bracers and grieves, along with several spare leather spaulders. The Vikings of Grimstad preferred speed to protection when it came to armour. Two more passed shortly after, each carrying a barrel of mead on their shoulders, headed towards the oversized tent, marked "Grimstad". Delvin left the holy man, with a nod, and proceeded into the encampment, following the mead carriers. The tent was very large, almost deceptively so. A large table lie in the middle, surrounded by several benches, more than enough to seat the entire crew. several smaller rooms were surrounding the table, each with a few small haybeds, covered in skins of various animals. The crew made their way in not too long after, gathering at the table and filling their horns with elderberry mead. The jarl made his way to the head of the table, filled his horn, and sat. "To a short life, and a violent one, and to a quick death, and a glorious one!" He exclaimed, before finishing his horn and slamming it on the table. As the stories began to pour out of his crew, Delvin made his way out of their tent, to learn more of their newfound companions. His eyes met with a stranger peering at him from behind a small tent, looking fit for perhaps one person. The stranger seemed a knight of some sort, the Jarl unable to make a distinction as to where from. He approached. "And who might you be, a knight? a thane? a thrall?" Delvin questioned, curiously.
---
2 posts here • Page 1 of 1
Arcs are bundles of posts that you can organize on your own. They're useful for telling a story that might span long periods of time or space.
There are no arcs in this roleplay.
There are no quests in this roleplay.
Here's the current leaderboard.
There are no groups in this roleplay!
Welcome home, Promethean. Here, you can manage your universe.
Arcs are bundles of posts from any location, allowing you to easily capture sub-plots which might be spread out across multiple locations.
You can create Quests with various rewards, encouraging your players to engage with specific plot lines.
Settings are the backdrop for the characters in your universe, giving meaning and context to their existence. By creating a number of well-written locations, you can organize your universe into areas and regions.
Navigation
While not required, locations can be organized onto a map. More information soon!
There are no groups in this roleplay!
By creating Collectibles, you can reward your players with unique items that accentuate their character sheets.
Once an Item has been created, it can be spawned in the IC using /spawn Item Name (case-sensitive, as usual) — this can be followed with /take Item Name to retrieve the item into the current character's inventory.
Give your Universe life by adding a Mob, which are auto-replenishing NPCs your players can interact with. Useful for some quick hack-and-slash fun!
Mobs can be automated spawns, like rats and bats, or full-on NPCs complete with conversation menus. Use them to enhance your player experience!
Current Mobs
No mobs have been created yet.
Locations where Mobs and Items might appear.
You can schedule events for your players to create notifications and schedule times for everyone to plan around.
Add and remove other people from your Universe.
The Forge
Use your INK to craft new artifacts in Shattered Lands: 1097. Once created, Items cannot be changed, but they can be bought and sold in the marketplace.
Notable Items
No items have been created yet!
The Market
Buy, sell, and even craft your own items in this universe.
Market Data

Market conditions are unknown. Use caution when trading.

Quick Buy (Items Most Recently Listed for Sale)
Newest
Jarl of Grimstad, Leader of the Tyrist brotherhood, spanning most of southern norway.
Trending
Jarl of Grimstad, Leader of the Tyrist brotherhood, spanning most of southern norway.
Most Followed
Jarl of Grimstad, Leader of the Tyrist brotherhood, spanning most of southern norway.
None
Discussions
Topics

Replies
Views

Last post
Most recent OOC posts in Shattered Lands: 1097
Hope its no trouble but i joined :)
Hi! Hope you don't mind I joined :) It's been a while since I've written on RPG but I have tons of experience and I really liked your premise, though I'm not usually in fantasy, most medieval is my thing though but yeah I still liked it and Cassandra practically wrote herself!
This is the auto-generated OOC topic for the roleplay "
Shattered Lands: 1097
"
You may edit this first post as you see fit.