---
---
---
---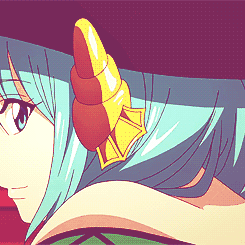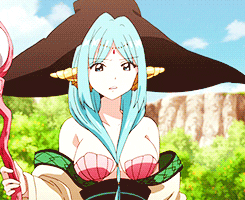 GENERAL INFORMATION
Gender
Female
Race
Elf
Dominant Hand
Right Hand
Nickname/ Alias
Leena, , Wonderer, The Blue Witch,
Lady Taldren (Those who know her status call her this)
Age
23
Face Claim
Yamuraiha From 'Magi'
Role
Wondering Wizard
---
---
Height
5 foot 8inches - 9 with heels
Weight
'A lady never tells'
Build
Slim and slightly althetic
Hair Colour
A crisp aqua blue which reminds many people of the sea
Eye Colour
Mirroring her hair her eyes are a crystal blue reflecting the world that Aleenia see's.
Scars/Tattoos/Piercings
No piercings or Tattoo's but she does have a leathery burn scar on the thigh of her right leg from a fire spell which went wrong.
Description
A moderately tall woman Aleenia stands tall her body fairly athletic her shoulders, arms and legs rather toned due to her training. Many of the Elven folk consider her a natural beauty her hair a pure reflection of her affinity for water, her curves and lack of awareness to her beauty give her a down to earth attraction. Her frame against humans shows her race's definitions as she stands out in a crowd amongst human towns, her hair a beacon. Those with a talent for magic would be able to sense the immense power that resides in her body, her magic flowing freely when she allows it too.
Preferred Clothing
Aleenia has a simple choice of clothing, preferring to wear a robe which falls from her shoulders. It provides comfort and protection from the rain, cold and heat as the material can be easy to breathe within. Usually, she will wear a light brown dress underneath her robe however sometimes she has been known to wear a short top made from sea shells.
No matter what she wears she will always wear a pair of pure gold ornaments that sit atop her elven ears. They were her mothers and something she values dearly. The blat hat that adorns her head was her fathers and the only other item of clothing she holds close.
---
---
Wizard / Magician / Witch
Strongest Element : Water
Secondary Element : Earth
---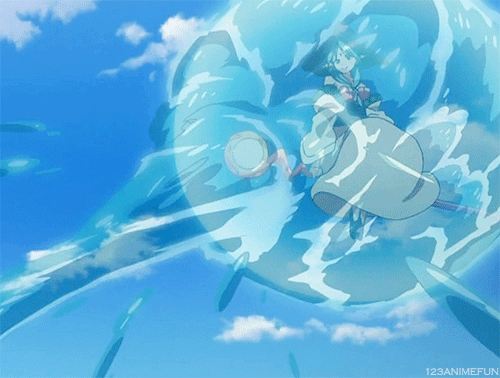 Skills
Aleenia can use her Water Magic in various ways. She can evaporate the water in the immediate vicinity to burn the target (this is not very powerful). Her favored type of combat is to create water balls around herself to attack and defend her from an enemy.
Sharrar Magd (Water Membrane of the Hermit):
Aleenia gives 3 magical commands, by surrounding herself with water in order to reflect sunlight off of it to make her invisible.
Sharrar Baraq:
Aleenia makes a dragon made of water that attacks an opponent directly, with it's great speed.
Sharrar Oblisk:
Aleenia creates a barrier of water around herself to protect her from attacks. The speed of the movement of the water is what repels attacks but it is not imped men triable. She can also attack people with balls of water using this technique.
Sharrar Raqesa (Water People Play of Truth):
This is a type of Clairvoyance Magic that shows things that cannot be seen, faraway places, and events of the past. It uses the blood of the people involved to show their past. When this magic is used water is shaped into the people involved and acts out what ever situation that is being discussed.
Aleenia isn't as powerful with earth magic as she is with water. However, she does have some limited control of earth magic and works every day to grow her abilities. It doesn't always turn out as well as her intentions.
Earth's gift:
Aleenia can enhance the growth of plants, producing fresh fruit and flowers within instant in compared to their natural growth time
Tangled Embrace:
Aleenia controls the movement of plants using the roots of trees, branches etc, to ensnare her foes.
Gravity Magic:
She uses Gravity Magic on her wand to fly. She sits upon it like a witch.
Strengths
Intellect ~
Aleenia has always been a studious soul. She is calm and calculating when in combat choosing to be patient and learn her opponent's weaknesses before pushing into battle. She knows many cultures and uses her knowledge to interact and gain the trust of those she meets.
Kindness ~
Aleenia's kindness surpasses her doubting thoughts, allowing her to overcome her own darkness and look past the darkness of others. She has faith in all living creatures of this world.
Magic ~ Specifically her gravity magic ~
Aleenia's gravity magic gives her the ability to fly. This has become one of her greatest strengths as she is able to quickly outmanoeuvre her enemies to a safe distance however her magic has a time limit which depends on her individual power source.
Weaknesses
Kindness ~
Her kindness can be a strength but also Aleenia's weakness. She can be fooled by the very people she has faith in and her kindness used against her by those smart enough to use it.
Corruption ~
As a wizard, Aleenia can protect herself partly from corruption. However without a pure soul or holy magic, she is unable to defend herself fully from corruption thus making her vulnerable if caught off guard.
---
---
Oddities
Talking with her hands - Aleenia can sometimes begin trying to explain something whilst drawing the picture in her head with her hands as though others around her are picturing exactly what she is seeing. This comes out as a bedraggled mess when she has been drinking
Writing Style - Aleenia writes using strong, thick brush strokes
Rambling - When Aleenia is nervous she tends to ramble and always mostly about magic which tends to put some people off
Waking up - Aleenia personally finds that one of her greatest weaknesses is just waking up. She can be rather grumpy in the morning
Hovering - Whilst flying on her staff Aleenia sometimes flys beside beside people whilst upside down as she finds the view from being upside down interesting
---
Likes
Rare magical Books - The knowledge they hold is alluring to Aleenia
Alochol - Aleenia does enjoy a good drink in a pub every now again and she can become a rather boisterous drunk
Magic Training - Aleenia is always striving to be the best Magician and training is what will lead her towards that goal. However, she can grow very frustrated when her spells don't work out to plan. Fire magic being something she is afraid to try again which irks her.
Cakes - When it comes to Cakes Aleenia will always indulge first. She will offer one to be polite but then she will take all of the rest available carrying no guilt in the matter. Cakes were not a commodity in the Elven towns and are mainly human delicacies, so she grabs them as soon as she see's one as they are a rarity for her.
---
Dislikes
Coffee - Its a bitter taste and she see's no good purpose for it, the intention is to give someone energy but she thinks the idea of being kept awake is preposterous as she enjoys to sleep.
Smelly men - I.e BO fuelled - She can't stand the smell and finds it really hard not to give away that she is disgusted by it when trying to be polite.
Brutish people - I.e Bandits and those that hurt other for person gain - Aleenia respects all life of all forms, however, she despises people who waste that life and willingly choose to sacrifice others for their own goal. She will try to look past their selfishness for the sake of peace but she can not turn away if she see's someone being harmed.
Overpriced Goods - Aleenia' loves to collect Magical Artifacts and books so she really hates it when market stalls or book shops sell items she really wants at ridiculous prices. She will, of course, attempt to haggle but if that doesn't work she will offer a magic show in exchange as many folks don't often see magic and are entranced by it.
---
Hobbies
Collecting Magical Artifacts
Sewing - Though she is absolutley terrible at it.
Sleeping - She loves to dream
Researching Magic - Her favorite way to spend days off is doing magic research
---
Phobia(s)
Pyrophobia - Fear of Fire - Due to a previous mistake with a fire spell Aleenia is not comfortable around fire
---
Sexuality
'Love is strange concept, the heart can not choose for itself whom it loves, love chooses you'
---
Personality
Generally, Aleenia is a sweet and caring person, but she also has a violent side and a sharp tongue. She can be nice to people she is interested in and respects life a great deal. However for those that rub her the wrong way she can be a little brutish with her words and unforgiving though she will always show kindness to others despite her personal dislike as per her grandmother's wishes.
She doesn't often hide her true feelings, her personality open and often fun loving as she as no fear to point out the mistakes people make but she is accepting of others no matter their flaws. However as open as she may be about her present self Aleenia avoids if not obscures' the truth of her own past. She has learned that many would look down upon her for her parent's involvement in the blood war and she wishes to end the stigma that her past brings. Her parents bring her great sadness and when alone her thoughts sometimes stray towards them and she does not ever wish to be seen in such grief for fear of being pitied.
She's confident in her magic skills. She has a fierce rivalry with other magicians determined to become the best, and also sometimes becomes competitive with swordsmen since she claims that Magic is better than swordsmanship while most claim the opposite. In this degree, her stubbornness surfaces as she can sometimes be rather set in her ideals believing her decisions to be the correct ones.
Ultimately Aleenia has found that there is much in the world she does not yet know and her mind thirsts to discover that knowledge. She is always open to learning new magic, techniques and culture. Her purpose as a wanderer is to search out for such knowledge that still lies hidden in the world. Her main focus is on the history of the land as she wishes to learn if there is a way to bridge the gap between the three races ending the cycle of war that she knows in her heart is doomed to happen again.
---
---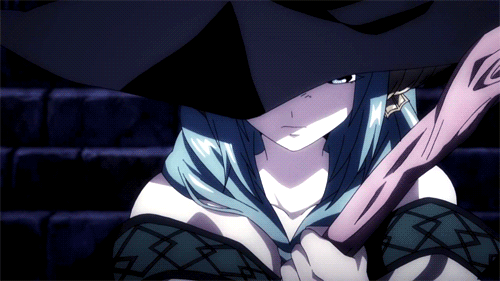 Family
Luceielle Eshna Taldren - Mother [Deceased]
Veran Letna Taldren - Father [Deceased]
Anariel Masho Taldren - Grandmother [currently living] (Aleenia's middle name is after her grandmother)
Garatak Hiko Taldren - Grandfather [Deceased]
Personal History
Born into the Blood War Aleenia grew up her village constantly under military guard. Nilhe was a forest village, the trees doming and hollowed to act as homes for the woodland Elves that peacefully lived there. Born under the Taldren name Aleenia was born in the noble elf family of the Nilhe village. Her family tree had forever run the affairs of the Nilhe village producing warriors and leaders for generations.
As only a small child, Aleenia was with her parents for a short time before they were drafted into the war along with many other elves by their king. Unwilling but unable to defy a royal decree Aleenia's parents tried to teach Aleenia to always be herself before they left. Her mother's last words were 'Do not stray from the path you choose for yourself' before she and her father disappeared into the distance as they headed to war. Aleenia would wait every day at the foot of her door for their return as her grandmother cared for her.
What was a few years felt like decades to Aleenia. She wanted to fight, to help her parents, to see them again so she practiced magic. It was a rare ability only a few were gifted with. Luckily Aleenia's grandmother was a powerful magician in her youth. Seeing the potential in Aleenia her grandmother began to train Aleenia from an early age. She honed her latent ability towards water and attempt to broaden her skill set with the elements. Aleenia was passionate and driven learning all that she could from her grandmother.
However, on a mist filled night Aleenia and her grandmother received the news of her parents. They had been killed by the Black Knights. Distraught and outraged Aleenia's heart darkened. She screamed and cried her power erupting around her. Her grandmother tried to calm her down but Aleenia would not listen. In her haste she called upon the flames of the fire bird, a weak element of affinity for Aleenia but she knew fire held the strongest combat power. It exploded around them igniting the hollowed bark of the trees that was their home. Fire spluttered everywhere and charred timber fell down around them. A ceiling beam broke and hurtled towards Aleenia, she saw it and her heart panicked as she realized what she had done. Suddenly she found herself hurtling out of the way as her grandmother pushed Aleenia from under the beams trajectory but was unable to prevent a scourge of flame from igniting the clothing on Aleenia's right thigh. The pain a shock Aleenia shook herself out of her emotional breakdown and called upon the element water to purge the flames.
Feeling devasted with herself Aleenia withdrew from the world into solitude for many weeks, her right thigh now scarred with thick red burns. Her hatred of humans began to bloom for murdering her parents, however, her grandmother would always visit if not to talk to Aleenia through a closed door. She began to speak to Aleenia of an old time when the three races were at peace, of long forgotten history without wars, without death. She never stopping coming to visit slowly drawing out the hatred Aleenia had been developing, explaining it was hatred in the beginning that caused the wars she knew of. Soon her grandmother brought Aleenia' back out from her solitude. After much time alone Aleenia had thought much about what she wanted from life. She remembered her mother's last words and knew she wanted to live up to them.
Taking her Grandmothers teaching Aleenia knew, that what she wanted most, was an end to the hatred between the three races. She wanted to become powerful enough to prevent such hatred, to find a way to prevent more death and more sorrow. She knew to do this she would need to learn of their history in order to not relieve thier mistakes.
Throughout the remainder of the blood war Aleenia trained her mind, she learned to control her emotions, she developed her skills with water magic, and even practiced a little with earth magic. She read as many books as she could find in her village but it wasn't long before she had read nearly all of them. As the war came to an end Aleenia knew she what she must do, she needed to travel the world to learn of other cultures, to pick up the pieces of this worlds history. So she bid her grandmother farewell and became a wanderer.
As a wandering Magician Aleenia faced many different people, most humans were suspcious of her, if not hated her for being an elf. Others were wary, some intriqued. However as she travelled she grew to know more and more people of all ages and beliefs. Her magic and her kindness often using her skills to save those in need or offer assistance soon grew her a repuation as the Blue witch.
---
---
Thoughts on other
Love interest
Wouldn't you like to know cheeky