---
---
---
---
Gender
Male
Race
Human
Nickname(s)/Alias(es)
Redmane- Nickname for his Hair
The Red Dragon-Mercenary Name
Age
21
Dominant Hand
Right Handed
Face Claim
Adlet: Rokka No Yuusha
Role
The Mercenary
---
---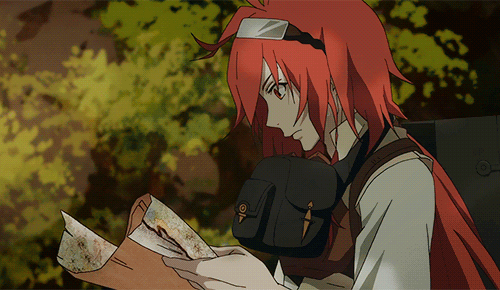 Height
5"9
Weight
125 Ilbs
Build
Muscular
Hair Color
Red
Eye Color
Amber
Scars/Tattoos/Piercings
He has a small scar on the palm of his right hand from a knife cut.
Description
Standing at 5"9 inches tall, he tries to look as strong and intimidating as possible. Cain's long red hair falls past his shoulders and down to the base of his spine. He likes to boast and brag about his manly physique. His amber eyes hold a spark of fiery eagerness that hungers to prove himself to the world that he can be just as strong as the infamous Black Knights.
Preferred Clothing
He normally wears a black cloak over white clothing, and he wears a small harness for the sheath of his sword to sit on, along with several bags of money or small food supplies for him to survive on his own for about 5 months or more without any work.
---
---
Skills
Blacksmithing- Taught by a Hermit in his village, he quickly picked up the trade to make a promising career, if he wished.
Swordsmanship- He is no Black Knight, but he can hold his own in a fight.
Horseback Riding- He was the fastest rider in his village.
Strengths
Silver Tongue- When outnumbered, he usually tries to talk his way out of a messy situation, but it usually costs I'm either some of his rations or hard earned coins.
Warrior's Temacity- He does not give up so easily. Knock him back down he gets right back up again for another round or two.
Weaknesses
Arrogance- He has a bit of a bad habit of oftentimes bragging a bit too much in the middle of a fight. Which usually makes him open to a swift punch to the face.
Berserker- If hard pressed in a fight he lets himself go and fights even more fiercely to win, this does endanger himself and any allies nearby.
Anxieties- He has a slight issue with his anxiety that flares up when he's either very uncomfortable or frustrated.
---
---
Oddities
Cracking knuckles- He does it when he's warming up for a fight or is acting like an arrogant bastard.
Talking to his sword- He talks to his sword, which he affectionately names
Beltharion
, when he knows he's alone. He talks to it like its a growing boy. He doesn't talk to any of his other weapons in this manner..
Amber Glare-A nickname for one of his infamous glares when he's really really pissed off.
Likes
Blacksmithing- It's a useful skill, and it also helps him repair and maintain his weaponry.
Horses- Since he rides them, he has an appreciation for the four legged creatures.
"Horses are people too Baka!"
Traveling- After two years of being a mercenary, Cain has grown to like traveling it requires.
Women- Put someone very pretty in the room and he melts almost immediately and is unable to focus for a little while.
Dislikes
Hypocrites- People who don't practice what they preach receives his left hook if he catches them.
Racists- Anyone mistreating the other for being different makes him bitter to his stomach.
Hobbies
Forging-
"When I'm not fighting I'm thinking about the next big thing!"
Training- He tries to keep up his training he'd almost do it in his sleep if he isn't doing anything!
Phobia(s)
Snakes- Who isn't afraid of the leg less scaly monsters?!
Darkness- If he's in a room with no light he'll slowly reduce himself to a scared anxious mess.
Sexuality
Heterosexual
Personality
When one meets Cain, expect a friendly smile, a warm smile, a welcome handshake, and a loyal friend almost instantly. He's caring, charismatic, if somewhat slightly silly at random times. His friendly tones are often seen when he's fighting, because he'd become a totally different person entirely. He loves to joke around and make someone laugh when he isn't fighting, or arguing with anyone nearby.
He fights like he's running out of time, as if he's trying to go the extra mile to save a friend, and if a friend is in trouble, he'd do it in a heartbeat. He loves to help people, and is willing to always. But this eagerness makes him jump into the fray without thinking. And put him near a woman and you'll get a very shy and crazy mess.
---
---
Family
Oberon Azura (49)- Father
Lucille Azura (née Valeera) (48)-Mother
Kumatetsu (59)- Teacher and Mentor
Personal History
Na'ari Azura was born to a well known Village of craftsmen and forgers in the kingdom, but despite this slight prestige, his origins are nevertheless humble. He was an only child, "Blessed by a Dragon" or born with red hair and Amber eyes. As a youth he found it hard to make friends because he couldn't understand certain things and was distinctly quiet. The other children made fun of him for this and simply drove him to a workshop and forge belonging to a Hermit Beastman named Kumatetsu. His soon to be master, a kind and understanding man who forged weapons during the Ten Year Blood War, allowed Cain to stay with him, he taught him metallurgy, and the art of the blacksmith. He then showed his greatest treasure to him, several large slabs of black rock that he claimed "fell from the sky." Cain could tell some of it was metallic and wondered, if done right, it could be forged into beautiful works of art.
When he was Eight, he asked his Master if he could learn how to use a real sword. He obliged in teaching him how to fight, but told him to one day forge his own sword and fight. It was then he learned how to fight with a blade, as well as defend himself. He also picked up horseback riding and became adept at it, going on to be the best in his village.
Eventually, he grew into his teens and fell in love with a beautiful girl from his village. Long did he want to be with her, and often dreamed of life with her as his wife. Then, everything changed when a raiding band of mercenaries attacked his home. He helped quell the attack by driving them off with the other defenders of the village, but the girl he fell for was killed. She died in his arms.
Infuriated at himself for being unable to protect someone he cared for, Cain opted to leave his village. So he decided to do just that. But before he did, his master and himself forged a blade he could wield to become a powerful mercenary, and gain his fame in his own right. So at Nineteen Cain Azura left home, going on to become a famous (or infamous to his enemies) Mercenary swordsman called the "Red Dragon." He has been this way for two years.
---
---
Thoughts on other
Love interest
To Be Determined