---
---
Tsukiakari no Michishirube // Stereopony
---
---
"If it means I die, I shall protect the innocent."
---
---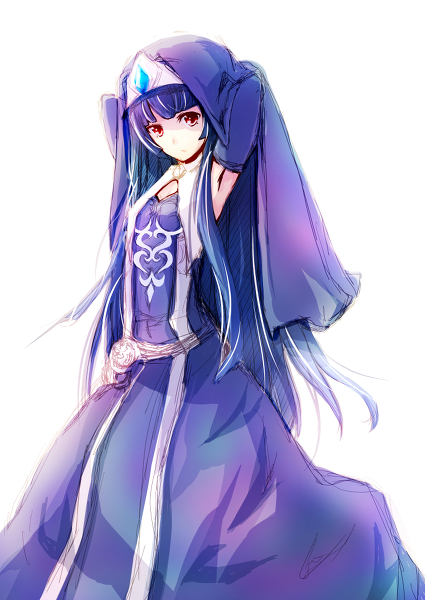 Gender
"Well I'd think you'd be able to tell just by looking...."
Femme
Race
"I can understand if you cannot tell."
Half Elf
Nickname(s)/Alias(es)
"I've only one as I know of..."
The Seraph the Rushing Wind, "Mutt" (Derogatory)
Age
"Isn't it rude to ask a woman her age?"
Twenty-Three
Dominant Hand
"Depends on the day, to be honest"
Ambidextrous
Face Claim
"Oh, she looks like me!"
Battle Sister Monaka // Carfight Vanguard
Role
"We all have our roles in stories."
---
---
Height
"My height? Enough to tease Lucia about."
172 cm
Weight
"Do you like having a tongue?"
60 Kg
Build
"Umm... To what importance is this?"
Very athletic
Hair Color
"It's not that hard, dear."
A deep shade of blue
Eye Color
"For the last time, I'm not a demon."
Scarlet red
Scars/Tattoos/Piercings
"Some of us have them, some don't"
Minor scars over her body, nothing noteworthy.
Description
"Oh Gods I'm horrible at these..."
Relatively tall in comparison to her peers (and to the dismay of Lucia), with a thin yet very athletic stature, her looks are deceiving. Along with slightly pointed ears, Seriya shows off several traits of both elves and humans, as she keeps the elves varying hair and eye colours, while her body looks closer to a thinner human, though her ears are a giveaway that she is a split of both humans and elves, making her a rather uncommon person. Though with long dark blue hair that stretches to her hips and crimson eyes that even confuse her peers, Seriya tends to stick out in a crowd just on her own, along with those whom can sense her Divine Aura can just see the beacon from her, magically speaking.
Preferred Clothing
"I'm a rather simple girl"
Seriya tends to stick with what she knows best, her dark blue and white vestments, which is a staple of the Seraphs, outside of that, she has two sets, one is what she'll wear when she's just in the monastery, while the other, is what she'd wear into battle, instead of being like a European dress of sorts, her combative vestments are much tighter on her, along with a single slit in the left side of her dress from the bottom to the upper thigh, to keep her mobility in combat without sacrificing the nun-like look, though she will always have the veil over her head, which aids in hiding her ears from others.
---
---
"Divine Aura" Swordmancer


A mage whom excels with both magic and swordplay
Skills
"Oh! Oh! It's the things I can talk about!"
|~|
"Divine Aura"
// The name of the core skill of Seriya, where she can cast spells linked solely to her sword adding a number of effects and elements. However she has not mastered the "Divine Aura" and cannot have more than two enhancements on her blade at once.
Enhancements:
Basic Elements:
Fire, Ice, Water, Air, Earth, etc.
Vorpal:
Seriya's blade becomes incredibly sharp, and can cut through most objects with ease.
Quickblade:
Seriya's attacks become faster, this can be channeled to her arms and legs too.
Pressure:
This can be used while the blade is sheathed, when she unsheathes the blade, it becomes much more powerful.
Purity:
A light shimmer shines from her blade, allowing Seriya to purify evil from most things.
Strengths
"Oh, I'm not as good with these."
Agile
|[High Speed Attacker]| When it comes to running, or even thinking, Seriya often has great physicality, and is her greatest asset when in a fight, while if fighting a patient foe, this agility has little results against them.
Adaptability
|[Well-Tuned]| A notion Seriya holds quite dear with others. She's ever adaptive to her surroundings, and even with people, having a good sense of judgement and ability to read people and situations, and changing her demeanour to not start a fight. This applies with her magic as well, as it's sole basis is to adapt to the situation.
Purity
|[Holy Seraph]| Much like Lucia and her fellow Seraphs, sisters, and alike, Seriya has a pure aura, making her immune to most evils, however this does nothing against physical assault.
Weaknesses
"Aha.... I guess we have them..."
Agility & Durability
|[Glass Cannon]| Her biggest downfall in combat, because of her agility, she relies on that to a great degree, forcing her to dodge attacks against her, as she has a limited durability in a fight because of this, think of her most as a hit-and-run like combatant, she's not meant to remain on the front lines all the time.
Half-Elf
|[Mixed Race]| Racism has a tragic effect on Seriya, being both elf and human exiles her from both communities respectively, as humans refer to her as an Elf, while the elves just call her "Mutt" for all too obvious reasons.
Temper
|[Quick Temper]| Seriya is easy to goad, especially when it comes to that Half-Elf card (Don't get her started on her eyes either), and when insults are thrown at her because of that, unlike Lucia, she's not so kind to turn the other cheek, she may not be allowed to cause harm to another without due reason, but nobody will know if she doesn't leave a mark.
Reckless
|[Head-first]| As simple as it sounds, Seriya has a huge tendency to be reckless and charges head-first into most situations, which often ends in a not too fun time for her teammates.
---
---
Oddities
"D-Don't judge me!!"
Sleeping
|[Insomniac]| Seriya is an unfortunate insomniac for reasons sh's unwilling to speak about, all one needs to know is she has troubles sleeping most nights and even when she does sleep, it's not very restful.
Crimson Flare
|[Childish Passion]| Her passion tends to run rampant, otherwise called a "Crimson Flare" as some say her eyes express fire, Seriya can get intensely passionate about most anything if she wishes to.
Mrgrgrgr....
|[Angry noise]| A simple noise Seriya makes that shows her anger or frustration.
Likes
"Another thing I can say with ease."
|♥| Lemons/
"I'm not sure what I like on them, I just like the taste of them I guess."
|♥| Coffee/
"I prefer it as my morning drink so I actually can wake up."
|♥| Reading/
"Something that helps me sleep. And that's important to me."
|♥| The Wind/
"It feels close to me somehow, whenever it sweeps through, I feel it's familiarity."
|♥| Swords/
"It's my preferred weapon, a single-edged curved blade, and I enjoy seeing other types of blades."
Dislikes
"Mrgrgrgr....."
|x| "Mutt"/
"Oh? I'm a Mutt, hm? Then, this Mutt has fangs that won't hesitate to bite you."
|x| Most Sweets/
"I won't say I hate them, I'm just not that big of a fan of them. Sorry."
|x| Flirts/
"Gods, I swear those types just flirt with Anything in a dress. After a while it's a bit frustrating to deal with."
|x| Demons/
"Big shock I know. I've seen what they can do, and I won't let it slide without a fight."
Hobbies
"Oh Gods please don't let them know! ;A;"
|†| Singing/
"Admittedly, I wanted to try it to be closer to Lucia... I'm not very good at it though.... Speak none of this."
|†| Training/
"Well, it's something I have to do each day, else I get weak from being lackadaisical."
|†| Drawing/
"I'm horrible at landscapes, but, People I can paint very well."
|†| Dancing/
"This is just something I've picked up as I've lived"
Phobia(s)
"Umm.... No thank you."
Hypnophobia |Fear of Sleeping|
"I do not have that! Don't lie!"
Pediophobia |Fear of Dolls|
"There's a reason to that.... And a long, long story."
Sexuality
"That, I have no answer or witty comment to, as I've no idea myself. Love is like Justice, blind to all parties involved."
Personality
"Ohh... Here we go...."
A gentle breeze is the best way to describe Seriya, and by gentle breeze, one might mean near hurricane-force winds. It's easy to say Seriya's a bit of a troublemaker as she is very straightforward in regards of her opinion, she's not the type to willingly beat around the bushes as she feels that wouldn't help one bit. Along with the straightforward personality, is her wit, Seriya's clever in her speech as she can easily hide hidden innuendos along with secret messages and alike, and like the winds, she has little focus on the future that is ahead of her, rather, she keeps her light spirits through just a day-by-day look.
Though, in a fight, Seriya fights using her best attributes, her speed and wit, preferring to tactfully take one down without much stress on both her and her allies. Always willing to put herself in the front of everyone else to shield them from the danger, and recklessly as well. While she is clever and at times even deceitful, admittedly she's an oblivious idiot, having a good use as trap-bait or something alike, having little forward thought, she also tends to rush in head-first without even an ounce of thought, putting her in several binds that she has had to work her way out of, or even so much as be rescued from. Along with that, she is incredibly close to Lucia, and even protective of her, if Lucia's in danger, Seriya will quickly through all caution and tact to the wind and make a mad dash to her aid, not even worrying one bit on her own safety.
---
---
Family
"About that...."
Seriya has no real family (Biologically) to put it. Though she holds the "family" she has from the Monastery close.
Mother Yeliss Verrat || Adoptive Mother ||

Alive

Father Emmett Ishtal || Adoptive Father ||

Alive

Lucia Mirakel || Close "Sister" ||

Alive
Personal History
"Let me take this, please sit, this may be a long one.."
A dimly lit room is where we start our story, books line the shelves around the room, as a single woman sits at the desk on the left, a thin woman at that, as she brushes a bit of dark blue hair from her face, her red eyes gazing at a book in front of her, her features showing her strength, yet still remaining gentlel, a creak in the floor drifts her eyes from the book to her, as she gazes at us,

"Oh, you're here early. I'm guessing this is about my past?"

with a hard sigh, she offers us to take a seat,

"Please, take a seat, we're going to be here a while."

a brief pause separates the two sentences before her words begin once more,

" To start us off, I've never known my parents, in fact, I still don't know whom they are, nor do I wish to at this point. But I always grew up under Mother Yeliss' care. That was a fact, she was more or less my mother and still is. From what she's told me, she took me in since I was an infant and since then I've stayed at the Sanctum of Temari for most of my life."

A brief laugh comes from Seriya,

"Yeah, I'll admit being here was beyond fun. But when I was young, I met a girl, you probably know her, Lucia? Of course you do. She's the miracle worker sent by some God to aid people. But her and I, we were friends quickly, of course, we joke that it was fate that made us friends so quickly. of course, it wasn't, but it was something that helped explain it. But anyway, we soon became inseparable from one another. T'was nice to say the least. But when her and I were about thirteen or so, things changed for us. I was chosen as a Seraph, and soon had left for the training. Of course, looking back I am happy, as I gained the power to protect others. But the training was hellish to say the least."

Seriya paused again, adjusting her posture, now facing us, "Of course, I had picked my weapon swiftly, I just call it Dragonfang, but I chose it as I developed my fighting style, as you can tell I look like someone whom totally would overpower my peers. No, it was for speed. But that's besides the point. I trained at the Magistrate for about Six years. It felt like home for a bit, until I heard an incident at my true home. Bandits had attacked the Monastery, only to have been quickly expunged by one of the sisters. Lucia. It took months of pleading and begging, but soon I was placed as one of six Seraphs at the Monastery of Temari, with me as the leader. That felt odd to me at the time, as I hadn't any experience leading a team, but I soon saw why I was to lead. But enough blowing my own trumpet, I was home, only to come back to my friend Lucia take on her new role, as Temari's voice, the Miracle Worker. Though, outside of a few battles with demons, my days have been peaceful. Sorry, I must have talked your ears off. But there's my story, as far as you need to know at least. Anyway, thanks for listening." And with that, we can only watch what may happen to the young Seraph's fate.
---
---
Thoughts on other
"Um... Well..."
To be written...
Love interest
"W-wha?!"
To be Determined....
CREDITS
All artwork presented with this character belong to their respective owners and I claim no ownership of.
The Character Skeleton belongs to Ryuu Takeshi
Everything else with Seriya belongs to Lufia.