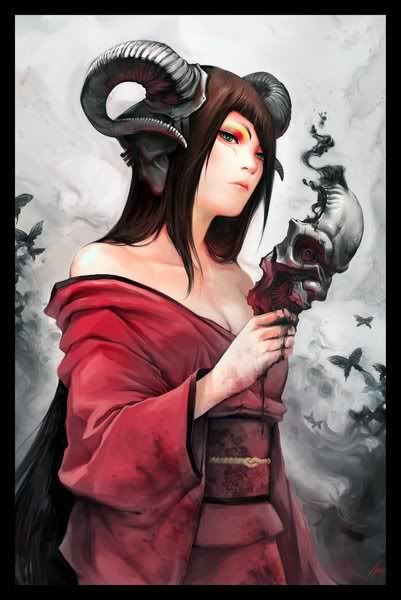 Captain Aerial Cathryn Elwood, or Captain Ace, is the ringmaster of El Circo de la Magia, The Circus of Magic.
Her long, brown hair goes down to her slim waist. The darkness of her hair is contrasting to the paleness of her skin, also adding mystery to the sea foam green color of her eyes.
No one is quite sure what Ace is exactly, although she tells the circus that she is one of Hades' personal servants. No one questions this of course, because out of the side of her head, there are two horns, both darkened and grey from ash, that twist and curl, looking like the horns of a ram. She also has a mask that is the same color of her horns that slips right in between them and covers her face. All together, it all looks quite like a Halloween costume, very mystical and unreal, but after the shows, she lets kids come up and tug on her horns and touch them and feel them, insuring that they are real.
Ace is normally dressed in either a red robe that reads Master on the back in big, yellow letters, or a black dress that barely comes down to her knees.
Aerial appears to be in her early twenties, however her actual age is undetermined. It is known that she has been a very large part in the circus for a very long time, but no one knows for sure how long that is.