Cheshire the III
Gender
Male
Age and Grade
17, second year (junior)
Role
Male Easter Pawn
Personality
Cheshire, otherwise known simply as Ches, is an interesting character. With bright purple hair and a bright red star tattoo under his eye, he is definitely not one to be missed. A rather charming male, Ches intrigues others because of his rather...odd name. It's more of a stage name. Ches appears as a dark and sadistic person, especially to those that do not know him. Unwilling to let anybody in, Cheshire leads people in circles in self-defense, using any method he comes about. Cheshire is capable of wrapping almost any girl around his finger in a matter of minutes. In reality, he is a deeply caring person, hating the fact that people do not see the real him, and only the personality on the stage. An excellent liar and actor, Cheshire's main talent is making sure nobody finds out what he hides so deep inside of him. Always willing to be a shoulder to cry on, Cheshire tends to do things if they at the same time, further his cause and somehow manages to hinder Easter's.
A stubborn soul, Cheshire does not appreciate the fact that Easter sometimes forces him to do things to other people that he has started to care about. It is Easter that forces him to remain emotionless, Easter that makes him want to change what he has become, yet, he cannot help it because this is his personality now. He doesn't fall in love easily, partly because he holds the Dumpty Key.
The one who holds the Humpty Lock will be the one Cheshire wishes to entice, the one he will always be willing to seduce. The one that he will allow himself to care deeply for.
Likes
- Sushi
- Magic tricks
- Putting on a show
- Illusions
- Talking to his chara/having his chara there to get him out a rut
- Teasing others
- Leading them in circles
Dislikes
- Doing what Easter orders him to do - he usually goes willingly
- Watching people that he cares about be in pain
- Suicidal people - they have given up, and Ches does not appreciate that
- Being too far away from his chara
Brief Description
Cheshire stands at exactly 6', and has a lean, flexible body. His fingers are strong and dexterous, capable of doing the most insane of magic tricks. He has purple hair that he sometimes dyes rainbow colors out of pure whim. His eyes are pale blue-purple and he has a large tattoo of a red star under his left eye. He usually wears a black V-necked shirt and a pair of black cargo pants, his feed clad in high top black Converse, the white parts colored in purple and black like a checkerboard.
Crush
The Joker - Both at the same intriguement and almost infatuation, he is mainly obsessed with Skylar Pendragon because of what she holds in her possession. However, there may be a glimmer of more, as he gets jealous everytime he sees her with the Jack.
History
Cheshire was born in America. His father was a travelling magician with a circus and Ches grew up among them. He was the third to be named Cheshire in his family, thus the III. Named after his great-grandfather, who was apparently also a very skilled magician, Ches grew up with stories of Alice in Wonderland, believing in magic with as much faith as the Pope believed in God. However, his mother, unable to take the life anymore, divorced his father and moved, with Ches, back to Japan when the boy was ten. His mother moved back in with Cheshire's grandparents - those on his mother's side. They had never approved of the marriage, and always gave his mother grief about eloping with an
American
magician
of all people.
His mother fell sick quite often, because of the stress of having to raise an overly imaginative and energetic boy. His mother is still bedridden, and frail. Cheshire tries to take care of her, which is why he started looking for a job the moment he could. He found one with Easter, and they were the ones who managed to get his chara to hatch. The egg appeared the day after Cheshire agreed to work for Easter.
And it was when Cheshire happened upon a street performer that Trick's egg, purple and black checkered near the top, black card symbols around the middle and the base, hatched. Ever since then, Cheshire has been performing magic tricks. That was two years ago. Now, Cheshire is on the hunt for Embryo. He knows exactly what he's going to wish for: his family, to be together and happy again, instead of broken.
Little does Cheshire know, his father killed himself when Cheshire and his mother left him.
Trick
Gender
Male
Personality
A Shugo Chara is supposed to reveal what the heart and the character of their bearer is. Trick does exactly this. He is the one that cares too much, the one that's always blushing and down on himself. Nonetheless, Trick works hard, and often tries to prove that yeah, he can do things other charas can too. Somewhat of a fool, Trick loves making other people laugh by acting all 'cool' and punk. He doesn't like being made fun - unless he's the one doing the making fun of. His hair often gets in his face, and he is sometimes teased of looking like a girl.
He loves to do pranks, especially in the heat of the moment, but he sometimes ends up regretting it and hates himself for it.
Likes
- Rock music
- Magic tricks that Ches does
- Making sure Ches is okay
- Hanging out with the other charas
Dislikes
- Not knowing what's going on
- Being confined
- Easter when they force Ches to do something the boy doesn't want to
- Having to hurt his friends
Character Change Description
When Cheshire goes into Character Change, the star tattoo changes into a feather and he sprouts small dark purple wings. These can grow and he is able to fly using them. He becomes somewhat more seductive, but also gains strength and speed, as well as charisma. He throws away any inhibitions he has of being romantically inclined towards anybody.
Character Transformation Description
Devil's Trickster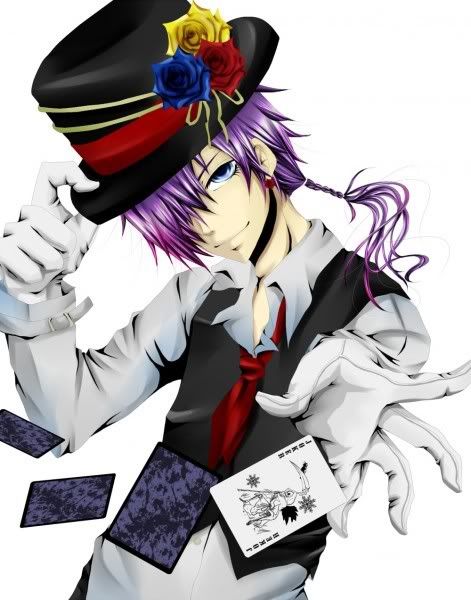 When Cheshire transforms, he changes into a magician's outfit. Dark purple wings attach onto his back, and he obtains a large ornate black top hat, from which he is able to pull a stack of playing cards, a stop watch, a black cane and for his big finish...purple roses.
Move 1
Pausing time for exactly ten seconds. Time stops for him and anybody holding onto him. (Freeze)
Move 2
His playing cards turn into sharp blades ranging from daggers to throwing knives, nothing longer than ten inches. (Fool's Dance)
Move 3
The cane multiplies, each end able to open, in which there are ropes. (Puppet Master)
Big move
For his big finish, a multitude of purple roses, all connected to vines and stemming from his top hat. The roses fall onto the ground, entangling anybody that he manages to catch. The vines then wrap around the person, squeezing them. (Rose's Illusion)
Other
Theme song
Theme
Character Transform Theme