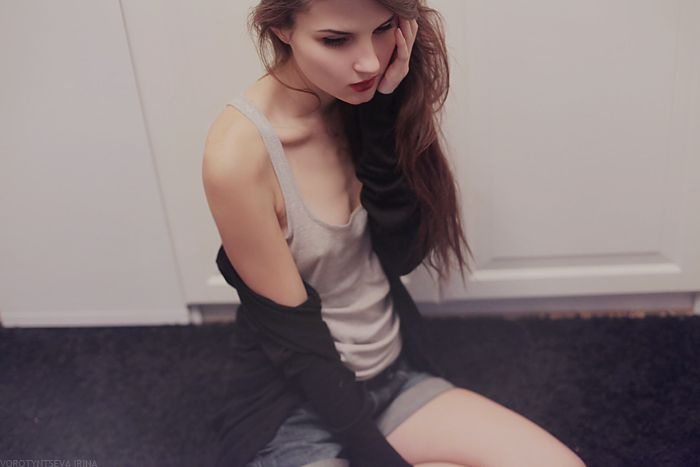 ♦ The Basics ♦
»
Name:
Elisa Emily Grace
»
Age:
17
»
Role:
The Nerd
»
Gender:
Female
»
Sexual Orientation:
Heterosexual
»
Occupation:
Waitress at a 24 hour diner.
---
♦ The Description ♦
»
Face Claim:
Nerysoul on Deviant Art.
»
Hair:
Very long, medium brown
»
Eyes:
Bright green with darker blue outer rim.
»
Face:
Pale
»
Build:
Slim/Slender
»
Style:
Casual comfy!
»
Markings:
She has a scar over her right eyebrow that she uses make up or her hair to cover up.
---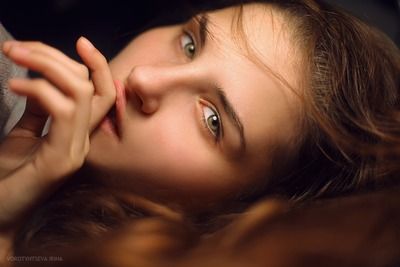 ♦ The Character ♦
»
Likes:
- Art, particularly photography
- Graphic design, CGI
- Mathematics
- School in general
- The smell of rain on concrete
- The feeling of sand between your toes
»
Dislikes:
- The lie she's forced to live
- Warm, humid days
- The way lotion feels
- Her mother
- Having dirty hands from paint, food, etc.
»
Phobias:
- Trypophobia - Intense, irrational fear of small, clustered holes. Google Image it. I dare you.
- Arachnophobia - Fear of spiders.
- Automatonophobia - Fear of ventriloquists dummies.
»
Habits:
- She drums her fingers against hard surfaces
- She often chews on the side of her cheek
»
Personality:
Elisa was once a very bright, very free spirit who didn't care about anything in the world. She loved her life and everyone in it, things were perfect. Then, when she realized she had very little to no control over her life, she turned into a very timid, shy little thing that jumps at the sound of a pen dropping. She's also very focused now and school is about the only thing in her life she cares about. Friends are the very last thing on her list of priorities, and people often take this as her being stuck up. Being shy doesn't help matters and she often stutters when meeting new people.
When she manages to open up to someone, she still has a hard time trusting them and will often withhold things about herself. It's one of the reasons she hasn't attempted to be in a relationship for a long, long time...and honestly, she doesn't believe that anyone could handle her life. Especially not right now. She very hard on herself for a lot of things and is a perfectionist, almost to the point of OCD, but not quite.
---
♦ The Past ♦
»
History:
Elisa was born to a wealthy family, one of class, elegance, and one that cares more about appearance than anything else. She was always dressed up perfectly, in designer clothing, and given lessons on etiquette. Her grades were expected to be perfect and nothing less. Scandal of any kind was never, and still is never, allowed. If anything was out of a place, a lie was simply told to make it all better. The pressure to be perfect weighed hard on Elisa's shoulders, and she felt nothing was in her control. Nothing but school and what she could eat. That when her anorexia began. At first it wasn't anything big, she would just skip dessert claiming she wasn't feeling well. Then she began not to eat lunch, then breakfast. Now she's 'lucky' if she eats 200 to 300 calories a day, and eating that much drives her absolutely insane.
When she was a freshmen in high school, and had just turned fourteen years old, she met a boy that made her see that she didn't have to starve herself to have control or be happy.
He
made her happy, and he was her world. She started eating again, she was healthy, she was in love. A few months later, she became pregnant and fully intended to keep the baby, but her family certainly wouldn't allowed that and pulled her out of school immediately. Not only that, but they switched towns and had her home schooled until the child was born - her mother pretending to be pregnant all the while. When she finally began attending school again, at Mackenzie Prep instead of Philip Darcy Elite (which was a full two states away), she was forced to claim that her daughter was her sister and she was not allowed to have any contact with the boy she loved so much, or anyone from her previous school.
Three months after she started school she read in the papers that he had passed away in a car accident and Elisa fell back into her anorexic ways.
»
Family:
- Diana Leigh Grace, Mother
- Joshua Edward Grace, Father
- Jessa Marie Grace, Daughter (known to others as her "Sister")
»
Relationships:
TBA
»
Secrets:
- She has a three year old daughter named Jessa. (Major, though technically not her choice to be a secret.)
- Elisa is anorexic. (Major, brought on by stress and lack of control over her own life.)
- She occasionally shoplifts. (Minor, but again it has to do with lack of control over her life.)
»
Password:
Forever Moi
»
Other:
None