Name:
Katsu
Nickname:
N/A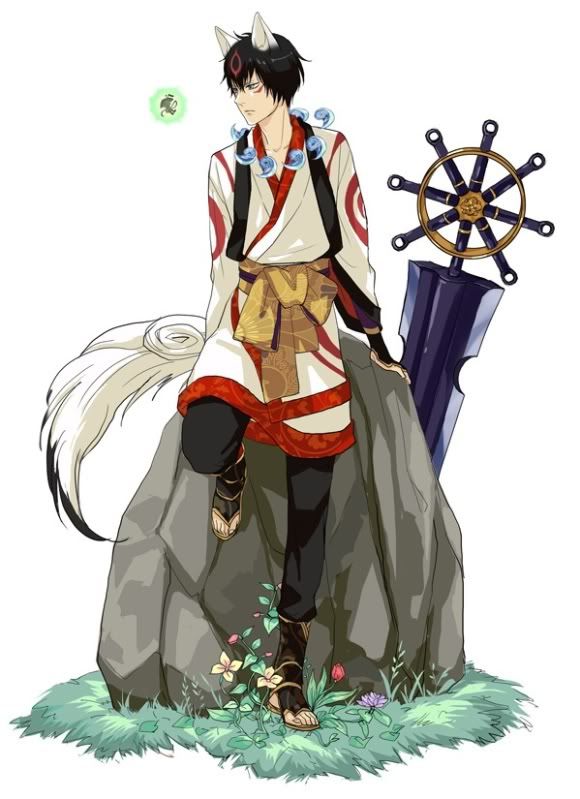 Gender:
Male
Age:
18
Role:
The Half-breed
Species:
Half-Winter Wolf
Personality:
Katsu wasn't a particularly happy child. He wasn't always so distant, but he had a strange melancholy about him ever since he was a small child. The death of his mother and his father's abandonment left him barren and bitter for most of his early teen years. He frequently has traumatic nightmares, which he refuses to share with others; however the effects of them show plainly on his otherwise relatively emotionless face. He tends to keep to himself, preferring to travel alone, but is often drawn to small groups for reasons he can't entirely explain. He feels pity for most humans, seeing them as weak, defenseless creatures, which he relates with every month. Conversely, he fears most powerful demons, seeing no reason to trouble them as they may slaughter him where he stands if he disturbs the wrong demon. This too he relates with once a month. His bloodlines force him to keep people at arms-length to avoid either killing them or exposing his soft underbelly.
Katsu has a kind streak, despite his inner conflicts. While he usually attributes it to pity or insanity, he often finds himself helping those in need where he can, unsure of where he lies in society. While he has no qualms with butchering innocent people to get where he needs to go, he refuses to harm a child, regardless whether it is demonic or human.
Appearance description:
Katsu is of average height and build for a male his age. White canine-like ears poke out from short-cut black hair. He sports a red stripe underneath each grey eye and a circle of red upon his forehead, markings he was born with and was likely inherited from his demonic father. A long, bushy black and white tail hangs down from the small of his back, the tip brushes against the tops of his calves. He is typically garbed in a white kimono top tied with a patterned fold and purple sash, along with black pants and bound sandals. He hauls about an onyx multi-handled buster sword, which he uses as a highly inefficient weapon, as he hasn't trained to use it and it is impractically heavy. He also uses his long claws to rend through his victims and enemies. Upon the evening of the new moon, his white ears and tail vanish and he is left with his dark hair and eyes, appearing to be
human
. On the rise of the full moon, his hair turns shock white and his eyes adopt a deep red color. His fangs and claws elongate and he is overcome with a gleeful bloodlust.