---
---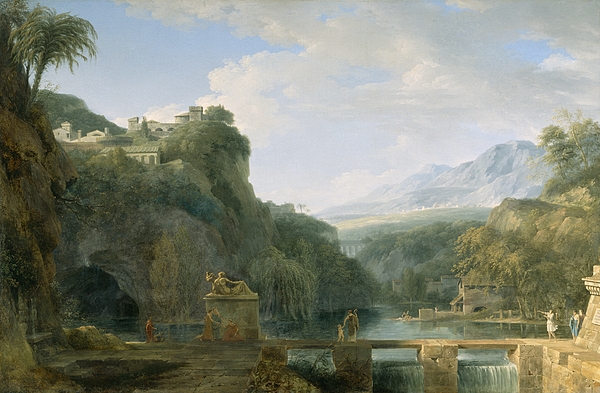 Credit to Pierre Henri de Valenciennes
---
---
The world of Skaerra (Sky-Ra) holds many wonders and secrets. It is a world of four continents, and vast seas and oceans dotted by many islands and archipelagos. Magic enriches the land and the seas with its almost infinite abundance. The splendor of this world beckons the touch of capricious and undeserving gods.

It is the Year 3528, or Year 28 of the Eighth Era. The Aea, heavenly stewards whose purpose is to watch over the Creator's designs, have long been split since the days of the First Era. The exiled Aea under Ircys await the return of their leader Molos, the Fallen Star. Molos's brother, Oelne, the usurper of Creation, prepares for war once more with his allies and their armies behind him. He has not forgotten the Heavenly War when Oelne defeated Molos and forced him to flee into the great vast Night seeking the Creator. Oelne will ensure that their primacy is absolute once and for all. That they may finally call themselves the true rulers of this realm, and leave the Creator behind as a mere imagination.

A sickness of unknown origin, the Red Wind, has fallen upon the Elven realm of Alheras. The Council of Flyfendel rallies the elven leaders to erect measures to halt its spread through Elven lands while contending with invaders sensing weakness among their ranks. Princess Anundhel Eressea of the Royal House of Alheras has taken it upon herself to seek out a cure. For the cure, she requires three ingredients. Water from the Well of Regrets, a fountain of immortality. The heart of a black drake named Vormyceres, who consumed a star that rendered his heart unable to decay. Finally, a leaf from the oldest tree in existence, Yparil.

Meanwhile, the Empire of Dessor finds itself embroiled in new conflicts with the barbarous tribes to the north and the feudal city states of the Northern Coalition. Chancellor Renocles Isidore plots with a faction of Senators to seize power from Emperor Pellion Loenthil.

Clandestine agents race against time to stop the unraveling of the barriers between the mortal realm of Skaerra and the immaterial realms.

In these times of peril, a few souls, though left behind by fate, forge their own destinies as they are thrust to the forefront of all this.

They may find that all is not as it seems.
---
---


A high fantasy roleplay with epic and mythic overtones. It is a story about nobodies becoming larger than life heroes by embarking on a great journey through a world rife with the surreal and fantastical. It is an adventure beyond their wildest dreams, literally. The story concerns a group of characters who are all entwined by having dreamt a specific dream. Where it will take them, they know not. Perhaps their tale will be enshrined as legends for generations to come. However, the fates have yet to weave those strands. Thus, the rest will be up to us.
Credit to MOOD from "Fall of Gods"
---
---
First, I want to make it clear that, no matter what, I am taking you on as the writers, not as the characters you play. This is why I encourage people to not be so attached to their character and to try and write for NPCs or be open to the idea of killing their characters.
The characterization should be dynamic. When someone else describes your character in IC, feel free to quote that and put it in your character's profile. You'll be free to customize those pages however you like. One image (excluding the avatar pic) in their portraits at the start of this roleplay is required. The first image is for the sake of everyone being on the same page on a mental visual standpoint as far as their face is concerned. The appearance does not need to match what the image has, for you can describe your character's dress as you would unrestricted. There is no limit on images. Concept art is recommended.
Also, please reference other characters' sheets for guidance if necessary. PMs for help are welcome too.
Now at the end of all of this, if you find these terms acceptable, I welcome you to join me.
Code: Select all

[font="(Pick One of Your Choice.)"]
[b]Name:[/b] (Include preferred pronunciation.)
[b]Age:[/b]
[b]Gender:[/b]
[b]Race:[/b]
[b]Ethnicity:[/b] (Under certain races, like humans there are sub ethnic groups.)
[b]Place of Birth:[/b]

[b]Physical Appearance:[/b] (One paragraph minimum.)
[b]Eye Color:[/b]
[b]Hair Color:[/b]
[b]Skin Tone/Complexion:[/b]
[b]Height:[/b]
[b]Weight:[/b]

[b]Combat Skills:[/b]
[u]Magic Mastery Level:[/u] (Check Magic and Flow thread for more information.)
[u]Magic Resistance Level:[/u] (Check Magic and Flow thread for more information.)
[u]Flow Mastery Level:[/u] (Check Magic and Flow thread for more information.)
[u]Weapons and Equipment:[/u] (Up to you.)

[b]Miscellaneous Items:[/b]

[b]Personality Description:[/b] (One paragraph minimum.)
[b]Religious Beliefs:[/b]
[b]Education:[/b]

[b]History:[/b] (Two paragraphs minimum.)[/font]

Communicate, talk to us, we're people too.
Standard RoleplayGateway Rules apply.
Common courtesy roleplay rules apply.

No god-modding.
No meta-gaming.
Expect to be active on a daily to weekly basis.
No OOC comments in IC posts.
If work or school has you busy let us know when you'll be gone or if you need to leave.
Characters will be killed off or removed in the event of the owner's lengthy absence. If you wish for your creative property to remain untouched, let us know.
Rules are subject to change.
Disclaimer: All creative content within this roleplay are the intellectual property of their respective owners. Please do not use this without our express consent and permission.
Arcs are bundles of posts that you can organize on your own. They're useful for telling a story that might span long periods of time or space.
There are no arcs in this roleplay.
There are no quests in this roleplay.
Here's the current leaderboard.
NULL
Skaerra NPCs
The official official NPC page of Skaerra: The Unlikely Tale.
Welcome home, Promethean. Here, you can manage your universe.
Arcs are bundles of posts from any location, allowing you to easily capture sub-plots which might be spread out across multiple locations.
You can create Quests with various rewards, encouraging your players to engage with specific plot lines.
Settings are the backdrop for the characters in your universe, giving meaning and context to their existence. By creating a number of well-written locations, you can organize your universe into areas and regions.
Navigation
While not required, locations can be organized onto a map. More information soon!
By creating Collectibles, you can reward your players with unique items that accentuate their character sheets.
Once an Item has been created, it can be spawned in the IC using /spawn Item Name (case-sensitive, as usual) — this can be followed with /take Item Name to retrieve the item into the current character's inventory.
Give your Universe life by adding a Mob, which are auto-replenishing NPCs your players can interact with. Useful for some quick hack-and-slash fun!
Mobs can be automated spawns, like rats and bats, or full-on NPCs complete with conversation menus. Use them to enhance your player experience!
Current Mobs
No mobs have been created yet.
Locations where Mobs and Items might appear.
You can schedule events for your players to create notifications and schedule times for everyone to plan around.
Add and remove other people from your Universe.
Orphanage
By marking a character as abandoned, you can offer them to your players as pre-made character sheets.
"People talk big game until they're trying to squirm away from the knife sticking out of their back."
The Forge
Use your INK to craft new artifacts in Skaerra: The Unlikely Tale. Once created, Items cannot be changed, but they can be bought and sold in the marketplace.
Notable Items
The Market
Buy, sell, and even craft your own items in this universe.
Market Data

Market conditions are unknown. Use caution when trading.

Quick Buy (Items Most Recently Listed for Sale)
Discussions
Topics

Replies
Views

Last post
Most recent OOC posts in Skaerra: The Unlikely Tale
There have been no posts in the OOC topic for this roleplay!