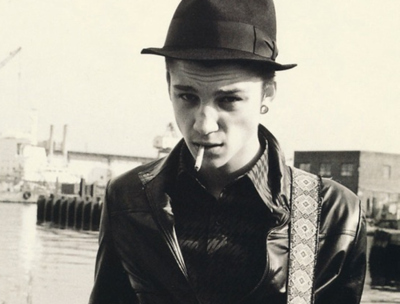 ---
Age:
17
Sexuality:
Bisexual
Occupation:
Taking care of kids and selling cigs.
---
---
Height:
5'9
Weight:
198
Tattoos:
Piercings:
Gauges
Appearance:
---
---
Personality:
Now this boy can be the easy to anger, from previous issues in life some people still seem to piss him off more than ever. Everything about the world just ticks him off and he didn't blame anyone for it. Not even society could be the blame. Sometimes it may seem like he's the craziest guy in the world, and if someone doesn't see the world like he does. Well, they're going to have to sit there and be lost. Usually he tries staying out of people's way, not wanting to be a bother, or not wanting to be annoying, he just wants to be a chill and lazy guy.
He tends to say things he doesn't mean and it could sometimes hurt someones feelings. But, if that person knows him long enough then they should understand where he's coming from. He isn't the one to complain about most things and he isn't the one to care about most things either. But, he is actually a good guy. Well, sometimes; he can be sweet and charming, other times; he can be a cold jerk.
Likes:
The Dark
Flashing Lights
Smoking
Grizzly
Bring Left Alone
People Who Get Him
Dark Colors
Dislikes:
People Who Talk Too Much
People That Does The Most
People Who Has An Attitude
Stupid People
Candied Apples
Large Series Of Books
Annoying Things
Boring Things
---
---
Family:
Father; American; Never Around To Be Called That
Mother; Latin; Barely Living
Sister; 15; Living
Brother; 14; Living
History:
Having to take care of two of his siblings is very hard to do, he was already an adult at a young age, he learned many things he didn't need to learn at a young age. He taught himself how to drive, cook, mow the lawn, and many other things. Not wanting his brother and sister to worry about anything, they were the only ones he truly cared about. Again being alone at home and having to take care of two younger siblings wasn't easy. He had to do things he wasn't proud of, and the things he was proud of slowly faded away. Sometimes he feels like an outcast, and then he had to learn that no one's life was perfect, it hurt to say that but, it was true.
He really hopes his mother will make it through her illness soon, because life so far has really been trying to make him give up. But, he's trying so hard to keep the positive things that keeps him going in life in a cage, so that it won't have to break free. He isn't the one for relationships, seeing his mothers and fathers relationship crash and burn had really affected him in the wrong way.
---
---
Pet(s):
He has a dog and he calls him Grizzly.
Romantic interest/crush:
TBA
Thoughts on other characters:
TBA