╔
╗
Bright || Optimistic || Loving || Light-hearted || Naive
[
second and sebring || of mice and men
]
For all the things that you're alive to feel,
Just let the pain remind you hearts can heal.

╚
╝
---
---
Full Name:
Alexander Leon Robinson
Nicknames:
Alex, Al
Age:
22
Sexual Orientation:
Bisexual, preference for girls
Occupation:
Touring and session guitarist
Religion:
He has a mixture of both Christian and Buddhist beliefs, and doesn't really identify with either for that reason.
Heritage:
1/2 American, 1/2 English
Ethnicity:
White
Birth Day:
September 22
Birth Sign:
Virgo
Home Town:
New York
Languages:
English
Character Role:
FC: Josh Ramsay
---
---
╔
╗
Dedicated || Inventive || Talented || Dependent || Artistic
[
sing || my chemical romance
]
Sing it from the heart,
Sing it till you're nuts,
Sing it out for the ones that'll hate your guts.

╚
╝
---
---
Family Members:
Alex's mom died when he was sixteen. His dad moved back to America and is living there with Alex's younger brother. They stay in contact, and Alex visits as much as possible.
Academic Career:
Alex was bright- but not quite intelligent. His grades averaged around a B/C, dipping for quite a while after his mother's death. However, his grades were never the most important thing to him. Music always took pride of place, and so once he left school, he knew that the only grade that really mattered was his music grade- which he aced.
Future Plans:
Alex is happy where he is in life- playing music for a living and making a living off of it. He would like to be in a band of his own at some point, and is auditioning for bands. But if he just got to do what he's doing now for the rest of his life, he'd be happy.
Personality:
Growing up, Alex struggled to fit in. But now that he's found his place and his passion, he's like a completely different person. He's a very upbeat person, and is one of those people who you feel better just by being around. His love for life is evident in everything he does. Every movement is filled with energy, and you can tell that he really believes every word he says. He believes in living life to the full, and that a short life well-lived is much better than a long life, full of regrets. He's outgoing, but at the same time, trips over his words when he gets overly excited or anxious. He's incredibly energetic, and he's that person who will keep a group going even when they're all exhausted. He can, at times, be a little too much, but never intentionally.

Alex is quite a dependent person. He has an incredible desire to be around people and to be liked by those people, and the thought of being abandoned or betrayed is his literal worse nightmare. He can sometimes come off as clingy as a result. He feels a need to constantly prove himself and to be the best he can, even if that results in him pushing himself too hard. He also trusts far too easily and is naive at times.
Fears:
Alex fears abandonment more than he fears anything else. However, he also has quite a large fear of big, angry dogs after a close call when he was a kid.
Quirks:
He always has at least one plectrum on him, and often more. When he gets overexcited or anxious, he has a tendency to talk too fast. He dislikes a lot of forms of physical contact and is particular about who can touch him where.
Hobbies:
Music is by far his biggest hobby- it's both his job and his favourite thing to do. He also likes to go camping and on adventure trips.
Passions:
Alex is incredibly passionate about music, and he's lucky in that it's his job as well as his hobby.
Bad Habits:
Talking too fast when he feels anxious or overexcited, playing with his hair, trusting too easily
Guilty Pleasures:
Musicals
Likes:
Rock music | Musicals | Sour sweets | Apple flavoured anything | His job | Working with good people | Touring | Travelling | Hiking | Outdoor activities | Kayaking
Dislikes:
Cherry flavoured anything | Bad weather | Rap music | Demanding artists | Artists who take him for granted | Being sick | Not feeling good enough | Being alone
---
---
╔
╗
╚
╝
---
---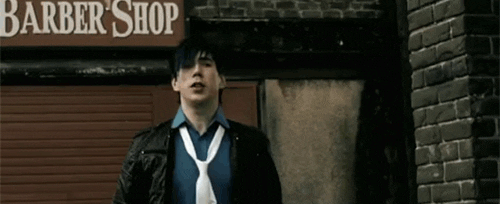 Face Claim :
Josh Ramsay
Height:
5'11"
Weight / Build :
Average build, healthy weight for his build and height
Hair Colour:
Naturally dark brown, varies the colour he has in it
Eye Colour:
Blue
Other:
His tongue is pierced, but besides that, he hasn't any piercings.
---
---
╔
╗
╚
╝
---
---
History:
Alex was born in New York. He was a happy kid. He had plenty of friends, and he liked his school and his life. He doted on his little brother, who was born when Alex was seven. He had everything he wanted- he wasn't the smartest in the class, but his teachers appreciated the fact that he worked hard and was enthusiastic about his work, and he had plenty of friends. But when he was ten, his parents decided to move to England. At first, Alex thought it would be some great adventure and that his life would be just as good in England as it was in America.

However, that didn't happen. His enthusiasm was seen as a little strange, and the people in his class already had their own friends. Nobody was mean to him, but nobody took him under their wing either. As a result, Alex ended up as a bit of a loner, flitting from social group to social group, trying to find where he belonged. When he was fourteen, his mom became ill. This was a stressful time for Alex, understandably. He found comfort in rock music, in people who were angry and sad, all at the same time- just like him. Using his savings, he bought a second-hand guitar and taught himself to play. And after he performed a Green Day song at his school's talent show, the rockers took him in. He'd finally found where he belonged.

His mom didn't get any better though, and Alex found himself throwing himself more and more into music. He would do his homework and then spend hours teaching himself guitar, learning his favourite songs. He got an electric guitar for his fifteenth birthday, which opened the doors for him. His natural aptitude for music shone through, and he quickly progressed.

When Alex was sixteen, his mother died. Alex didn't know how to handle it, so he just did what he always did- he played guitar. When he played in a band for a talent show, he was noticed. Local bands started asking him to play shows with them when they were short a guitarist, or to play a part on their album because they only had one guitarist, and that guitarist could only play lead, not rhythm. At first, he did it for free- but gradually, he started getting paid for it. His guidance counsellor, who had seen how good Alex was, told him that he could make a career out of it- and so Alex was sold. He made a YouTube channel where he covered songs, and circulated flyers advertising his services. By the time he actually sat his A-levels, he was starting to make a name for himself.

By the time he was 19, he'd gotten the attention of a few independent labels and a few smaller bands around the country. And so began his career.