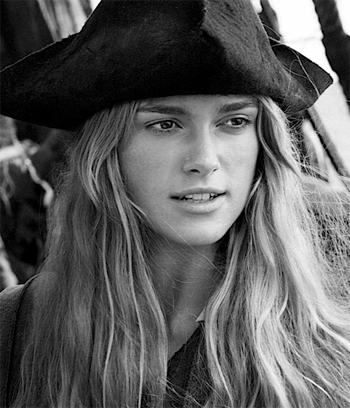 'I'm like a modern day Robin Hood... only much better looking.'
---
---
---
---
Name:
Annette Elizabeth Doherty

Nicknames:
Annie or Captain - don't dare call her anything else

Age:
Thirty two

Gender:
Female

Birthdate:
May 21st

Birthplace:
York, North Yorkshire, England

Role on Ship:
Captain of The Jewel of the Seven Skies

Role in Circus:
Ringmaster
---
---
---
---
Height:
Five feet ten inches

Weight:
One hundred twenty two pounds

Build:
Very thin with little curves

Hair Color:
Dirty blonde, however it can change to a light brown depending on the lighting

Eye Color:
Deep, dark brown

Scars or Markings:
Annie has been a pirate for half of her life, which means she has plenty of scars to sport. On her right shoulder there is a round scare from a bullet hitting and ripping through her shoulder. Along her left abdomen is a very long, thin scar from a sword fight against the captain of a rival pirate ship. She typically sports a variety of bruises or scrapes from falls and battles. Her skin is never smooth and clear, yet she believes that makes her a fantastic pirate.

Brief Written Description:
If Annie hadn't run away from home, she would have been the most stunningly beautiful woman in York. And she is still beautiful, although she is rarely cleaned up, her hair never straight or brushed, and her body full of scars. She stands at an impressive five feet ten inches, only weighting a slight one hundred twenty two pounds. She is very thin, not really being considered 'womanly' however she is very strong regardless. Her dirty blonde hair falls in waves (and a majority of the time knots) to her mid-back. Her deep brown eyes can be the hard eyes of a captain, or the warm, caring chocolate brown of a friend. Annie typically dresses in comfortable clothes, NEVER wearing dresses. She sticks to mostly neutral tones with a pop of color somewhere on her outfit.
---
---
---
---
Quirks and Faults
+ Temper | When Annie doesn't get the response she feels she deserves, she can get quite a temper. It can cause her to lash out at her crew, but only because she knows they are better than their actions.

+ Knowledge | Annie has been a pirate for half of her life. She knows practically everything there is to know about the subject. She also can remember all of her crew's first, middle, and last names, as well as important and even obscure details from their past. She sometimes uses this to her advantage with her crew members.

Likes
Her Ship | Her crew | Being feared | Helping out those in need | Being respected | Flying | Rain | Strength in others | Compliments | Being in control of her own future | The excitement of a heist | Teaching people lessons | Flowers | Making speeches | Attention | Hard work | Dogs | Being comfortable | Confidence | Smiles | Wealth | Beauty | Strawberries | Chocolate | Boots | Whiskey | Rum

Dislikes
Greed | Disrespect | Losing | Being ignored | Talking back | Laziness | Her ship being dirty | Weakness | Ignorance | Dresses | Heels | Death | Getting caught | Being told what to do | Sadness | Tomatoes | Butterscotch | Wine | Cats | Snow | Being on the ground for too long | Negative comments | Not being taken seriously | Romance

Dreams
+ Being a legend | Annie wants her name to be written down in the history books, not as a bad pirate, but rather as someone who did what it took to help those in need. She never wants her name to be forgotten.

+ Eventually having a family | She may be a feared pirate now, but eventually she wants to retire from this life and have a family. She knows she'll have the best stories to tell her kids.

Fears
+ Her crew losing faith in her | She loves being a leader and a captain, and her crew is her only family. If they lost faith in her, overthrew her, or left her, she would be completely devastated.

+ Dying too early | Annie has a lot she wants to accomplish in her lifetime, and dying too soon would ruin all of her plans. She wishes to live a long and successful life before finally passing on.

Strengths
+ Leadership | Annie is a natural-born leader, having been able to command a crew from the young age of eighteen. As a captain, she needs to be able to convince everyone that her way is the right way, and make each crew member feel important and needed. No one has every challenged her leadership... nor should they.

+ Fighting Skills | Annie wasn't always a skilled fighter, but from being a pirate for half of her life, she has learned the ins and outs of battle. A weapons master on her previous ship taught her everything he knew about weapons. She picked it up quickly. She killed her first man during her first ever battle, and has only progressed since then.

Weaknesses
+ Trust | Annie doesn't take just anyone into her crew. She has to watch you and deem you worthy. And even then, you have not gained her trust. You must work for it. It takes years upon years to get her to open up to you about her feelings or her past.

+ Confidence | She truly deems herself indestructible, and is so confident in her and her crew's ability, she doesn't fear getting caught. Her confidence could be the very thing leading to her demise... or at least that's what people tell her.
At least two, please!
---
---
---
---
Personality


|Confident, Commanding, Generous, Intelligent, Caring|

Annie is a truly complicated person. After all, she commits thievery against the rich, but gives most of her earnings to the poor. After running away from home at the young age of sixteen, she was left to live on the streets. She saw just how truly bad it was for some of the people, and it gave her cause to do something about it. She really cares about the well being of people... except for the greedy. Even though she can be strict and controlling, she is a very caring person, and only has so many rules for the benefit of her crew. She hates being talked back to or disrespected. She has been at this longer than anyone else, and recruited most everyone, she doesn't believe she deserves anything less than respect.

She is exceptional with her words, and can truly captivate a room with a speech. It is another reason she is an excellent leader, but also the reason she is the ringmaster for their 'traveling circus.' She can bring people to tears with a sentence, or instill confidence into her crew members. She has an absurd amount of confidence in herself, her ship, and her entire crew. And while it is a positive trait, it is also a negative one. She truly believes they are invincible, unable to be captured. Her fighting skills are also greater than average, having learned from the weapons master on her old ship. She picked it up quickly, having a natural talent for it, and can rival any man with a sword.

Even though Annie is tough, she is also still a woman. She enjoys flowers, and seeing beauty in the people and world around her. She loves seeing smiles on peoples faces, and likes bringing joy to lives. However, don't get on her bad side, for she has a temper like no other. And she can hold a grudge for an entire lifetime if she has to. Even though she believes she deserves her position, and is great at it, she fears her crew leaving her, or losing faith in her abilities. Even worse, she fears dying before completing the long list of achievements she has for herself.
---
---
---
---
History



Annette Elizabeth Doherty was born on a warm, sunny day in May to Edward Doherty II and Victoria Doherty. Many times during the first half of her life, she had people tell her how lucky she was to be born into that family. They came from an extremely long line of money, meaning that her and her younger brother didn't have to live without anything. They lived in a large mansion with so many rooms, that Annie still hadn't walked through them all by the time she was nine. She even frequently got lost, screaming for someone to come find her. Her parents were loving, they didn't have to work constantly to make their money, but Annie always felt that she was the black sheep of the family.

Everything changed for Annie when she was sixteen. Annie had always learned she could have whatever she wanted in life. But that came crashing down one day when her parents told her they had arranged a marriage for her. It seemed barbaric in her mind, something that was only done in medieval times for royalty. While she wasn't royalty, she was darn close enough, and her father wanted to make sure that she wasn't going to give money to the wrong person. A night of arguing ensued, and eventually ended with her slamming and locking her bedroom door. She was furious with her parents. Why couldn't they let her marry for love? After hours of pacing and debating ideas in her head, she made the hardest decision of her life. She was going to run away from home. It wasn't so much for her younger parents, but for her little brother that she loved so dearly.

She packed her things and left just before dawn. She wrote a note for her brother, explaining how sorry she was, but that it was something she had to do. She walked until the sun was high in the sky, By that time, she had left the wealthy district, and had entered the slums. It was absolutely filthy. The air was saturated with smoke, and smells of sweat and feces lingered everywhere. For a moment, she considered going back home. Being married to an older man couldn't be worse than this. But she quickly threw that thought away. She wasn't the type to give up at anything she really cared about. So she made a life for herself among the poor and unhealthy. She got to know them personally, hearing their stories, and learning their ultimate dreams and their deepest fears. Seeing how wonderful these people were, and yet knowing they couldn't make a life for themselves, made her sick. Just miles away people were living in houses with so many rooms that half a million people couldn't fill them up. And here these poor people had nothing. She was determined to do something about it.

The second time her life dramatically changed was at eighteen. She had been living among the downtrodden for two whole years, but then a pirate came to town. He robbed her old neighborhood, filling his ship with treasures beyond belief. Unashamed, she approached him, explaining she wanted to be a part of his crew. He laughed in her face when finding out she had never even flown on a ship before. She was determined, however, and she snuck onto the ship anyway, effectively hiding until it was far enough in the sky that she dared to resurface. The ship was so crammed with people that the captain never even saw her. She got to know the crew, and began helping with the simplest of tasks. She learned her way around the ship, becoming more knowledgeable every day.

A year later, the ship came under attack. The captain was hit in the heart with a stray bullet, and fell to the deck to bleed out, crew members frantically running around his lifeless body. Annie knew that if this continued, the ship would either crash and burn, or get taken over and she could die. Immediately, she stood up and began barking orders. She didn't know everything, but she knew enough to get people moving in the right directions. Somehow, she got the crew to work together and escape the enemy ship. That was how, at nineteen, she became the captain of her first ship.

For the next ten years, she flew with that crew, stealth abandoned as she robbed the rich and gave to the poor. Of course, the authorities didn't care that she had good intentions. They chased her ruthlessly for years. Eventually, they caught up with her. A long, bloody battle ensued. She lost most of her crew that day, the authorities getting the best of her. Eventually, the ship began plummeting to the earth, and her and her remaining crew had to abandon ship. Before the cops could land and find her, she set the ship up in flames. Hopefully, they would believe the entire crew dead. She mourned the loss of her ship and crew, but couldn't hang around and watch. They fled the scene, and with the money she had saved, bought a house where her and her crew could live in hiding.

Within the next year, she heard that her brother had passed in a tragic accident, leaving his son all alone. Instead of letting the poor boy live with her parents, who she assumed would want to take him under their wing, she found him and took him under her wing instead. Little Leopold Doherty lived with her, and she told him all the stories of her travels. Turned out, her brother had been telling Leo stories about Annie the boy's entire life, and he was happy to be with her instead of his grandparents. She began feeling anxious being locked up in a house for so long, that she began to scout for potential crew members, and came up with many. A plan began to form in her mind. She would use more stealth the next time around. So, she found a crew with multiple talents, and they began to form a traveling circus. They practiced every night for a year, and the final step was to buy a new ship. So she found the cream of the crop, The Jewel of the Seven Skies. And so, her adventures began once more.
---
---




OOC


How often do you get online?: Every day
How often can we expect you to be able to post?: Every other day or so
Password: Buried Treasure[/center]