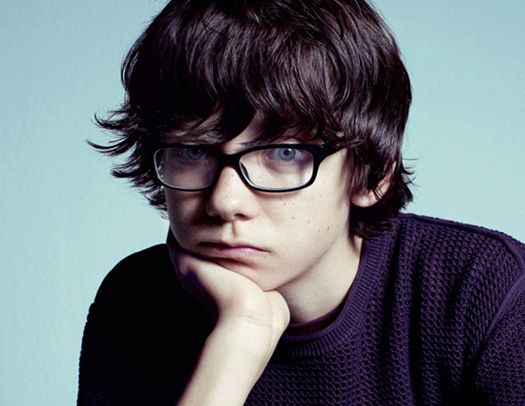 "Yo ho ho, a pirate's life for me!"
---
---
---
---
Name:
Leopold Jefferson Doherty

Nicknames:
He prefers to go by Leo, however many ship members just seem to call him 'Boy'

Age:
Thirteen

Gender:
Male

Birthdate:
May 20th

Birthplace:
York, North Yorkshire, England

Role on Ship:
Cabin Boy

Role in Circus:
Clown
---
---
---
---
Height:
Five feet four inches

Weight:
One hundred five pounds

Build:
Extremely thin with no muscle definition

Hair Color:
Black

Eye Color:
Clear, light blue

Scars or Markings:
Leo may only be a young boy, but he does sport a few scars. He has a small pink scar on his right shoulder from his first day on the flying pirate ship. When it took off, he fell backwards and scraped himself on some machinery. He affectionately calls it his 'battle scar.' He also has an irregularly shaped birthmark on the underside of his right wrist.

Brief Written Description:
Leo is, quite simply put, an adorable boy. He has extremely bright blue eyes that are always full of excitement and earnest, while his pink lips are frequently pulled up into a smile. His long, dark locks are always unruly fro his activity, and he never takes the time to style it or make it look presentable. He stands at an average five feet four inches, and weighs a thin one hundred five pounds. He'd always been a skinny boy, but since becoming a member of Annie's ship, he's grown even more so from all the activity. His skin is quite pale, even though he gets an adequate amount of sun, and it never seems to want to tan. Leo tends to dress quite plainly, since most of the time he is working or exploring the ship. His clothes are most always covered in dirt and grime, considering his love of new places and watching the machinery work in the lower deck.
---
---
---
---
Quirks and Faults
+ Short attention span || Leo travels around the ship all day, delivering messages, and if anything catches his eye along the way, or he finds someone he wishes to talk to, his work will be delayed .

+ Facial expressions || Leo is a very exuberant boy, and he can make the silliest expressions randomly. Not to mention that his face is almost always an open book, his face giving away his innermost thoughts and desires.

Likes
Calling himself a pirate || Laughter || Exploring || Flying || Amalia, the sailmaker || Annie, his aunt || Being in a circus || Making games out of work || Movies || Watching machinery work || Rain || Talking to people || Dogs || Candy || Running || Cake || Clouds || Stars || Making people happy

Dislikes
Being treated like a baby - when he doesn't want to be || Not feeling important || Being ignored || Seclusion || Loneliness || Sadness || Talking about how his father died || Vegetables || Snow || Reading || His aunt yelling at him || Rodents || Dressing up || Bullies || Being called 'boy' || Anyone using his full name || Sitting still for too long || Fish

Dreams
+ To become a famous pirate || His aunt is one of the most famous pirates in the world, and he wants to follow in her footsteps. What cooler job is there than a pirate?! He would just get to have fun all day long.

+ Having Amalia love him || From first sight, he was smitten with the red-headed beauty. And time has only strengthened his so-called love for her. He spends nights lying awake, making plans for a way to win her heart.

Fears
+ Losing Annie || Having lost his father at such a young age, Leo is extremely frightened of losing the only family he has left. He doesn't want to be alone in the world.

+ Having to be a normal boy || Leo has had anything but a normal childhood. And he thoroughly enjoys the life he lives now. He finds his life fun, and thinks of himself as special. He wouldn't know how to function if he had to go to school or work every single day.

Strengths
+ Optimism || Leo is generally a happy person, and tries to see the best in everyone he meets and gets to know. Not only that, but his personality is infectious. People tend to just feel good around him. And he has the ability to make everyone laugh.

+ Agility || Leo is small, and therefore very agile and quick. He spends a majority of his days running around the ship delivering errands, which has led him to have great endurance and speed. He can generally run away from anyone chasing him, which comes in handy when he's supposed to be getting in trouble.

Weaknesses
+ Childish || Let's face it, Leo is still only thirteen. He still has the curiosities and downfalls of being a boy. He likes making mischief, breaking (or bending, as he calls it) the rules, and generally causing just a slight bit of havoc.

+ Fear || As much as Leo likes to pretend that he is big and strong, he is still just a boy. Sometimes, he becomes afraid for seemingly no reason. And sometimes, he just wants to be held, have fingers run through his hair, and be told that everything is going to be okay.
---
---
---
---
Personality


|Exuberant, Curious, Mischievous, Infectious, Boyish|

Being the youngest person on the pirate ship, Leo has to create his own fun. And he does. He loves to explore every nook and cranny of the ship, crawling into the smallest holes to see where they lead... even if he is supposed to be running errands. Sometimes he can be found sitting in the bowels of the ship, watching the machinery at work. No one knows why, and he isn't even sure himself, but he is fascinated by the way it works. Because his job is rather important - keeping all members of the ship informed and on the same page - he can't skip out too often. So he likes to make games out of his errands. Making it to the location in a record amount of time, or being sure never to step on a crack between the boards the entire way throughout the ship.

Leo is full of life and has an infectious personality that very few can ignore. His bubbly laughter can be heard throughout the entire ship, and he always makes time to say hello to everyone he passes. He keeps up with everyone, asking how they are, of if they feel better than they did yesterday. He is a people person and generally cares about what they have to say. His favorite thing, however, is making others laugh. It gives him such a good feeling, and there is nothing like it in all the world. He is very expressive, and anyone can tell what his thinking or feeling by the expression on his face. It's impossible for him to hide his innermost thoughts.

He believes the pirate life was made for him, and enjoys every single day of it. His biggest dream and aspiration is to become a famous pirate just like his aunt, Annie. Not having to attend school every single day and being able to learn at his own pace is one of the things he loves most. If for some reason he had to return to a 'normal' life, he isn't sure he'd be able to. Annie is the most important person in his life, and the only family he has left. His biggest fear is somehow losing her, and then he'd be truly alone. Sometimes, when thoughts like that get into his head, he just wants to be treated like a kid. He'll go to Annie, wanting her to just tuck him in and read a bedtime story, running her hands through his hair like his father always did.
---
---
---
---
History



Little Leopold Doherty was born on a chilly May morning to Edward Doherty III and Marie Doherty. Later on, he learned that he was born only one day after his aunt's own birthday. He doesn't remember much before he was two years old, so thankfully he doesn't recall the fighting. His parents split only days after his second birthday. His father never really explained what had happened, but his mom ended up giving Leo's father full custody, and he never saw her again. Of course, Leo didn't have too much to complain about. He was born into a family of great wealth that loved him and gave him pretty much anything he desired. He honestly never yearned for a mother, having his dad be so caring, and his grandparents always present.

This all caused him to be a very happy child, and at school he was very popular. Everyone wanted to be in his presence, and that only made him happier. Of course, the person that made him happiest was his father. They enjoyed working on projects around the house together, even when Leo was as small as six. This taught Leo the benefit of hard work, and that everything can't be handed to you in life, money or not. His favorite time was when he was tucked into bed, and his dad would tell him stories. They were always of a great pirate named Annie, who his dad told him was actually his aunt. Of course, Leo never truly believed what he was saying was true. How could his rich, posh family possibly have a pirate in the family? His father never wavered on the facts, however, and Leo just let it go on.

Leo's life was changed dramatically when he was eleven. His father was hit by a car and killed instantly on the scene. Leo was beyond devastated. The only person that truly seemed to understand him was gone. His grandparents took over taking care of him, but it just wasn't the same. He lost everything that identified him as Leo. Sadness enveloped him, and depression was common at only eleven. Bullies began to harass him at school, since he was no longer popular. He just felt stuck, and didn't know which way to turn.

That was until Annie walked into his life. She just appeared on the doorstep one afternoon, and she was just as his father had described. They'd never met, yet Leo wrapped his arms around her immediately. She had come to take him away, she explained. Of course, his grandparents would have none of it, and forbid that his life be ruined by his aunt. She ignored all of their protests anyway, whisking him away one evening. He didn't miss his old life at all, and that action was the only thing that could have snapped Leo out of his sadness. He began to become himself again, and even told Annie the adventures his father had told him every night, even though his aunt had experienced them first hand.

The best part came when he got to finally board a flying ship for the first time. It was like nothing he could have ever dreamed. And the feeling of being in the sky, wind blowing through his hair, free as a bird; that was the best feeling. His aunt had explained his role on the ship, to be a cabin boy. His main purpose was to follow Annie's directions. He didn't mind working so closely with his aunt. He also got to deliver messages from others to his Aunt, and this allowed him to really get to know the entire crew. They were all so fascinating, having such different and unique back stories.

The one person he was most pleased to meet was Amalia. He still remembers the first time he ever saw her. She walked onto the ship, red locks down and blowing in the breeze. Her cheeks were slightly rosy, and she just looked radiant. Leo almost became weak kneed at the sight of her. Everyone had gone forward to introduce themselves, and Leo could barely even manage a hello. He awkwardly shook her hand before fleeing, embarrassed at his display. Over time he became more comfortable with her, but his love only grew stronger. Sure, she was seven years older, but to him that didn't matter. All he wanted was her. And he would find a way.
---
---




OOC


How often do you get online?: Everyday
How often can we expect you to be able to post?: Every couple days
Password: Buried Treasure[/center]