Partner:
Altan Ganeshi
Gender:

Female


Age:

17


Height:

5' 6"


Weight:

155


Hair:

Blonde and Curly


Complexion:

Light


Country of Origin:

Eirea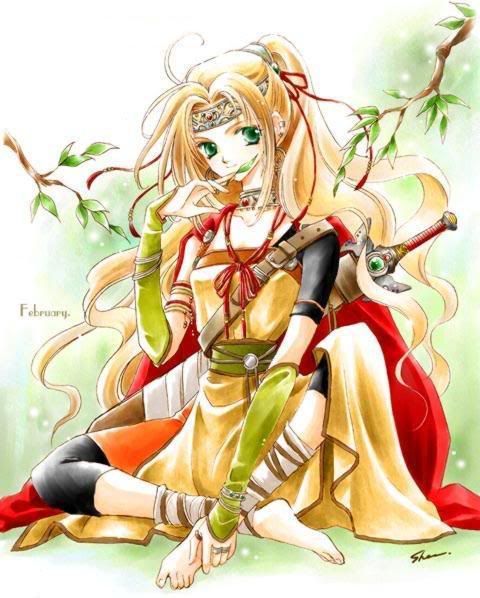 Relationships:
TBA
Characteristics and Traits:
This character is thin, lithe and fairly quick on her feet with an affinity for water and tinkering. She enjoys inventing things, so much so that her mind is always working on a new project or idea to improve life around her. Because her mind is always actively working on new projects, she occasionally gets distracted from things directly in front of her, which can get her in trouble. She is perfectly aware of her shortcomings, but she doesn't allow them to frustrate her to incapacitation. Life isn't perfect and she's okay with that. Her somewhat carefree and creative style shows itself in the bright colors and bold patterns of her clothing. Dresses are most common in her wardrobe, but she also has breeches and shirts in case she needs them. Her Skyguard seal is attached to a single strip of cloth that she uses as a belt or scarf when the situation allows.
Abilities and Talents:
Talyera's active and creative mind gives her an edge with strategy, but because of her occasional distraction from what's directly in front of her she isn't the strongest in hand-to-hand combat. Strangely she can focus on things perfectly at a distance and while moving, so she's very accurate in ranged combat. To make up for her own shortcomings, she also studies a lot on defensive skills to protect her partner and later her team, no matter what.
Magic:
Water Spout:
A small stream of water she can shoot, from either her hand or project it further distance and for greater damage with a hand-cannon that she built. This is her only offensive spell.
Shield-Maiden's Anthem:
A buff skill to increase the strength of her partner and herself. This may be worked further to extend to others as well, but she's not ready for that yet.
Enhance:
Another buff skill that only affects objects she's holding or wearing to make them less likely to be damaged.
Equipment:
Talyera wears only leather armor. Since both she and her partner can buff their equipment, she sees no reason to risk harming him with manmade metals. She doesn't even use metal weapons, except for the hand cannon she built. At present, the cannon is too heavy to carry in flight, but she is working on improvements. For hand-to-hand combat, she uses a wooden quarterstaff, reinforced with her own magic to prevent breaking. For her preferred style, she has a crossbow and specially modified bolts that can do the same amount of damage as metal-tipped ones.